THIS IS IT: "After relocating from Atlanta to Athens in 2016, illustrator, graphic designer and animator James Burns began using his artwork as an opportunity to familiarize himself with his new surroundings. "The View from Here," a body of work currently installed at tiny ATH gallery, depicts local landmarks through a distinct style that bridges the gap between realism and Burns' signature comic-book aesthetic. In addition to teaching motion design for nearly a decade, Burns has written and drawn a handful of comics such as his "Grumbles" strip and a graphic memoir entitled A Life Half-Forgotten.
Burns will offer a virtual Artist Talk using Instagram Live (@tinyathgallery) on Aug. 18 at 7:30 p.m., and the gallery will be open during 3Thurs on Aug. 20 from 6–9 p.m. The exhibition will remain on view through Aug. 23; email tinyathgallery@gmail.com to set up an appointment.
OVER THE MOON: The Athens Institute for Contemporary Art has officially reopened its doors with the exhibition "SPACE: 2020 Juried Exhibition," an exploration into the many ways space can permeate our lives—physically, emotionally and conceptually. Ideas pertaining to space have taken a particular focus as we maintain emotional closeness despite the physical distance necessary during a pandemic. Juried by Hannah Israel, professor of art and gallery director at Columbus State University, the exhibition includes a total of 36 contemporary works by 28 different artists. In addition to locals such as René Shoemaker, Jennifer Hartley, David Noah and Robert Clements, the exhibition attracted many artists from beyond the state's borders like Karly Villaseñor (Portland), Will Pergl (Milwaukee), Anthoula Lelekidis (Astoria) and Kariann Fuqua (Oxford, MI). A virtual Juror and Artist Roundtable Discussion will be held Sept. 10 at 7 p.m., and "SPACE" will remain on view through Sept. 27.
ATHICA was recently awarded resiliency grant funding from the CARES Act for direct operational support and help in offsetting the loss of donations and sponsorship funds due to the pandemic. The gallery also received Partner Grant funding from the Georgia Council for the Arts, which will extend the impact of the Athens Cultural Affairs Commission's Arts in Community Award, which was recently received to support the Artsts-in-ATHICA residency program.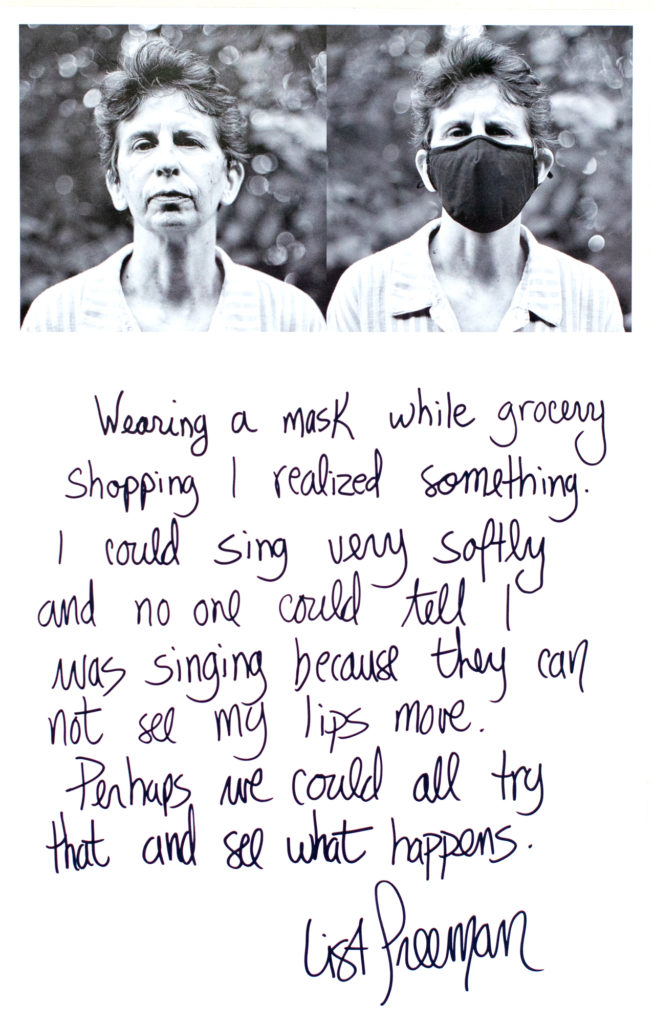 STEP RIGHT UP: A new online platform, the Athens Creative Directory, is launching to connect local artists with potential collaborators, collectors and patrons. This endeavor is straightforward enough in theory, but mammoth in reality due to the sheer volume of creatives who live in town. Luckily, the Athens-Clarke County Economic Development Department has partnered with CREATE Athens, a division of Envision Athens, to oversee the free directory, which is open to visual artists, musicians, performers, filmmakers, writers and the like. Now that the structural framework has been built, organizational attention has shifted to populating the site with profiles ahead of the public debut. Interested creatives should email athenscreatives@gmail.com for instructions on how to participate, and should be sure to include contact information, a description of work and photograph when making a profile (accessing from a desktop is best).
KEYS, WALLET, MASK, CHECK: To benefit the launch of the aforementioned directory, the Athens Area Chamber of Commerce has organized a competition called Mask On, Athens! Artists are encouraged to submit designs for a face mask, and the winning artwork—determined by community voting on the chamber's Facebook page—will receive a $1,000 prize. Designs will be screen printed onto fabric by Satisfactory Printing and sewn into masks by Community. The masks will then be available through a pop-up web store hosted by Satisfactory, as well as in-person at local retailers. The deadline for submissions is Aug. 30, and interested artists should email lindsay@athensga.com for guidelines.
ROCK LOBSTER ROLLS: Though musicians haven't been able to step onstage in months, many have been cultivating their cooking skills in the kitchen—a former occupation for some, no doubt. The Athens' Quarantined Musicians Cookbook is a digital collection of recipes that have been perfected by 40 local musicians. On the menu, you'll find dishes such as Asian Dad's Yakisoba by Kaoru Ishibashi (Kishi Bashi), vegan Mac and No Cheese by Bob Hay (Squalls), foraged Mulberry Ice Cream by Dan Horowitz (Five Eight) and Sissy's Sloppy Joes by Patterson Hood (The Drive-By Truckers). A fundraiser for Nuçi's Space, the project was organized by Eddie Glikin, a musician who has both supported and been supported by the nonprofit in the past, and Lisa Anger, a mental health professional and former board member. Visit nuci.org to donate (suggested $10) and download the PDF.
THE SHOW MUST GO ONLINE: The Athens Symphony Orchestra recently made the difficult decision to cancel this year's fall and winter concerts amid safety concerns, but will continue hosting online programming instead. ASO currently offers Tiny Space concerts and virtual ensemble performances through its social media channels, and plans to continue the annual tradition of a Christmas concert, albeit in a different form. Visit athenssymphony.org for announcements.
Like what you just read? Support Flagpole by making a donation today. Every dollar you give helps fund our ongoing mission to provide Athens with quality, independent journalism.