A tribute to fierce and fabulous feline friends, Trio Contemporary Art Gallery's "CatFest" exhibition runs the gamut of their most endearing personality traits: curiosity, mischievousness, lethargy. "Maneki-neko," a playful papier-mâché lucky cat sculpture by Flagpole's Stephanie Kim Rivers, easily stands out from the pack as a bright pink, 4-foot-long nod to the cat's role in Japanese folklore as a talisman of good fortune. Gina Rowland explores a second popular role of cats—the one true love of the "crazy cat lady" archetype—through a series of mixed-media collages called "Madonna and Cats." Ginger Goekjian's pair of photographs—the patiently waiting "Bianca" on a dock and "The Stalker" pouncing towards a pigeon—gently remind viewers of cats' undeniable role as hunters within the food chain.
Cameron Bliss, whose body of work primarily consists of colorful oil portraits that capture moody, expressive women, typically finds a spark of inspiration in a pose, face, object, color palette or interior detail. She then begins drawing directly on the canvas, allowing her imagination to expand the narrative. One such painting at Trio weaves together many of these details, depicting a woman and black cat sitting amidst potted house plants, framed paintings and wooden furniture.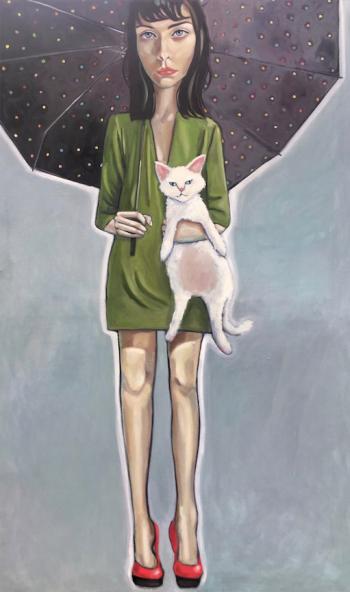 "For about eight years, the kids have been begging us for a kitten—especially our oldest son—but we have always just been more of a 'dog family,'" says Bliss. "Around a year ago, a little black cat began appearing in my paintings. Then, a few months ago, Dad gave the green light to look for a kitten in the shelter. There he was. The little black cat that I had been painting the past year! He's a magical little bean and the coolest cat ever!"
Another portrait, "Meg and Penny," was inspired by a duo Bliss stumbled upon through Instagram. Meg carries a black umbrella with rainbow-colored polka dots in one hand, and a white cat with a big, pastel pink belly in the other hand. Meg and Penny mirror similar facial expressions—wide blue eyes with slightly furrowed brows and downturned mouths—and judging by Meg's choice of red pumps, it appears as if they're both caught off guard and feeling disappointed by the weather.
"Animals are typically a reflection of their owners, aren't they?" asks Bliss. "So, painting an animal's portrait isn't much different than a human portrait. It is kind of like painting little furry humans."
Longtime Atlantan Tom Zarrilli pursued several passions—sketch comedy, radio, music business and serving as a school librarian—before focusing on visual artwork. His first solo show featured photographs of roadside memorials, which was followed by a six-year period capturing over 1,000 images at yard sales, with a major installation even functioning as a yard sale itself. After a decade and a half of producing multimedia conceptual works and photographs, he felt ready to move into another medium.
"My wife urged me to start painting, so I focused on our two cats, Petey and Joey, working them into scenes from artists that I've long admired," says Zarrilli. "Nearly all the initial works were like this, featuring my cats in the style of Rousseau, Landseer, John Steuart Curry and others." Petey, the outgoing and fearless one, and Joey, the more shy and sensible of the two, can be seen working through their differences in "Cat Fight Club" and cooly gliding away in a canoe before a backdrop of smoking government buildings in "Escape from the Draining of the Swamp."
Having lived near Ponce de Leon Avenue for over 40 years, operating nightclubs at one point and leading walking tours of the popular street a few years back, "Ponce de Leon Avenue and my cats are two things close to my heart," Zarrilli says. Two of his paintings pay feline-ified homage to beloved institutions with storied histories. "A Night at the Catmont Hotel," dedicated to the Clermont Lounge, reveals a burglary, punk show by the Cat A-Tonies, game of cards and knife fight through the windows. "Majesticat," a tribute to the 24-hour Majestic Diner, offers a fun, neon-soaked place for a cat to chow down on a bug plate or platter of milk.
"CatFest" showcases works by over 30 artists, including 70dot, Ashley Anderson, Jared Brown, Lisa Freeman, James Greer, Missy Kulik and Jacob Wenzka. An opening reception featuring music by A Catastrophe and DJ Tiger Uppercut will be held on Friday, June 1 from 7–9 p.m., and will be preceded by a party for Trio's first annual "Young Artist Exhibition" from 6–7 p.m. Co-curated by Trio Director Tatiana Veneruso and Penny Merva, daughter of Pixel & Ink co-owner Laulea Taylor, the show features works by a dozen students in grades 12 and under. Both exhibitions will remain on view through Saturday, July 21, and 15 percent of art sales from "CatFest" will benefit the Athens Area Humane Society.
Like what you just read? Support Flagpole by making a donation today. Every dollar you give helps fund our ongoing mission to provide Athens with quality, independent journalism.