Celebrating a 15-year milestone, the Oconee Cultural Arts Foundation's annual "Perspectives: Georgia Pottery Invitational" has grown to become the largest event of its kind in the Southeast. The exhibition and sale reflect Georgia's rich history as a hotbed for pottery. Naturally occurring deposits of kaolin, stoneware and the ever-popular red clay offer bountiful resources, making the state a prime destination for the craft to flourish.
Fifty contemporary potters from across the state will offer a total of nearly 7,500 original, handmade pieces. Primarily utilitarian, the ceramic wares include pots, mugs, plates, bowls, serving trays, vases and other vessels. Demonstrating pottery's balancing act between craft and art form, both functional and decorative pieces abound. The majority of ceramics will be on display in Rocket Hall, with each artist contributing an average of 100 pieces. On view in the Main Gallery, "Participating Potters: 2017" represents a condensed crash course on Georgia pottery, with two favorite pieces selected from each artist's body of work.
Each potter has a distinctive focus to his or her work, whether it's in the preserved textures in the clay or the subtle blending of colors in glazes. Many of the artists take their inspiration from the natural world; Triny Cline's mugs feature impressionistic mountain scenes splashed across their surfaces, while Deborah Adornato paints intricate flowers onto her plates. Other artists explore uncommon shapes; Barry Gregg hand-builds whimsical animal sculptures, while Michael Schmidt makes pieces that resemble recycled oil cans.
Appearing on the cover of Flagpole this week, Maria Dondero is the owner of Southern Star Studio, a historic building in Newtown that she renovated to share with fellow ceramic artists over the past year and a half. After receiving her MFA from UGA in 2008, she began producing work under the name Marmalade Pottery. Immediately identifiable, her pieces depict colorful flora and fauna sketched onto milky white slips covering rich red clay.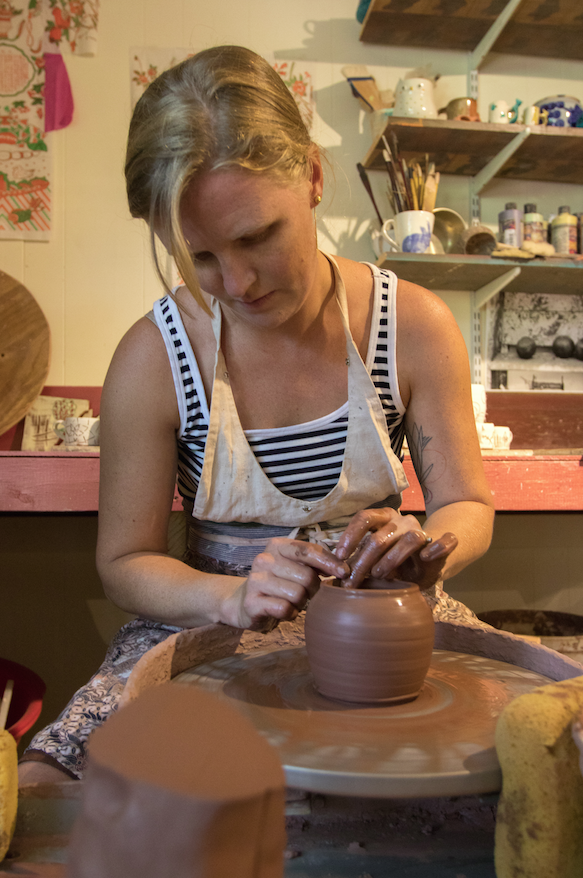 Photo Credit: Nicole Adamson
Anyone who visits nearby studios during their biannual open houses will rejoice in finding that many of these artists—Jerry and Kathy Chappelle of Happy Valley Pottery in Watkinsville, Geoff Pickett of Farmington Pottery, Alice Woodruff and Jeff Bishoff of Watkinsville and David Morgan of Danielsville, to name a few—can be found under one roof. The Classic City is represented well too, with Laura B. Cooper, Carter Gillies, Juana Gnecco, Jennifer Graff, Ted Saupe, Rob Sutherland and Minsoo Yuh.
"Perspectives" offers two additional exhibitions each year that focus in on a particular style or artist. On view in the Members Gallery, "Echizen in Japan" showcases traditional yakishime, a form of high-fired unglazed pottery. Echizen is considered one of the Six Ancient Kilns of Japan, a rural ceramics community that has produced pottery for several centuries. Though individual potters' techniques vary more widely nowadays, Echizen ware is often characterized by earth tones and unusual surface textures caused by ash within the kiln.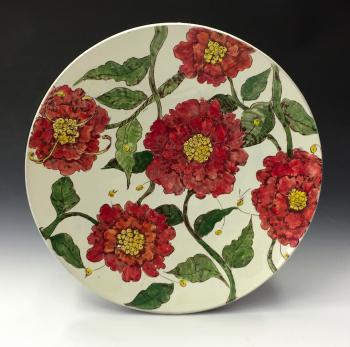 Curated by Chris Kelly, a professor at Piedmont College, the exhibition features work by Naoki Izumi. After an economic downturn in Tokyo around the late 1980s, Izumi began questioning his occupation as a businessman and sought out a new way to turn his hobby into a career. His pursuit led him to Echizen, where he had a five-year apprenticeship under a master potter. After mastering the skills necessary for old Echizen techniques, he began exploring his own methods for reinterpreting the tradition. Izumi will lead a two-day pottery workshop on Saturday, Aug. 26 and Sunday, Aug. 27 from 10 a.m.–5 p.m.
On view in the Hall Gallery, Beau Raymond's solo exhibition, "In a Galaxy Not Far Away," offers bold, comical pieces full of personality. His signature slender, minty mugs are often adorned with cartoonish caricatures that wear gritted teeth or sleepy eyes, not unlike the pre-caffeinated expression the mug's holder may be reflecting back. A child of the '80s, Raymond's foundation for creating art was heavily influenced by television, movies and comic books, particularly Mad magazine, the Garbage Pail Kids and John Carpenter. He uses humor as a device to lighten the mood and disarm audiences before approaching social commentaries. After receiving his MFA from the University of Florida, Raymond moved to Atlanta, where he is now the clay studio manager and an instructor at Johns Creek Arts Center in Fulton County.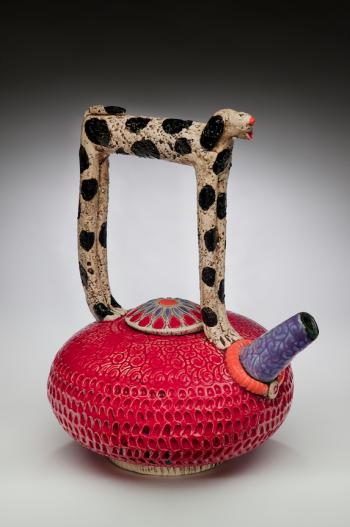 An opening gala and preview sale for "Perspectives" will be held on Friday, Aug. 25 from 6–9 p.m. In exchange for the $20 admission, attendees will receive first dibs on snatching up one-of-a-kind pieces for sale. The evening also includes the opportunity to mingle with the participating potters, complimentary refreshments and snacks and live jazz music by Period Six on the outdoor stage.
Demonstrations in wheel-throwing and handbuilding techniques will be held in the courtyard every Saturday from 1–4 p.m., with the lineup including Maria Dondero on Aug. 26, Tammy Josephson on Sept. 2 and Martha Cook on Sept. 9. OCAF founding member Michael Pitts, who has 40 years of experience, will lead Sunday gallery talks covering clays, glazes, firing techniques and noteworthy pots on Sept. 3 and Sept. 10 at 1 p.m. The exhibitions and sale will remain open through Wednesday, Sept. 13.
Like what you just read? Support Flagpole by making a donation today. Every dollar you give helps fund our ongoing mission to provide Athens with quality, independent journalism.