MFA: A longstanding relationship in place since the 1940s, the "Master of Fine Arts Degree Candidates Exhibition" at the Georgia Museum of Art shares diverse works by students graduating from UGA's Lamar Dodd School of Art. The annual tradition represents not only the culmination of each student's formal training within an academic institution, but a new wave of artists embarking on exciting professional and creative pursuits.
This year's MFA candidates are Reid Brechner, Ellie Dent, Ariel Lockshaw and Shuk Han Lui, who have a concentration in painting and drawing; Julia Megan Burchett and Arron Foster in printmaking and book arts; Zachary Harris and Jonathan Nowell in sculpture; Thomas Bosse and Amanda Scheutzow in jewelry and metalwork; Jamie Diaz and Dan Vu in ceramics; Stephanie Sutton in photography; and Meirav Goldhour in interior design.
Though each student has a declared concentration, many choose to meld influences from various fields and experiment in media outside of their primary focus. The results lean towards engaging, installation-based artworks that reflect current trends in contemporary art practice. Foster, for example, designs animated videos based on his prints, while Dent creates three-dimensional sculptural pieces accented with painted details.
An opening reception will be held on Friday, Apr. 7 from 5:30–8:30 p.m. Each candidate will deliver a three-minute synopsis offering insight into his or her body of work during MFA Speaks on Thursday, Apr. 20 from 5:30–7:30 p.m. Museum Mix will follow that evening from 8–11 p.m. with DJ Kevin Green. The museum's quarterly reception, 90 Carlton: Spring, held Friday, May 12 from 5:30–8:30 p.m., will feature various gallery activities and door prizes. The exhibition will remain on view through Sunday, May 14.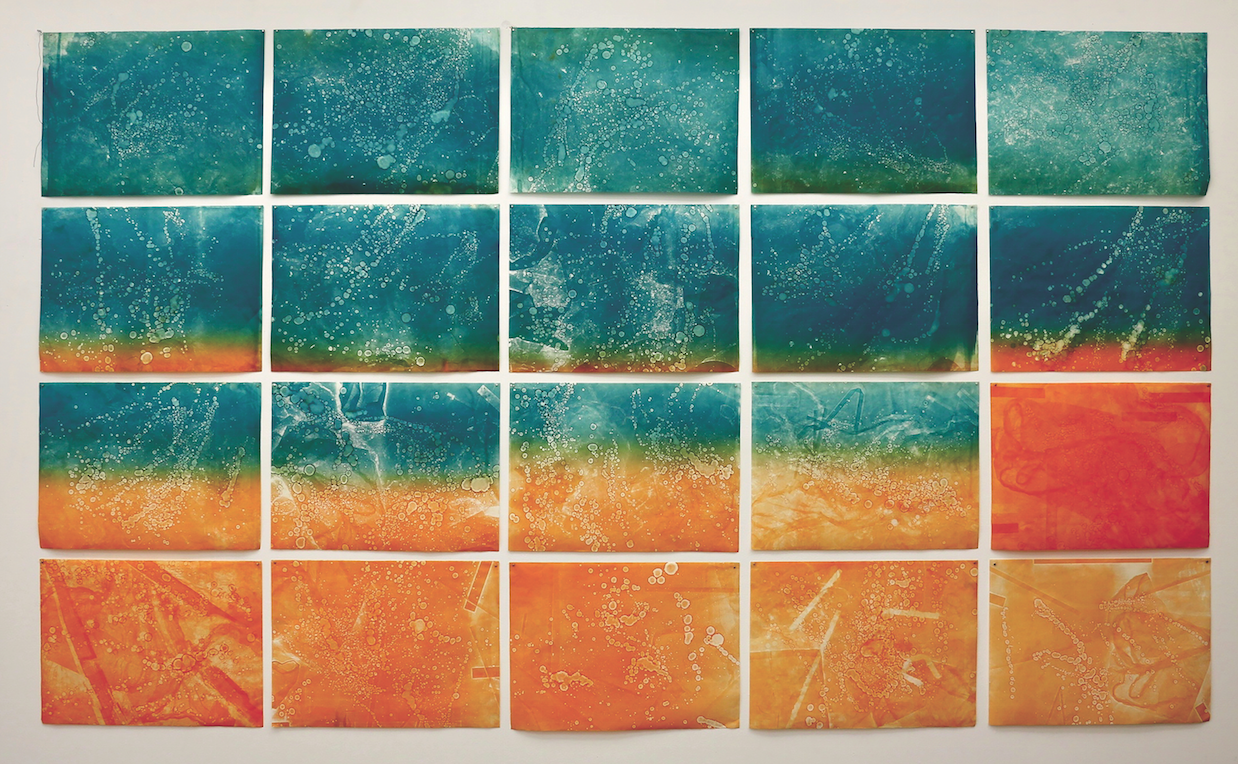 SOUTHWORKS: One of the Oconee Cultural Arts Foundation's largest shows, the 22nd annual "Southworks National Juried Exhibition" reflects current trends in contemporary art through a wide range of materials, styles and themes. This year's pieces were selected by guest juror Nandini Makrandi, chief curator at the Hunter Museum of American Art in Chattanooga. Through a blind jurying process, she selected 71 pieces by 62 artists from over 500 entries that were submitted. Of the accepted works, 52 percent are by artists living in surrounding counties, 21 percent are from elsewhere in Georgia, and 27 percent were delivered from across the country.
Familiar faces from Athens include Elizabeth Barton, Stanley Bermudez, Robert Clements, Jackie Dorsey, Sean Dunn, Lisa Freeman, Ray Lee, Manda McKay, Scott Pope and Noah Saunders. Artists from Oconee County include Kie Johnson, Sandy Ellis, Starr Helms, Jan Perkins and Jeanne Whatley.
Every year in conjunction with "Southworks," OCAF presents a Director's Choice Exhibition to highlight an artist who has caught its eye. This year's artist, selected by former gallery director Charles Warnock, is Rebecca Davenport from Beaufort, SC. Her exhibition, "Still Lives," is a collection of narrative paintings that explore ambiguities of the human condition.
Influenced by photorealism, Davenport's lifelike portraits are meticulously painted, but often have an underlying uncanniness that intensifies the mystery of the character's backstory. Her subjects are often composites, however, interestingly incorporating details she imagines. Her other still lives in the exhibition offer unusual combinations of unexpected pairings of items. One, for example, displays a rusty tin of lamb livers, a toy clown and a blue ball with a large feather, handwritten letter and green grapes with a fly perched on top.
An opening reception for "Southworks" and "Still Lives" will be held on Friday, Apr. 7 from 6–9 p.m. Awards include Best in Show, offering $1,000 and a solo exhibition in the future, plus $500 first-place merit prizes in 2D and 3D. Both exhibitions will remain on view through Friday, May 5.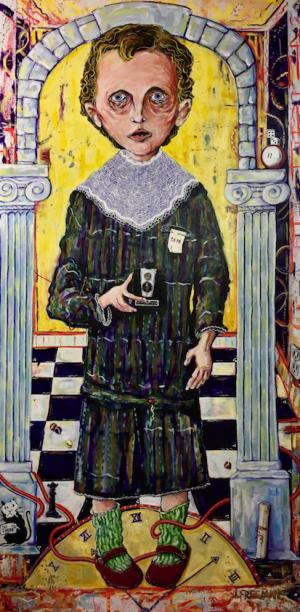 ARTSCAPE: While driving around Watkinsville, keep an eye out for the nine newest murals of "Artscape Oconee: The Monuments of Artland," which will be installed in outdoor locations across town over the next few weeks. Co-organized by OCAF and the city of Watkinsville, and partially funded by a grant from the Georgia Council for the Arts, the public art project provides artists with 4-foot-by-6-foot or 4-foot-by-8-foot panels to decorate.
Several of the paintings are immediately recognizable by the artist's distinctive style. Lisa Freeman's "Little Big Girl" is a larger-than-life portrait of a child holding a camera who, despite being surrounded by playful items like dice and marbles, seems to express a certain weariness or maturity beyond her years. Folk artist Peter Loose, whose bright paintings of animals are often accented with little polka dots, depicts "The Mother of All Armadillos" and her babies relaxing in a flower bed. Claire Clements, who frequently collages cut paper into nature-inspired images, adapts those delicate silhouettes into "MoonGlow," a beautiful full moon shining through sprawling plants. Other panels were completed by Andy Cherewick, Cameron Hampton, Kemp Mooney, Crispy Printz, students at Oconee County High and art students at the University of North Georgia.
Like what you just read? Support Flagpole by making a donation today. Every dollar you give helps fund our ongoing mission to provide Athens with quality, independent journalism.