Athens native and quintessential bohemian Jeremy Ayers (1948–2016) was a multi-disciplinary artist and free spirit who always embraced the mystery and beauty surrounding him. As a musician, he performed in the enigmatic, genre-defying group Limbo District and helped write songs for both R.E.M. and the B-52s during the early formation of the Athens music scene. As a writer and performance artist, he became part of Andy Warhol's Factory, wrote for Interview magazine under the name Sylva Thin and appeared in numerous stage productions while living in New York City. As a visual artist, he had several exhibitions of paintings and fine art photography, and assisted visionary folk artist Howard Finster at Paradise Gardens.
Currently on view at the Athens Institute for Contemporary Art, "Out There! Photographs in the Spirit of Jeremy Ayers" pays homage to the late artist. Curated by John English and assistant Jillian Girardeau, the exhibition includes over 30 images selected from Ayers' body of work, as well as photographs submitted by artists who share his inclination towards capturing the offbeat.
Ayers would often use his camera as a tool for approaching strangers—that's how I met him one sunny afternoon during Neutral Milk Hotel's performance at Orange Twin—and his portraits reflect a level of disarmament and intimacy. He published three books of photography: Today in New York, Aeronautica and Occupy, each of which offers interesting glimpses into the lives of people who caught his attention.
A tremendous well of insight and inspiration, Ayers mentored and motivated many artists who share his curiosity and interest in elevating the underlying surreality of everyday life. His photographs hang in company with selections from Shawn Campbell, Melanie Cohen, Mark Cooney, Didi Dunphy, Nancy Barbosa Hathaway, Rick Hawkins, Mike Landers, Brittainy Lauback, Will Major, David Noah, Stacey-Marie Piotrowski, Ben Rouse, Jason Thrasher, Rosemary Woodel and Wilma.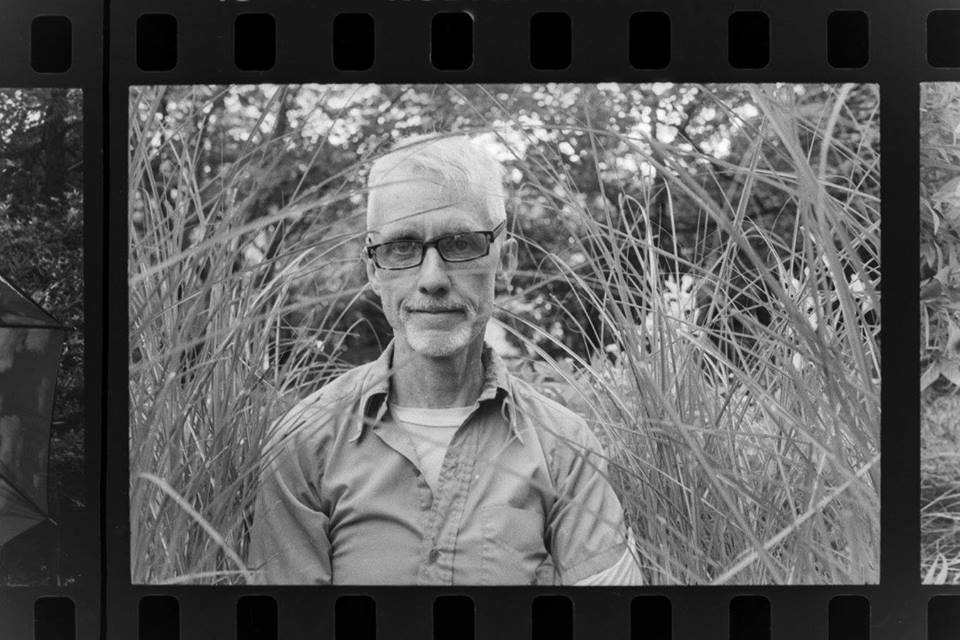 "Out There!" includes three images by Thrasher. The first is a portrait he took of Ayers the last time the two met up to trade prints. When Thrasher showed the portrait to Ayers, who was initially reluctant towards being photographed, "he said that 'it was a fine image and I should do with it what I please.' It was after his passing that I realized that it was his gift to me," says Thrasher.
When he received the news of Ayers' death, he asked himself, "What would Jeremy do?" and immediately set out to find a quiet spot in nature, which he then recorded through a landscape shot. The next morning, he visited Ayers' charming home garden, leading to the third image.
"Jeremy was the first friend I made in Athens. I very clearly remember the first time I saw him bouncing across the street coming towards Paul Thomas' [X-Ray Café] downtown," Thrasher says. "He said hello with a sideways look, and we've been friends since that day."
Offering a stream-of-consciousness exploration of the local music scene, Thrasher's latest major photographic project is Athens Potluck, a portrait series through which each person was asked to select the subsequent artist, and so on. An Indiegogo campaign was launched last week to support the publication, which he intends to dedicate in memory of Ayers.
Piotrowski, who currently has a collection of live music photos on view at Flicker Theatre & Bar this month, contributes candid snapshots of creative friends to "Out There!" Much like Ayers, whose body of work tenderly reflects the complexity of the human experience, Piotrowski seeks to capture her own interpretation of that distinctly Athens feeling, "an ever-shifting combination of joy, darkness, mystery, wonder and, of course, a little bit of weirdness.
"Athens contains a bubble of creative weirdos and fun, surreal happenings, but we're also smack in the middle of the historic, haunted South, dealing with a lot of serious issues, such as our abysmal poverty rate, to name one example," says Piotrowski, who aims to confront some of these contradictions through her portraiture.
"Sometimes the incessant grind of living paycheck-to-paycheck can harden a person against 'whimsy,' but sometimes the joyful wildness of Athens gives one the strength to push forward in spite of it all," she says.
Piotrowski has lived in Athens for over a decade, and spent a few of those years living at Spillage House, a punk home that, despite all of its hazy late nights, served as an epicenter of the DIY community. The Sharpie-accented walls of Spillage provide a backdrop for one of her portraits. She first met Ayers in stereotypically Athens fashion—by running into him on a 2 a.m. walk home with a mutual friend after attending a show downtown.
"He seemed to be always curious, always interested in learning and sharing in a mutually respectful way," Piotrowski says. "I really appreciated his work. Many of his portraits in particular capture powerful impressions—essences, even—of his subjects, so that even if I didn't know the person in the picture, I knew something about them because of the photo."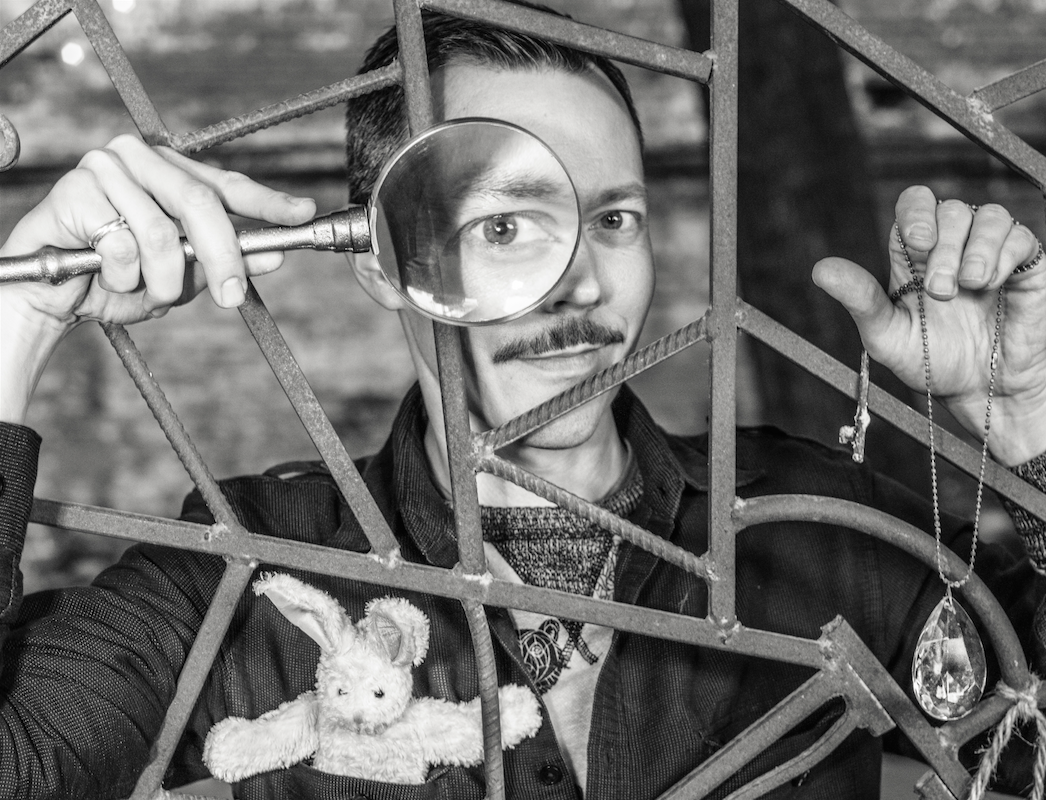 Photo Credit: Ben Rouse
ATHICA will present a special staged reading of Ayers' final written work, "Canray Poole," in the Chase Park warehouses' ever-enchanting Tree Room on Thursday, Mar. 23, with a reception in the gallery beginning at 7:30 p.m. Influenced by metaphysics, shamanism and the folklore of indigenous cultures, Ayers crafted a fantastical account of a gender-fluid witch named Canray who transcends space and time. Under the direction of Daniel Allen Nelson, a New York-based performance artist and founding member of Woof Nova Collective, the multimedia show includes video design by Joseph Stunzi and performances by Cal Clements, Ashley Crooks-Allen, Carly L. Landa, Sam Lane and Kate Morrissey Stahl.
"As Canray shapeshifts around the world through various historical periods and geographic locations, he reveals his process of gaining an ever-glistening authenticity," Nelson is quoted as saying in a press release. "We learn of Canray's history as a mercurial shaman, and also gain insight into the external forces at play as they navigate a world of ambivalent rules and shifting moral tides. Canray disarms his adversaries with humor, charm and transcendent magic, and illustrates that the powers of imagination and language are perhaps the ultimate divine elements at our disposal to exist in the world and find a path to immortality."
Additional events in the gallery include The Georgia Review's spring issue launch with Joshua Beckman on Mar. 22 at 7 p.m., Revolutionary Reading Club meetings on Mar. 30 and Apr. 13 at 6 p.m. and murk daddy flex's EP release on Apr. 4 at 8 p.m. ATHICA will also host two events during the final weekend of "Out There!" A screening of Jim Herbert's early-'80s short film Carnival—possibly the only recording of Ayers' band Limbo District—will be followed by a panel discussion on Apr. 22 at 7 p.m. Brooklyn-based musician Frank Hurricane will perform with additional bands the following night.
Like what you just read? Support Flagpole by making a donation today. Every dollar you give helps fund our ongoing mission to provide Athens with quality, independent journalism.