Returning to Athens after nearly a decade away, artist Mike Calway-Fagen has quickly found his bearings and fully immersed himself in the local art community, both on and off campus. Last fall, he joined the faculty of UGA's Lamar Dodd School of Art as an assistant professor and area chair of the sculpture department. Balancing a career as an educator with his own creative practice, he is also an experienced arts writer and curator.
His first major curatorial role back in town is "I Swear I Saw This: the line as witness," a group exhibition currently on view at the Athens Institute for Contemporary Art. Inspired by Michael Taussig's book, I Swear I Saw This: drawings in fieldwork notebooks, namely my own, the exhibition seeks to examine the experience of witnessing and becoming the other that occurs when one writes, sketches or sculpts in response to an observation.
Each work on view was created specifically for the exhibition, and harrows in on the line as a focal point. A poem by Jacob Sunderlin marches across the wall in confident blank letters, each word falling into a single-file line. Nearby, a small black-and-white drawing by Christina Tsui connects sketches of rectangular planks with delicate threads of ink.
Courtney McClellan's multimedia piece resembles a lecture podium, substituting a photograph depicting rows of seats for an audience. Jon Swindler's installation features a patchwork of alluring patterns connected by boldly colored lines, collectively serving as the sails for representational wooden boats beneath. Perhaps the exhibition's most literal interpretation of a line, one of George Belcher's pieces is a very tall, solid black rod leaning against the wall.
"The book and exhibition think about the line—the line's ability to describe, in depth [and] with acute sensitivity, phenomena, feeling, and generally the external world. When one draws one must become the contours and textures of what is out there," says Calway-Fagen. "This requires heightened sensitivity, a willingness to forgo the imposing force of interpretation, a slowing down and ultimately witnessing. Consider it an empathetic form of observation, where what you are is also what you behold."
A group poetry reading orchestrated by Sunderlin will be held on the exhibition's final day, Sunday, Mar. 5 at 4 p.m. The lineup includes Fluke Mini-Comics and Zine Festival organizer Robert Newsome, who will read from his professional-wrestling zine Atomic Elbow, as well as creative writing PhD students Bridget Dooley and Jaydn DeWald.
ATHICA will temporarily close until Saturday, Mar. 18, when it reopens for "Out There! Photographs in the Spirit of Jeremy Ayers." Curated by John English, the exhibition seeks to honor the late artist through images by photographers who share his keen eye for capturing offbeat characters and communities.
In addition to his role as an instructor, Calway-Fagen will be the director of a new exhibition space on campus called The Finishing School. Located at 215 S. Thomas St., the gallery will predominantly present the projects of individuals from outside the university, and will offer "an opportunity for students to invest in their community, experience how an artist-run gallery functions and the cultural gravity of such a DIY space," he says.
The Finishing School's inaugural exhibition, which opens to the public the evening before "I Swear I Saw This" closes, is titled "Parallel Play" and features new works by Andrew Boatright, Kojo Griffin and Kirstin Mitchell. Though resulting in visually distinct creations, their artistic approaches share physical processes guided by conceptual and material experimentation. Presenting their works in close proximity, the exhibition compares and contrasts the practices of three artists working "parallel" to each other.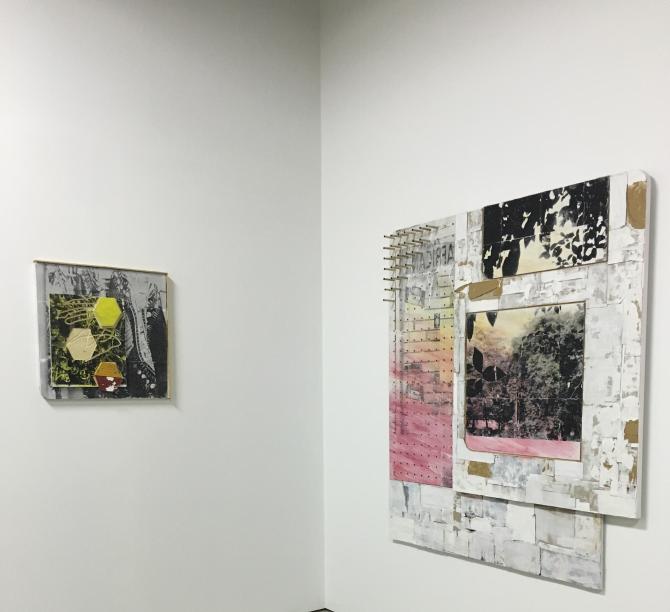 The show is co-curated by Atlanta-based visual artists Candice Greathouse and Curtis Ames, who hold MFAs from Georgia State University in photography and drawing and painting, respectively. The duo has presented several multimedia and video-based installations together over the past five years, and curation appears to be a natural extension of their collaborative mindset and shared interests in conceptual and process-based works.
Comfortingly familiar yet undeniably grotesque, Boatright's sculptures resemble flesh hanging loosely and stretching tautly across anthropomorphic armatures. Reflecting inquiries into the shifting physical and virtual boundaries of society, Griffin builds layered assemblages that appear as mazes or puzzles. Mitchell, who often incorporates performative elements into her work, has recently shifted into making sculptures of man-made materials that feel organic.
"They all deal with some kind of gesture in their works. You can see the hand of the artist—it's raw, visceral, and emotive," says Greathouse. "All artists are attempting to elaborate on something about the human condition and how we navigate this world. Even if they are raising questions and not trying to solve problems, it's a dialogue. They do this with different results, but the processes can be similar. With these three artists, drawings and sketches help to inform or accentuate the larger works, operating as a hypothesis."
Greathouse, the former creative director of MINT Gallery in Atlanta, recently served as a juror for the "2017 Undergraduate Curated Exhibition" at Lamar Dodd last month. She will return to Athens in spring to guest-curate "Domestic Structures: Atlanta & Athens Artists" at ATHICA, which opens Saturday, May 6 and features works by InKyoung Chun, Meta Gary, Brittainy Lauback, Elizabeth Lide and Jess Machacek.
An opening reception for "Parallel Play" will be held on Saturday, Mar. 4 from 7–9 p.m. The exhibition will remain on view by appointment through Wednesday, Mar. 29, and visitations to The Finishing School can be arranged by emailing thefinishingschool.exhibitions@gmail.com.
Like what you just read? Support Flagpole by making a donation today. Every dollar you give helps fund our ongoing mission to provide Athens with quality, independent journalism.