Serving as an oasis in this frankly dark political and cultural climate, the Gallery@Hotel Indigo's latest exhibition, "Ultra Bright," presents an opportunity to escape temporarily into the worlds of six Athens and Atlanta artists. Bringing in the new year with vibrant eye candy has become something of an annual tradition for curator Didi Dunphy, who seeks to balance a season usually marked by frigid temperatures and pale landscapes with bold and colorful imagery. An opening reception for "Ultra Bright" will be held on Thursday, Jan. 26 from 6:30–8:30 p.m., and the exhibition will remain on view through Saturday, Apr. 8.
The lush environments of Drema Montgomery—whose painting "Honey Child" graces the cover of Flagpole this week—are simultaneously charming and disturbing. Nostalgic artifacts and "gender-specific" toys from childhood—plastic castle, teacup, bejeweled crown, lace, beads, baby dolls—are squeezed by gut-like growths in shades of hot pink, bright blue and teal.
Borrowing Southern colloquial terms such as "Bless Your Heart" and "Over Yonder" for titles, the body of work contemplates the vernacular language distinct to Montgomery's hometown in northeastern Alabama. While commonly used as terms of endearment, those phrases also subtly serve to reinforce a code of behavior and value system. Though full of distractingly delicate and glittering details, her paintings convey a certain heaviness that alludes to the complexity of shaping personal identity through the influences of a culture. "Girly" objects physically tangled and trapped within these fleshy chambers speaks to the emotional tension and psychological internalization that so often comes with confronting expectations of femininity.
Laura Noel's series of photographs, "Crawling Backwards," represents an exploration into Noel's personal history and an attempt at traveling back in time to recreate the optimism and wonder of childhood. Many of the Atlanta-based artist's most precious memories took place in her family's former home, a place described as an enchanted kingdom full of exotic treasures collected through world travels. The items were sold at auction after the passing of her great-aunt, an eye-opening event that introduced 12-year-old Noel to the inevitable unfairness of adulthood.
A photograph of the silhouette of a unicorn encrusted with crystal formations in shades of cotton-candy pink and pale blue speaks to the imagination and reflects the slow passage of time. Other photographs augment natural forms with fantastical digital manipulations, such as a gnarled tree superimposed with a rainbow and flowers layered with translucent, ghost-like fabric.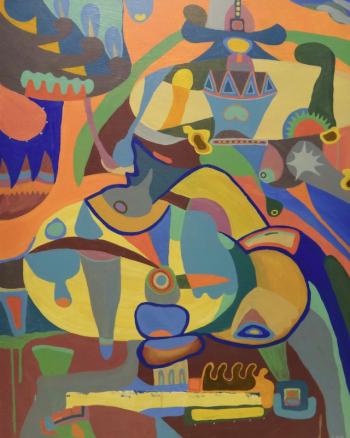 Employing an automatic mark-making approach, Logan Shirah creates paintings and drawings that are guided by his current mood or in response to whatever is occupying his mind. This improvisational and meditative process transforms a stream of consciousness into a cohesive whole, as loose forms gently flow from one another.
Influenced by abstract surrealism, psychedelia and childhood cartoons, Shirah's works are inherently playful and light. The eye is led between colorful shapes by interconnected hard lines, demonstrating painting's ability to serve as a form of architecture that constructs space to wander around in.
The mixed-media abstractions of Vivian Liddell demonstrate a contemplative exercise in challenging formal approaches to making art by blurring the high/low division between art and craft. Liddell intentionally disregards traditional rules for design and composition, opting to intuitively and freely play with a piece until it feels complete. Using materials like fabric, spray paint, ribbon and embroidery, Liddell establishes a healthy tension through irregular forms and clashing patterns. "Mountain Path Trolls"—two embroidered creatures guarding a maze smeared in paint—is honestly one of the few times you'll ever see a gallery work featuring googly third eyes.
There comes a time in every art writer's career when she is met with the challenge (and potential conflict of interest) of balancing participation in the scene as a journalistic spectator versus as a direct contributor, which leads us to the final artists of "Ultra Bright": Flagpole's own two art writers, Barbette Houser and me.
Houser sews eye-catching quilts that prioritize the expression of a visual idea over traditional craftsmanship or functional use. Inspirations from the natural or manmade world are often reduced to their simplest form, transforming motifs and patterns into designs for quilts that embrace abstraction.
Houser began quilting as a daily practice in 2010, finding the activity to be a form of therapy. As she describes in her artist statement, "[t]he meditative and healing nature of constant stitching enabled me to accept the death of my beloved husband and view my obsessive-compulsive behaviors with more objectivity and understanding." Brightly colored and alluring in their understated simplicity, her quilts exemplify the complexity of finding solace through minimalism and precision.
Through my series of psychedelic landscapes, I hope to offer small windows for escaping into mountainous and otherworldly environments. Each scene was constructed by collaging sheets of hand-marbled paper, a process modified from traditional Ebru techniques that involves manipulating pigment on an aqueous surface. My hope is that the swirling patterns condensed within these two-dimensional fantasy environments will encourage viewers to seek and admire the natural world's recurring designs long after they leave the gallery.
While visiting "Ultra Bright," be sure to swing by the GlassCube—a literal glass cube dedicated to site-specific installations located right outside of the hotel's main entrance—to see "Satisfaction System" by Garrett Hayes. His sculptures and installations frequently utilize found objects by arranging discarded or neglected items that would have otherwise found a fate of sitting on shelves, occupying landfills or naturally decaying. Whether stretched, burned, painted or sanded, these materials are given new life as components of unified forms.
The focal point of "Satisfaction System" is a large, web-like structure created with woven scraps of denim, while a smaller, suspended circle echoes behind its center. A network of thin ropes provide interesting shadows during the day, while colorful electro-luminescent wires transform it into a glowing installation at night. "Satisfaction System" will remain on view through Saturday, Apr. 15.
Like what you just read? Support Flagpole by making a donation today. Every dollar you give helps fund our ongoing mission to provide Athens with quality, independent journalism.