Right in time for Martin Luther King Jr. Day, the Lyndon House Arts Center is hosting three exhibitions exploring the African-American artist experience, as well as current race relations. "Upstream I: Sweetmare, Paintings by Juan Logan," "Upstream II" and "Visions of MLK Art Exhibition" all challenge viewers to contemplate how cultural histories, social stereotypes and corrupt institutional power structures shape contemporary life.
Through his solo exhibition of large-scale mixed-media paintings, "Upstream I," North Carolina artist Juan Logan draws from his heritage to investigate relationships between race, location and power. Simultaneously abstract and representational, he often uses simple forms to symbolize complex ideas. Named after a place where slaves were punished and tortured, "Sugar House" is dense with flurries of puzzle pieces swirling among silhouettes of heads and other abstracted shapes. A striped mechanical form represents a treadmill, once used as a torture device, while the sliced-up lottery tickets on its wheel allude to a system that has historically disadvantaged people of color. Referring to the aftermath of Hurricane Katrina, the painting "Help Me, Save Me, Love Me" is similarly simple in style yet heavy in content. Using the puzzle pieces to represent humans, an irregularly dark mass of displaced bodies surround a bright red cross symbolizing the promise of aid.
Continuing an exploration into identity, race and culture, the sequential exhibition "Upstream II" presents works by five contemporary professional artists from the region. Opening on Saturday, Jan. 14—the final day of "Upstream I"—the exhibition will remain on view through Thursday, Mar. 2 and includes painting, relief sculpture, installation and works on paper.
Jerushia Graham, whose artwork appears on this week's cover of Flagpole, holds a BFA in fabric design and printmaking from UGA's Lamar Dodd School of Art and an MFA in book arts from the University of the Arts in Philadelphia. In addition to serving as education director of the Atlanta Printmakers Studio, she also teaches through Kennesaw State, the Hudgens Center for the Arts' smART Program and the Paper Museum's Explore! series of workshops. On Thursday, Jan. 19 at 6 p.m., she will offer a gallery talk and printmaking workshop at the Lyndon House.
Each of Graham's paper cuts on view in "Upstream II" were created specifically for the exhibition, guided by inspiration sparked during a conference called "Black Liquidity" at Georgia State University a few years ago.
"I'm exploring the love/hate relationship this nation and black people have with the continuously fluid notion of 'blackness.' Though I know that race is a social construct, there are moments when I want to embrace fully black power and black pride," says Graham. "At other times, I want to shout, 'This is a manmade construct; see me for my individual personality.' There are times when I'm viewed as too black or not black enough. The definition and understanding of blackness is fluid and changes depending on context. I wanted to create images that made black fluidity visible."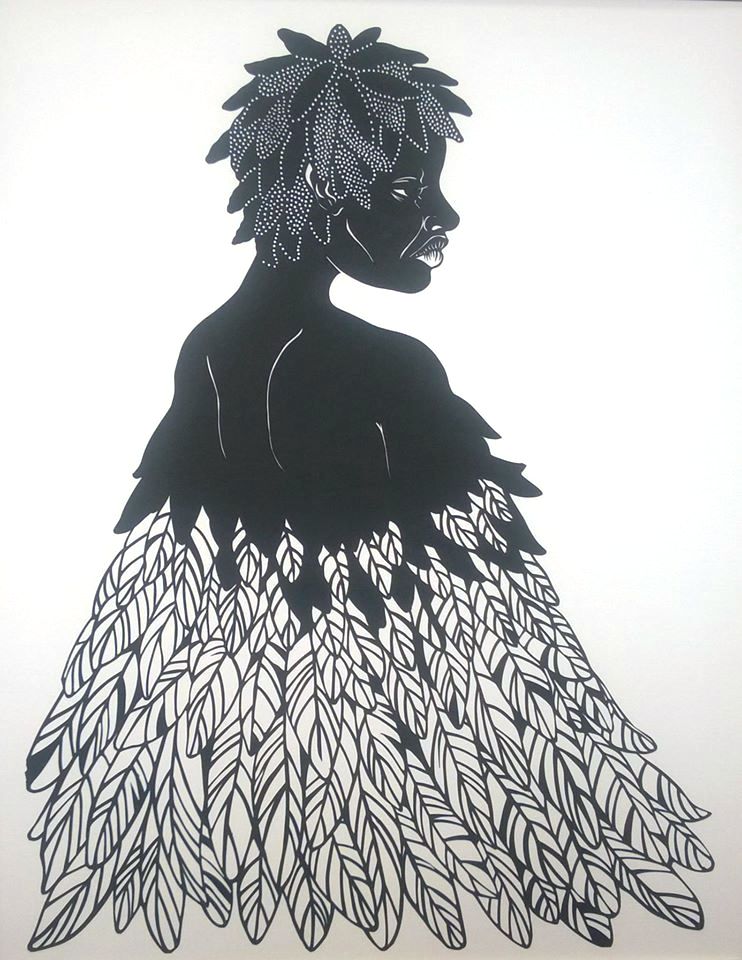 Athens artist Broderick Flanigan, owner of Flanigan's Portrait Studio, is known for his ability to use art for activism. In addition to leading local youth mural projects in the East Athens Triangle Plaza neighborhood and at Hilsman Middle School, he has traveled to Kisii, Kenya and Chiang Mai, Thailand for community projects. Many of his pieces in "Upstream II" are emotionally reflective of how the founding principle "all men are created equal" has been selectively upheld over history. One painting, "Statue of Liberty," refers to the alleged modifications—and consequential cultural implications—of Lady Liberty, who may have been originally modeled after an Egyptian woman and who held a broken shackle and chains before tablets were substituted in.
"If this has any merit of truth, for me it speaks to the fact that people of African descent in America are constantly being given a narrative to define us by the majority culture," says Flanigan. "Rarely are we given an opportunity to define ourselves and tell our own stories in the mainstream of society."
"Upstream II" also includes artworks by William Downs, Njambi Mwuara and Meaza Nigatu. Downs, who teaches at Georgia State, contributes an installation of drawings from his "Black Flags" series. Individual images are displayed in a grid resembling a paper quilt, collectively establishing a cohesive narrative to get lost inside of. Athens resident Mwuara reflects her Kenyan heritage through a series of new watercolor paintings. Born in Ethiopia and raised in the U.S., Nigatu builds three-dimensional constructions that unify shapes, patterns and designs found among different African cultures.
Currently entering its 10th year, the annual "Visions of MLK Art Exhibition" honors the life and legacy of Martin Luther King Jr. through collaborative works by teams of writers and artists. Organized by Montu Miller, this year's theme was "Let Us Build Bridges," encouraging participants to combine poetic words with visual work communicating ideas of dissolving boundaries and coming together. The exhibition will be on view from Jan. 14–21.
"Upstream I," "Upstream II" and "Visions of MLK" will be highlighted together together during the Saturday Celebration on Saturday, Jan. 14 from 1–4 p.m. Logan will offer a gallery talk on his body of work, and several "Upstream II" artists will be in attendance to discuss their backgrounds. The afternoon begins with a collaborative bridge-building activity led by Chase Street School STEM teacher Chris Sugiuchi. A multifaceted event featuring art, dance, poetry, music and food, the lineup includes Life the Griot, Cassie Chantel, Chief Rocka, the VIP Girlz "Unity" Dance Team, African Soul, Repunza, the Clarke Middle School Competitive Step Team, Wisexpressions Dance Studio, Maxim Debonair and a dozen other entertainers.
As part of the nationwide public initiative "Make It a Day On, Not a Day Off," volunteers will assist in various service projects throughout the community on Martin Luther King Jr. Day. The Athens Anti-Discrimination Movement will also host the inaugural MLK Day Parade at 3 p.m., which kicks off near the corner of Hull Street and Hancock Avenue and ends on Washington Street at Max for a block party with guest speakers, food vendors and live performances.
Like what you just read? Support Flagpole by making a donation today. Every dollar you give helps fund our ongoing mission to provide Athens with quality, independent journalism.