Launched in 2012 by the UGA Arts Council, Spotlight on the Arts draws attention to the wide array of visual, performance and literary arts across campus. Everything kicks off with an opening celebration featuring student performances at the Performing Arts Center on Wednesday, Nov. 2 at 7:30 p.m. The annual festival aims to condense 100 events into only two weeks, with the full schedule available at arts.uga.edu.
ART: Spotlight on the Arts wouldn't be complete without drawing attention to the multiple venues on campus that host visual artwork and artifacts year-round. The Georgia Museum houses the largest collection of art in town, with diverse exhibitions ranging from "Gifts and Prayers: The Romanovs and Their Subjects" and "Icon of Modernism: Representing the Brooklyn Bridge, 1883–1950" to "Living Color: Gary Hudson in the 1970s" and "Driving Forces: Sculpture by Lin Emery."

The Grady College of Journalism and Mass Communication is presenting a student-led display, "Designing History: Posters Exploring 20th Century Design Style and the UGA Special Collections Libraries Archives," while the Richard B. Russell Special Collections building itself offers historical artifacts focused on the UGA Redcoats marching band, Georgia water policy and implementation, 50 years of Foxfire and cultural journalism in North Georgia and the 1996 Olympics. Additional exhibitions currently on campus are "The Stands: Environmental Sculpture by Chris Taylor" at the College of Environment and Design Circle Gallery, and "Lacemaking in Georgia" at the State Botanical Garden.
Jenny Gropp, managing editor of The Georgia Review and guest curator, will lead a tour of "Storytelling: The Georgia Review's 70th Anniversary Art Retrospective" at the Georgia Museum on Wednesday, Nov. 9 at 2 p.m. On the following Friday from 6–8 p.m., the Lamar Dodd School of Art will host an opening reception for "BFA Exit Exhibition," a showcase of works by undergraduate students focusing in sculpture, Art X and printmaking that will remain on view through Friday, Nov. 25. During the opening reception, visitors are also invited to peek into the studios of MFA students during the Dodd Open Studio Night.
Spotlight also includes special events with visiting artists. This year's Jack Davis Visiting Artist is Chris Sickels, who will discuss the incredible 3D illustration and stop-motion animation he creates through Red Nose Studio in Greenfield, IN, on Thursday, Nov. 3 at 5:30 p.m. in room S151 of Lamar Dodd. The following Thursday, Natural Resources Defense Council Manager of Art Partnerships Elizabeth Corr will lead a two-part program co-presented by Ideas for Creative Exploration and Watershed UGA. During an ICE Conversation at 12 p.m. in room S160 of Lamar Dodd, Corr will explore projects that have successfully combined art, science and environmental activism, and during an Arts + Environment Roundtable at 4 p.m. in room 350 of the Miller Learning Center, she will anchor a discussion on "How Artists, Scientists and Environmental Activists Can Work Together."
The Optimist from RedNoseStudio on Vimeo.
THEATER: University Theatre presents Charlotte Brontë's Jane Eyre, the classic Victorian tale of Jane Eyre (performed by Brittney Harris), an orphan who becomes a governess and falls in love with the estate's owner, Mr. Rochester (John Terry), who hides a mysterious madwoman named Bertha (Brandy Sexton) in his attic. Directed by David Crowe, Polly Teale's play focuses on the private lives of Jane and Bertha, contrasting the modest and disciplined former with the wild and unhinged latter as a method of exploring the dichotomy of repression and freedom. The production will be held in the Fine Arts Theatre Wednesday, Nov. 2–Saturday, Nov. 5 and Wednesday, Nov. 9–Friday, Nov. 11 at 8 p.m., with a final matinee performance on Sunday, Nov. 13 at 2:30 p.m.

For even more theater, the "1616/1916/2016: Shakespeare in Ireland Symposium" presents two lectures: "Revenge or Reconciliation? Creating a Film Adaptation of The Tempest in Northern Ireland," presented by Tom Magill—who directed Mickey B, an adaptation of Macbeth performed by inmates of the Maghaberry maximum-security prison—and "Irish Shakespeares: 1916–2016" with Nicholas Grene, professor emeritus of English literature at Trinity College Dublin. In between discussions, students will perform a staged reading of "Spreading the News" and "The Rising of the Moon" by early 20th Century Irish playwright Lady Augusta Gregory. The symposium will be held on Wednesday, Nov. 9 beginning at 1:30 p.m. at the Special Collections Libraries.
LITERATURE: The Special Collections Libraries will host three events on Sunday, Nov. 6: "Bill Shipp's Political Pen: Mightier Than the Sword," a student-led Q&A with the award-winning journalist at 3:30 p.m.; "Roy Blount Jr.: Where I'm Coming From" at 5 p.m. and a Georgia Writers Hall of Fame reception at 6 p.m. The official induction ceremony the following morning at 10 a.m. will recognize Blount, Brainard Cheney, Katharine Du Pre Lumpkin, James Alan McPherson and Shipp.
Ciné will also hold multiple events celebrating the literary arts. Irish stage and film actor Barry McGovern will read letters by the late Irish avant-garde playwright and novelist Samuel Beckett on Monday, Nov. 7 at 7:30 p.m. The Creative Writing Program will host readings the following evening at 7 p.m. with PhD student Gabrielle Fuentes, who recently released her first novel The Sleeping World, and faculty member Magdalena Zurawski, who published her first full-length poetry collection, Companion Animal, last year. The University of Georgia Press will sponsor a talk with Ted Geltner, author of the new Harry Crews biography Blood, Bone and Marrow, on Thursday, Nov. 10 at 6 p.m. The event also includes a rare screening of the 1993 documentary film Harry Crews: Guilty as Charged.
PERFORMANCE: Irish music producer Jacknife Lee will visit Athens as the Willson Center/Terry College Music Business Program Visiting Fellow, participating in a public conversation with MBUS Director David Barbe at the UGA Chapel on Thursday, Nov. 3 at 4 p.m. Lee is internationally recognized for his work with a variety of rock and pop artists, including R.E.M., U2, Snow Patrol, One Direction, Weezer, The Hives and Taylor Swift. In addition to his lecture, he'll spin a DJ set at the 40 Watt Club on Friday, Nov. 4 at 9 p.m.
Self-described "New Renaissance Artist" Elizabeth A. Baker, author of Toyager: A Toy Piano Method and co-founder of the Florida International Toy Piano Festival, will perform at the Georgia Museum on Friday, Nov. 4 at 2:15 p.m. Her performances utilize handmade microphones and hydrophones for original compositions on toy piano, Indian harmonium and electronics. Another experimental event is the Driftmier Woods Happening, a site-specific performance combining sound and movement held adjacent to the Driftmier Engineering Center on Friday, Nov. 11 at 11 a.m.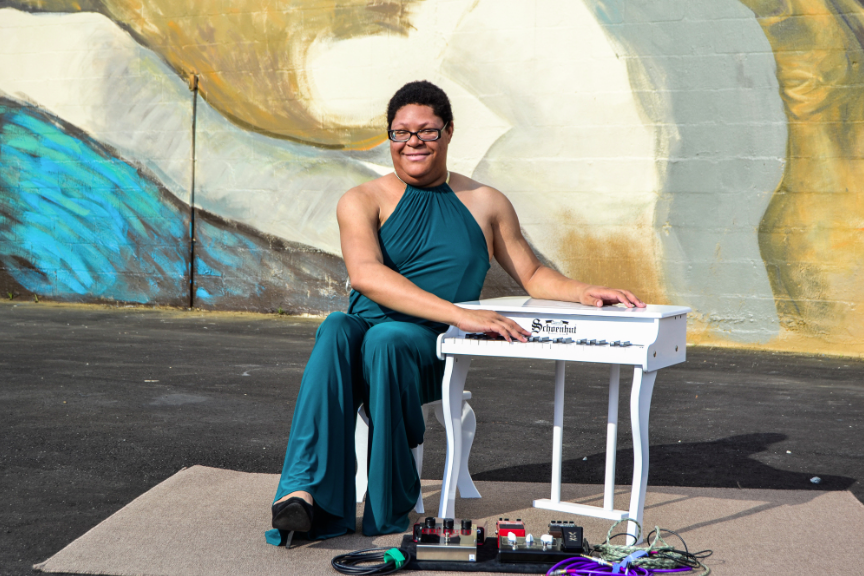 Photo Credit: Vicki Mann
Classical performance dominates Spotlight's lineup, with two standouts at the Hodgson Concert Hall offering international surveys of historical significance. A faculty ensemble will perform French chamber music of the 1920s and '30s during "An Evening in Paris" on Thursday, Nov. 3 at 7:30 p.m., and the Chamber Music Society of Lincoln Center will explore the City of Dreams through pieces by Mozart, Schoenberg and Brahms during "Destination Vienna" on Sunday, Nov. 6 at 3 p.m. At least one performance will be offered each day: the Fortunato Ensemble on Nov. 3, UGA Symphonic Band on Nov. 4, contemporary chamber ensemble Rote Hund Muzik on Nov. 5, Athens Flute Choir on Nov. 6, traditional folk group the Dardanelles on Nov. 7, UGA Wind Symphony on Nov. 8, the UGA horn studio on Nov. 9, UGA Symphony Orchestra on Nov. 10, Hodgson Singers on Nov. 11 and the Atlanta Symphony Orchestra on Nov. 13.
Like what you just read? Support Flagpole by making a donation today. Every dollar you give helps fund our ongoing mission to provide Athens with quality, independent journalism.