It's no easy feat to balance a career as an educator with an independent art practice, which makes "Spectra: Lamar Dodd School of Art Faculty Exhibition" a rare opportunity to become familiar with some of the most skilled artists in Athens. Named for the broad array of styles and ideas conveyed, the exhibition presents works representing the school's many departments, not limited to ceramics, printmaking, photography, metalwork, drawing and painting and sculpture.
Below are only a few of the dozens of artists currently sharing works, so take advantage of the closing reception on Thursday, Sept. 29 at 7 p.m. to discover your own favorites.
SUNKOO YUH: Appearing on this week's Flagpole cover, "Where Does Your Heart Go?" is an eye-catching clay sculpture that offers a glimpse into ceramics professor Sunkoo Yuh's mind. His three-dimensional works, which occasionally tower at several feet tall, typically begin as two-dimensional images spontaneously and intuitively drawn in ink. Sharing both conscious and unconscious concerns, these images also reflect on his relationships, memories and life experiences. Images and symbols from various cultures and religions are also incorporated, particularly Korean folk painting.
"Fundamental desire as a human being and mundane life are two big concerns in my work. Longevity, fertility, good marriage, well-being and the everyday issues in our lives are interwoven in my work," says Yuh. "My pieces embody not just a single story, but multiple interwoven narratives that can be identified by the viewer's imagination."
"Memory of Sabbath," a multi-paneled wall mural that also appears in "Spectra," depicts unusual clusters of characters and creatures finely outlined against a deep blue background. The stream-of-consciousness images were derived from doodles the artist made on Sunday church bulletins while listening to sermons over the course of a few years. During a residency at the Kohler factory in Wisconsin, the drawings were scanned and digitally reorganized to become the mural.
Because many of Yuh's sculptural works are based on intuitively drawn images occasionally pulled from his subconscious, they're ultimately left open to the viewer's own interpretation. Incredibly expressive and rich in symbology, the elements are collectively able to offer an overall impression but rely on the viewer's imagination to pull together a narrative.
"'Where Does Your Heart Go?' is an example of work that I can't understand clearly. But I assume that there are some sociopolitical concerns about the war in the Islamic world, the presidential election and dictatorship in North Korea embedded in this piece," says Yuh. "The past few years, I've started to think that I am not telling stories, but more so trying to express my mixed emotions on various issues through my works in hopes that I can share these ideas with the viewer."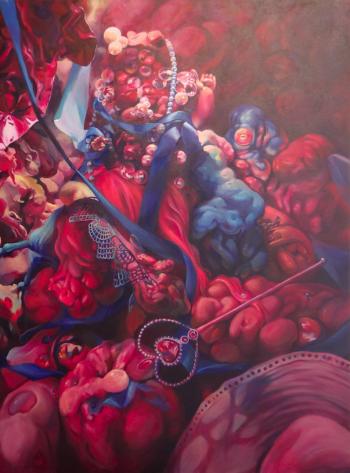 DREMA MONTGOMERY: The beautifully grotesque painting "Bless Your Heart" presents glittering jewels and "gender-specific" toys such as a baby doll and a rhinestone-encrusted, heart-shaped wand within a fleshy chamber in shades of hot pink. Blue ribbons, delicate lace and strings of pearls loop among the gut-like growths as if ensnared, possibly alluding to culturally embedded gender stereotypes and roles. Adjunct professor Drema Montgomery, who received her MFA in painting and drawing from Lamar Dodd this past spring, takes photographs of intricately constructed sets to lay the framework of each painting for the series. Borrowing Southern colloquial phrases for titles, her work addresses problematic elements of her upbringing.
MICHAEL OLIVERI: Tucked away in its own gallery space at the end of a hallway, "Trail of Tears" is a startling and somber exhibition by Michael Oliveri, associate professor of art and area chair of the ArtX department. A stunned taxidermy deer stands in the center of the room, facing its reflection in a large mirror covered in vertical bars of fluorescent lights. The lights pulsate in response to the frequency and amplification of the soundtrack, which was created with Brant Rackley of Japancakes and is emitted from small speakers embedded into the deer's fur.
The installation was conceptualized as a combination of two separate works Oliveri had been working on at the time. One was a piece for a park that the Trail of Tears passed through, and the other was a project that would incorporate police light bars.
"I was trying to create a police light bar, and during the process I realized a special frequency causing hallucinations, the kinds similar to having the light flicker in front of your closed eyelids," he says. "The difference was I was creating them with your eyes wide open. I wanted to push the experience to the point you couldn't take it."
Through the literal presentation of a "deer in the headlights," a parallel is created between the metaphorical expression and the feelings of shock, devastation and loss experienced by the Cherokee nation as members were forced to migrate from their homeland to present-day Oklahoma. Entering the space as a viewer, you can't help but be stunned physically by the jarring lights and emotionally by the reminder of a dark moment in history.
MARGARET MORRISON: Opulent and visually overwhelming, "Atomic No. 47" is a dizzying display of silver bowls, teapots, candelabras, pitchers and a cat statue that become duplicated through distorted reflections. A professor of drawing and painting, Morrison was inspired to create the piece while teaching at UGA's Cortona study-abroad program this past spring, where she attended an antique fair in the neighboring town of Arezzo. Mesmerized by the tables spilling over with objects, she set out to document the scene in her own way. Measuring 6 feet tall and 8 feet across, her largest painting to date is appropriately hung near the center of the gallery's back wall, which allows for a tremendously photorealistic first impression when entering through the door.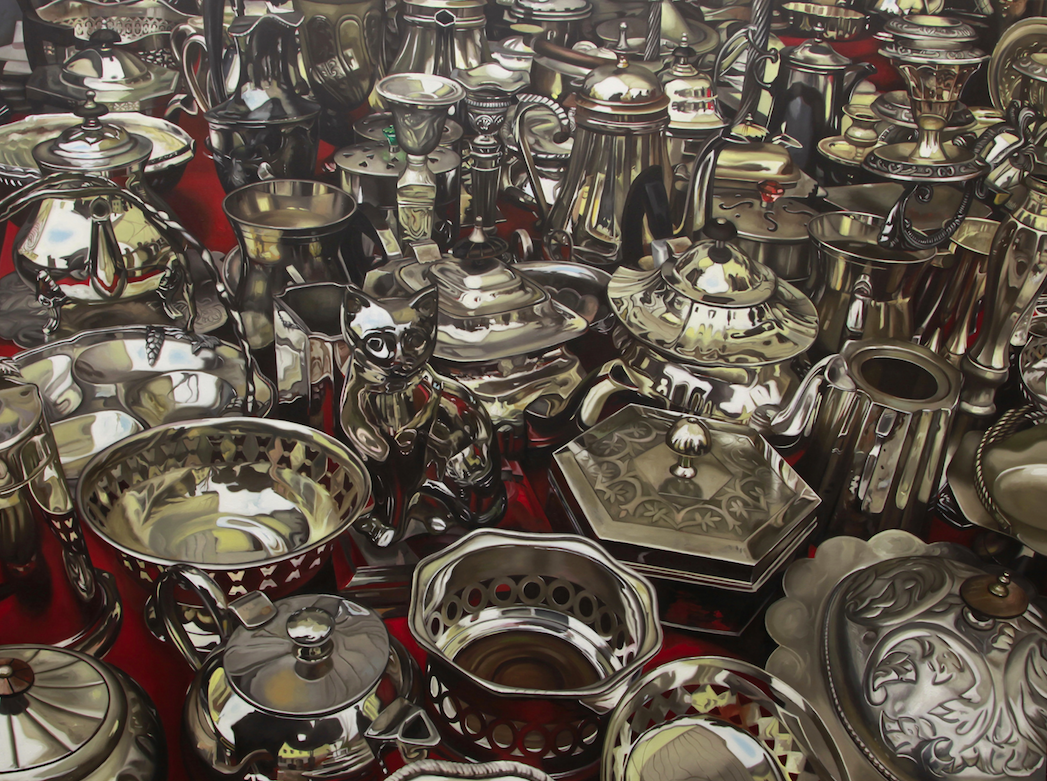 BEN VIDA: The closing night of "Spectra" will feature a musical performance by New York-based artist and composer Ben Vida, who has been contributing to the international experimental music community over the past two decades through various collaborations and projects. As an extension of his ongoing explorations into aural phenomena, advanced spatialization and psychoacoustics, his new electronic piece utilizes immersive sonic materials. In the past, his works have been presented at the Guggenheim in New York, the Institute of Contemporary Art in London and Leap Gallery in Berlin. Vida will also discuss his process and practice during a lecture in room S150 at 3:30 p.m.
Like what you just read? Support Flagpole by making a donation today. Every dollar you give helps fund our ongoing mission to provide Athens with quality, independent journalism.