In addition to the reinstallation of its permanent-collection galleries last month, the Georgia Museum of Art has four new exhibitions for fall, three of which will be officially unveiled Saturday, Sept. 17. Visitors can get a sneak peek during 90 Carlton: Autumn, hosted by Friends of the Georgia Museum of Art on Friday evening from 5:30–8:30 p.m. Free for members or $5 otherwise, the quarterly reception offers door prizes, "Ask the Experts" and other gallery activities. The museum will also host its thrice-yearly art party Museum Mix on Thursday, Sept. 22, featuring music by DJ Osmose and late-night access to the galleries from 8–11 p.m.
ICON OF MODERNISM: Ever since its creation, the Brooklyn Bridge has stood as a symbol for the city of New York. Throughout the decades, the towering suspension bridge has graced canvas after canvas as an ever-relevant part of urban life. "Icon of Modernism: Representing the Brooklyn Bridge, 1883–1950" is an exhibition of approximately 40 paintings, photographs, drawings and prints that star the historic landmark.
Rather than taking a documentary approach through images produced for the popular press, "Icon of Modernism" strategically emphasizes various aesthetic representations that reflect an era of intense artistic development. From Impressionism to Cubism to Precisionism to Abstract Expressionism, artists often used the bridge and other newly built structures as subjects that paralleled their own technical innovations. Viewed collectively, the works reflect the Brooklyn Bridge's enduring status as a monument of modernity for several generations.
Joseph Stella became fixated on the geometric nature of Manhattan's architecture after many years of producing realist drawings, and soon adopted the Brooklyn Bridge as a recurring motif within his work. Associated with the Italian Futurists, he incorporated elements of Cubism and Futurism into his depictions, resulting in powerful lines and a strong sense of motion.
Though best known for her Southwestern flair and suggestive botanicals, Georgia O'Keeffe created a group of city-inspired works in the late '20s while living in Manhattan. Her flurry of swooping black cables and petal-shaped arches, rendered in black and white charcoal and chalk, are not unlike peering closely at the stamen of a flower.
Italian-American O. Louis Guglielmi, who immigrated to the U.S. as a child, was affiliated with Social Surrealism, an artistic movement of the '30s that was heavy on symbolism but distinctly traded fantastical subject matter for political and social commentary. In his painting, the Brooklyn Bridge appears as a violin bridge, a welcoming symbol for a city that embraces cultural production. The half-man, half-violin figure in the corner may represent immigrants who find success with their artistic endeavors, such as the artist's own father, who was a professional touring violinist.
From the optically chaotic, vibrantly colored skyscrapers by Chinese-American painter Yun Gee to the opalescent, snow-capped winter cityscape by American impressionist Childe Hassam, a tremendous range of styles are reflected in "Icon of Modernism." Additional artists include Samuel Halpert, Ernest Lawson, Edmund Lewandowski, Jonas Lie, Louis Lozowick, John Marin, Joseph Pennell, Arnold Ronnebeck, Weegee and many more from across the globe.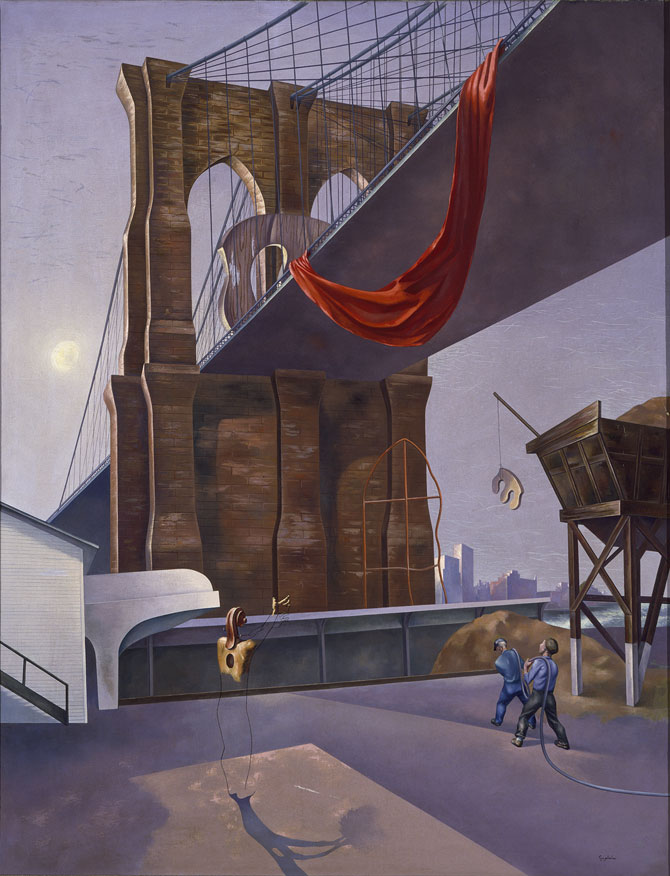 MAN'S CANYONS: Exploring beyond the bridges of the Big Apple, "Man's Canyons: New York City on Paper" is a small exhibition of works pulled from the museum's permanent collection. Curated by UGA student and curatorial intern Catherine Huff, the show supplements "Icon of Modernism," which was organized by Curator of American Art Sarah Kate Gillespie. The included works by Lamar Dodd, Childe Hassam, Armin Landeck, Louis Lozowick, Reginald Marsh and John Sloan were created during the same time span as those within the larger exhibition.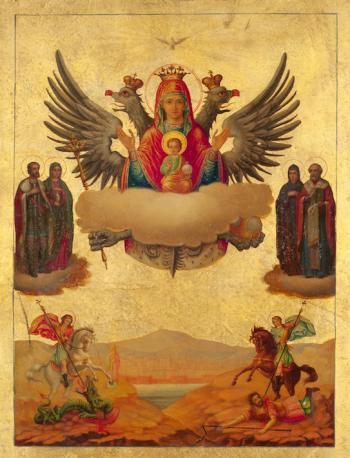 GIFTS AND PRAYERS: A glittering collection of military medals, portrait paintings and religious icons, "Gifts and Prayers: The Romanovs and Their Subjects" demonstrates how the Russian Romanov dynasty used a system of patronage to maintain its power and influence. The House of Romanov ruled over the country for three centuries prior to the Russian Revolution of 1917, which overthrew the Tsarist autocracy and led to the rise of the Soviet Union. Throughout their reign, rulers commissioned and distributed exquisite gifts to military leaders, noble families and other allies.
The exhibition includes treasures such as Alexander II's personal cigar box covered in enamel miniatures, as well as artifacts like the 1802 Charter of Ennoblement. Military memorabilia ranges from bejeweled medals and badges to a diamond-encrusted ceremonial sword, a helmet topped with a double-headed eagle and an ornate silver trophy from the Crimean War.
Curated by Asen Kirin, a professor of art history at UGA's Lamar Dodd School of Art, the 200 or so items on display are only a fraction of the entire set, which includes a total of 1,226 objects. On long-term loan from a private collection, the objects are a promised gift to the museum and will be further researched in years to come.
LIVING COLOR: Exploring the relationship between color and texture, "Living Color: Gary Hudson in the 1970s" presents a vibrant retrospective of paintings that are large enough to get lost in. Associated with the Lyrical Abstraction movement, broad strokes and loose shapes of rich tones serve as an expressive force for evoking emotion.
Hudson entered the U.S. Marine Corps shortly after high school, but was honorably discharged following an accident which made him a paraplegic. He became determined to become a painter after seeing his first Jackson Pollock, and spent much of the next decade bouncing between New York City, Paris and Big Sur to learn from other artists and develop his own stylistic techniques.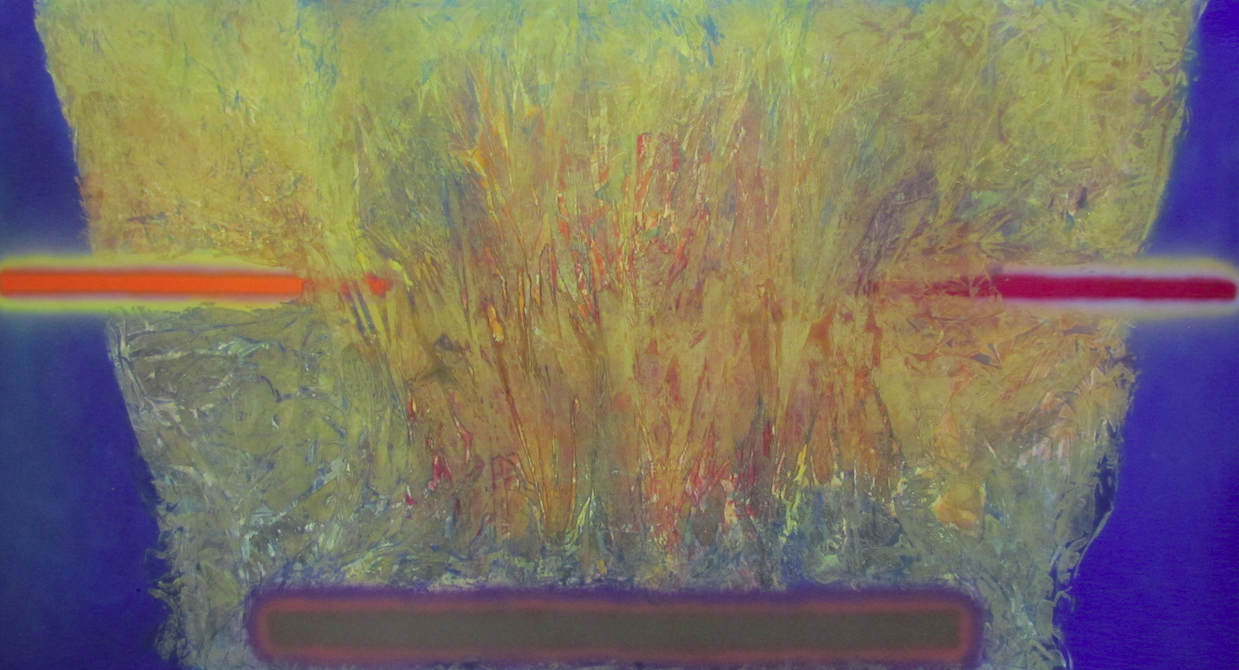 Drawing inspiration from subtle environmental stimuli like a ray of light or the color of a flower, the artist would channel tiny flashes of recognition into painterly abstractions representing numerous memories. After shaping his own canvases, he would lay them flat on the floor and often drag paint-soaked cloth across the surface, intuitively reworking the paint with spray.
Hudson, who passed away in 2009 while residing nearby in Madison, is remembered for the way in which he created his own set of rules to guide his art practice. Having spent many years as an educator in formal institutions, his ability to absorb influences from the masters yet unlearn accepted approaches is what sets him apart as an inventive artist.
Like what you just read? Support Flagpole by making a donation today. Every dollar you give helps fund our ongoing mission to provide Athens with quality, independent journalism.