This season's exhibitions at the Lyndon House Arts Center reflect the ever-changing physical and cultural landscapes of an increasingly digital age. "Abandoned Rural America" finds beauty in deteriorating farms across the countryside, while "Textiles: The Sense of Touch" offers modern applications of traditional fiber art crafts. Jon Vogt's solo show presents works that reflect a centuries-old process modified through digital techniques. The new exhibitions will be celebrated with an opening reception on Thursday, Sept. 8 from 6–8 p.m.
ABANDONED RURAL AMERICA: Celebrating its fifth anniversary, Abandoned Rural America is a network of Georgia artists who address urbanization, disappearing landscapes and transitioning family farms through visual art, writing and music. Spearheaded by Peter Muzyka—whose painting "Moore's Trail Farmhouse" is on the cover of Flagpole this week—the group has grown to over 30 members who work in photography, painting, ceramics and fiber arts.
Their self-titled exhibition, which has toured among galleries in Milledgeville, Buckhead, Sautee Nacoochee and Monroe so far, is an homage to every small-town American farmer committed to providing food for the table. As major agribusiness has come to dominate the industry, most family farms have been displaced, leaving behind abandoned buildings and deserted land reflective of a way of life that has nearly died out.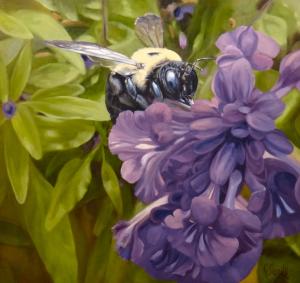 Recurring subjects such as vacant farmhouses, rusting equipment and overgrown properties speak to the passage of time. Some of the strongest images in the exhibition are those of dilapidated structures on the brink of sinking back into the earth, such as Blake Smith's "Old Forgotten School Bus" neglected in the woods, or Charles St. John Dyer's "Buzzard Barn" completely reclaimed by sprawling vines and reigning birds. Joseph Coggins' series of watercolors present one lonely farmhouse, barn or produce stand per frame, and walking past each spacious landscape is not unlike driving along a country road.
Eugene Swain contributes a collection of mixed-media paintings that incorporate scrap wood, wire mesh and other found materials to add dimension, such as tin roofs on country homes, screened doors on a general store and a hinged door to a red barn. Angelina Bellebuono's "Pasture Oracles" is an interesting cluster of goat portraits—Fancy, Baybelle, Aretha, Memphis and Loretta among them—all with Waylon, the faithful dog, keeping a watchful eye.
Many of the artists choose to capture the natural beauty of untouched land, demonstrated by Mev Rozsman's picturesque oil paintings, Lisa Wheeler's sprawling cotton-field photograph and Kate Sherrill's colorful botanical paintings. The exhibition also features works by Elizabeth Collins, Chuck Hanes, Mary Leslie Hartman, Cassie Hawkins, Don Jolley, Kate Sherrill, Sam Traina, Kathy Williams and Lori Williams.
Muzyka will lead a special workshop on egg tempera painting on Saturday, Sept. 24 from 10 a.m.–4 p.m. During the program, which costs $75, participants will experiment with techniques for underpainting, layered color and glazing. Register at athensclarkecounty.com/leisure. "Abandoned Rural America" will remain on view through Thursday, Oct. 20.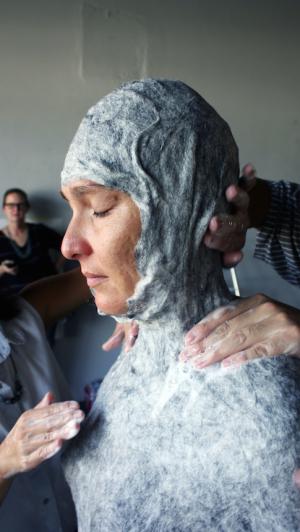 TEXTILES: Curated by UGA professor Jennifer Crenshaw, "Textiles: The Sense of Touch" presents contemporary works rooted in traditional fiber arts techniques, offering a tactile experience in an increasingly digital world. Los Angeles-based designer Tanya Aguiñiga, whose visit to Athens is funded by the Jack Davis Lectures series, explores how craft disciplines connect people through culture, tradition and function. Her pair of large cotton gauze and wool tapestries embedded with geometric patterns of metallic leafing hang in stark contrast to a wall of grey felted wool hands and matching body suit.
It's not often that visitors are encouraged to touch works on display, so you should take advantage of the opportunity to feel the diverse textures among the contributions of four Athenians. Erin Geagon's "The Wave" is an optical illusion of delicately suspended linen threads, while Johanna Norry's slightly unsettling "Flesh (Pullum pedes)" is exactly what it looks like: a thick pattern constructed from chicken-feet leather. Courtney McCracken's "Tender Bodies" stand front and center adorned with necklaces of colorful handmade rope, while Zipporah Thompson's "geo-drifters" float along the wall as hodgepodge works of handspun cord, rope and mixed fibers.
The Lyndon House will host several free events, including an artist talk with Aguiñiga on Thursday, Sept. 15 at 6:30 p.m.; an Athens Free School class taught by McCracken on Saturday, Sept. 17 at 11:30 a.m.; and a gallery talk with Thompson followed by a demonstration by Norry on Tuesday, Sept. 20 at 6 p.m. "Textiles: The Sense of Touch" will remain on view through Saturday, Oct. 8.
JON VOGT: Currently on view in the Lounge Gallery, a new series of relief print collages by printmaker Jon Vogt offers intricate, vibrating patterns achieved through repetitive processes. Each work begins by engraving parallel lines onto a sheet of wood, which is then divided into pieces with a laser cutter that follows a grid pattern of squares and rectangles. This process is repeated with variations in spacing, then the pieces are assembled into a composite matrix from which to print. The final images, further modified through hand-cutting and collage, reveal dense, woven-like patterns.
Vogt was offered a solo show in the space, which is specifically dedicated to quarterly exhibitions by emerging artists, after receiving the Arts Center Choice Award at the Lyndon House's 41st Juried Exhibition this spring. Currently working as an art studio technician at UGA and part-time instructor at the Lamar Dodd School of Art, his formal training as an artist includes a BFA from Iowa State University and a MFA in printmaking from the University of North Texas. His artwork will remain on view through Nov. 10.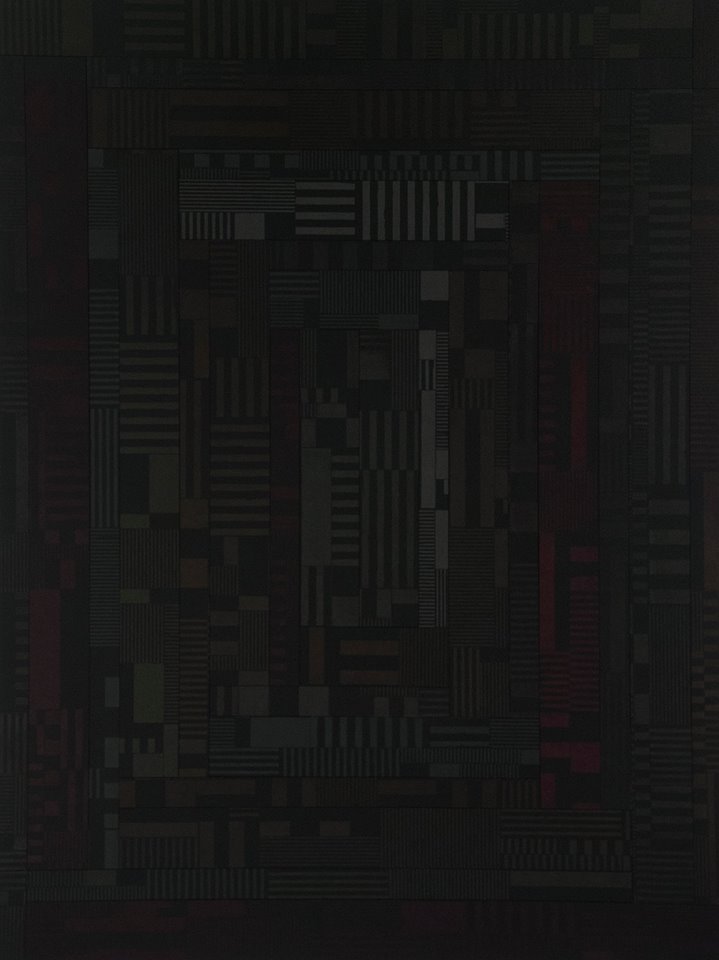 Like what you just read? Support Flagpole by making a donation today. Every dollar you give helps fund our ongoing mission to provide Athens with quality, independent journalism.