Reflecting Athens' unique position as a community full of artists, a new mural in the courtyard of Creature Comforts Brewery honors a legacy of local music. Young musicians perch upon a cluster of houses—each with a guitar, trumpet, accordion or set of headphones in hand—while strings of lights and slender branches hang overhead. The characters seem pensive, as if they are all in the midst of privately writing a new song. The blue and teal mural—which can be seen on this week's Flagpole cover—was created by local artist Anthony Wislar with the support of LEAD Athens, a leadership development program through the Athens Area Chamber of Commerce.
Launched in December 2013, the Athens Mural Project was originally planned to cover the exterior wall of the 40 Watt Club. A series of six 16-by-25-foot panels, collaboratively including the talents of multiple artists, was conceptualized as a chronological representation of local music history, spanning from early jazz to R.E.M.'s heyday.
The 40 Watt's brick facade ended up not working out, so the project was briefly moved to the Georgia Theatre before arriving at its final destination at the brewery. Though it surely would have been charming to collage various band references and portraits of performers who have helped place Athens on the map as a music town, it'd be impossible to include everyone into the smaller frame. Rather than crowding as many familiar faces as possible, Wislar opted to illustrate a scene that would convey the town's enduring and widespread influence on a generation of musicians.
His idea speaks to a deeper question of how a constant influx of artists are able to flourish here year after year. "I focused on the sense of place, rather than a visual rundown of everyone who's made an impact here," says Wislar.
His submission was selected through LEAD Athens' open call for RFQs. Though the changes in location required slight modifications to the dimensions and layout, the extended waiting period gave the artist plenty of time to plan out its final execution. The original illustration was inked on paper, then scanned and colored digitally. In order to scale the image to size, the artist used a grid-enlargement technique and maintained line accuracy through stencils for certain sections.
"The design itself is inspired by the promise and the feel of Athens when I moved here 14 years ago from Chicago: the houses on Boulevard and Buena Vista, the visual impact of all the green trees, the year-round Christmas lights and, of course, the legacy of Athens music," says Wislar, who was exposed to many Athenian bands while growing up in the Midwest. "I think Athens still radiates the effects of an era when it was a small town experiencing a unique confluence of people whose expression spoke to the times. It grew musicians who were heard everywhere. I hope the art speaks to that resonance."
Wislar, who taught art at Cedar Shoals High School for five years after earning a master's in art education, now teaches graphic design at Discovery High in Gwinnett County. An additional mural of his appears inside of Cedar Shoals' gym, depicting the school's mascot, a jaguar. LEAD Athens will host a ribbon cutting ceremony for the mural at Creature Comforts on Monday, Aug. 29 at 5 p.m.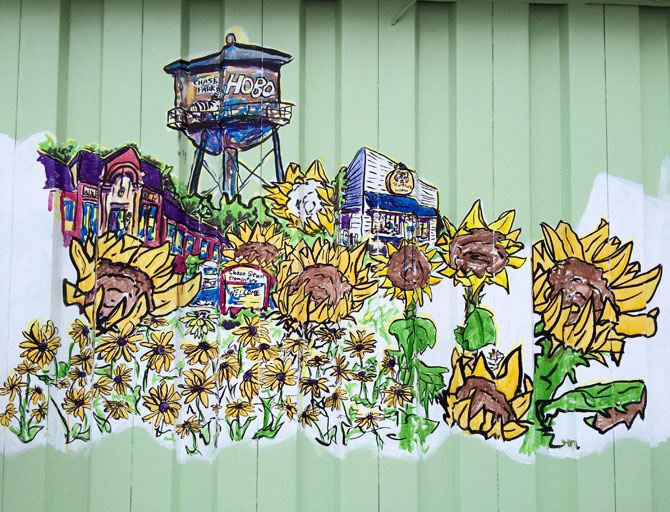 FLOWERLAND: The stylistic watercolor scenes of Jamie Calkin are immediately identifiable by their bold, translucent color palette outlined in loose black strokes, as well as the familiarity of their Athens-centric subjects. Typically depicting building fronts of local landmarks like the 40 Watt, Morton Theatre and the Globe—with the occasional full landscape of a busy downtown or packed-out football stadium—Calkin's images make popular items in gift shops as well as exhibition spaces.
In addition to an in-progress mural in Athens Regional Medical Center's cafeteria courtyard, Calkin's latest mural is currently underway on the minty green exterior of Flowerland, the family-owned and operated business that celebrates its 47th anniversary this month. As co-owners of a neighborhood institution, it's no surprise that sisters Jan Hudgins and Deborah Fuller sought an artist who could incorporate various other Athens hotspots into the mural. The two were well familiar with Calkin's distinctive scenes, which appear in the form of prints and greeting cards inside the shop.
The Milledge Avenue side of the building will focus primarily on depicting downtown and UGA landmarks, while the Prince Avenue side will include places like Chase Street Elementary, the Chase Park water tower, White Tiger, Athens Regional and multiple Normaltown businesses. Of course, a florist's mural wouldn't be complete without an array of colorful flowers. Gerber daisies and black-eyed Susans, requests of Hudgins and Fuller, grow prominently alongside favorites of the Calkin family: sunflowers for Jamie, tulips for his wife Katie and violets and daffodils for their two daughters. Calkin even plans to include a few baby possums and squirrels, which Hudgins rehabilitates.
While Calkin has painted other murals, such as the massive scene inside UGA's Tate Student Center, painting at Flowerland has unique challenges. Whereas previous large works have been completed flat on panels and then installed, painting on a vertical surface is more difficult, especially while experimenting with the transparency of watercolors and inks that are prone to dripping. Flowerland's mural will be completed over the next several weeks with the assistance of Nicolette Kubea.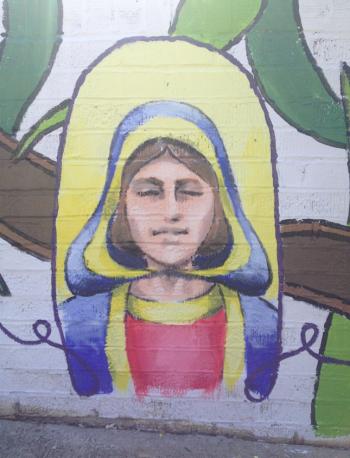 ST. MARY'S: Gracing the wall in front of St. Mary's Episcopal Chapel on Lumpkin Street is a new mural painted by and for the many students bustling about on campus. Decades ago, the church occupied the late-19th Century building whose remaining steeple was turned into a legendary landmark by R.E.M. Now, the small, oasis-like chapel is just as picturesque, nestled within its dense garden of blooming flowers amid a backdrop of university buildings.
The project was initiated by Father Gregory Tipton, who approached Joseph Norman, a professor at UGA's Lamar Dodd School of Art in the drawing and painting department. In addition to supervising budding artists as they've painted murals across the world through study-abroad programs in Costa Rica, Cuba and Ecuador, Norman led students in creating a series of three 8-by-10-foot paintings for the sanctuary at Ebenezer Baptist Church West on North Chase Street in 2009.
Norman selected three students from his advanced drawing class to lead the project: Garrett Ray, Selena Roth and Gunnar Tarsa. Throughout the month of June, the trio met with the priest to conceptualize a design that would carry significance for the chapel while remaining visually simple, given the dimensions of the short wall. Working quickly over the course of three days, and using materials donated by Lowe's and Home Depot, the painters created a mural depicting St. Francis, St. Patrick and St. Mary among a variety of plants. A brown, weaving banding alludes to the traditional Celtic banding that often appears on illuminated manuscripts, while a rose, lily and iris symbolize different qualities of St. Mary.
Like what you just read? Support Flagpole by making a donation today. Every dollar you give helps fund our ongoing mission to provide Athens with quality, independent journalism.