On the brink of regional expansion, Indie South Fair has grown from a humble, locally-focused market into a tremendous manifestation of founder Serra Ferguson's vision for a curated, open-air craft festival. This weekend, more than 100 vendors will assemble downtown beneath iconic white tents for one of Athens' largest and most popular artist events, the ninth annual Springtacular. From handmade jewelry by Laurel Hill and Rhys May to natural bath and body products by Pale Blue Dot Soap and Forest Things, snacks by Piedmont Provisions and Nicobella Organics and sustainably made clothing by Ekkos and Maelu Designs, you'll literally find everything under the sun.
Indie South is admirable for its adaptability; from Ben's Bikes to the Jittery Joe's Roaster to its most recent residency in the lot near the intersection of Chase Street and Prince Avenue, its markets have explored various locations in search of the perfect balance between peak visibility and logistical accessibility. Though Indie South tested the waters by presenting the Springtacular in conjunction with the Human Rights Festival last year, this is the first time the market has been held independently in the streets of downtown after receiving permission from the Athens-Clarke County government.
Taking place on West Washington Street between Lumpkin and Pulaski Streets and spilling over onto a portion of Hull Street, the location is significant in that the market is returning to the same end of town from which it was launched nearly a decade ago in December of 2006. The idea for Indie South grew from Ferguson's experience in designing jewelry and apparel that she sold in Remnant, her tiny boutique specializing in handmade items.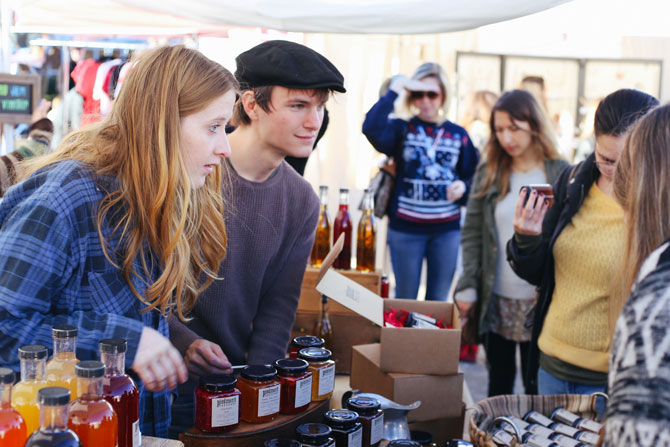 "This was in the infancy of what I think of as the modern handmade movement, back in 2002. My shop was way ahead of its time, especially for Athens. There was no social media, and Etsy had not even been founded yet," says Ferguson. Through her business, she began connecting with other artists in other cities, and at her peak was participating in 14 markets a year all over the country.
"I went to the second ever Renegade Craft Fair in Chicago, and it was a revelation: I was part of something way bigger than my boutique or my town," she says. "For the first time in my life, I felt like I belonged in a community. That was a big deal for someone like me who has always felt like an outsider socially."
Going above and beyond your average artist market, Indie South has grown into a well-rounded, multi-faceted event by incorporating live entertainment and activities like kids' crafts, workshops and artist demos. The hope is that everyone, regardless of whether they intend to shop or not, will feel welcome to stay awhile and engage with the artists.
Several food trucks will be rolling into town for one or both days of this year's Springtacular, with the culinary lineup including Chay J's, Katty Wampus, Holy Crepe, Mac the Cheese Truck, Charbucks, Wheely Grilly, Taza Foods and Speakcheesy. Athens Free School, a skill share learning network, will lead workshops in screen printing and sticker making, while DJ Mahogany and DJ Pip of Hits & Misses provide the aural backdrop. Guests can also tour Atlanta's Serena Tiny House, a 224-square-foot home designed by the co-owners of urban streetwear brand Style is Serene Clothing.
"Marketplaces are the oldest way humans have acquired goods from one another, so obviously it's endured since ancient times for a reason," says Ferguson. "There's just something about purchasing an object from the person who made it or collected it that you don't get in a store setting, and I think that's intangible. I love the excitement of discovery, the idea that I may be the only one who gets that particular piece, and also that I am supporting a person directly instead of going through a middleman."
Indie South has made huge strides in establishing smaller-scale events throughout the year, including a Handmade Lovers Valentine's Market, Back to Cool Market and the vintage-centric Eclectic Bazaar. Now approaching its 10th year, the time has come to buckle down and take the show on the road. Earlier this month, Indie South presented a two-day artist market featuring 30 vendors in Columbia, SC, and already has plans to return in September. The following weekend, Indie South hopped over to Atlanta to host a market in conjunction with the first-ever Food-o-Rama in Grant Park. After the Springtacular, Indie South will hit the highway for Uptown's Riverfest in Columbus, GA. Ferguson intends to plant roots in five cities outside of Athens by the end of the year.
"When I changed the name to Indie South Fair [from Athens Indie Craftstravaganza] about five years ago, it was purposely to make it more expansive and inclusive. I knew then I wanted to get beyond Athens and expand to a regional level, but I wasn't quite sure how to go about it," says Ferguson. "So, the idea of being in other cities has been gestating for some time, and my motivation is the same as my motivation here in Athens but on a larger scale: I want to knit together a network of makers, artists and curators and give them a forum to market their work while building a community of supporters."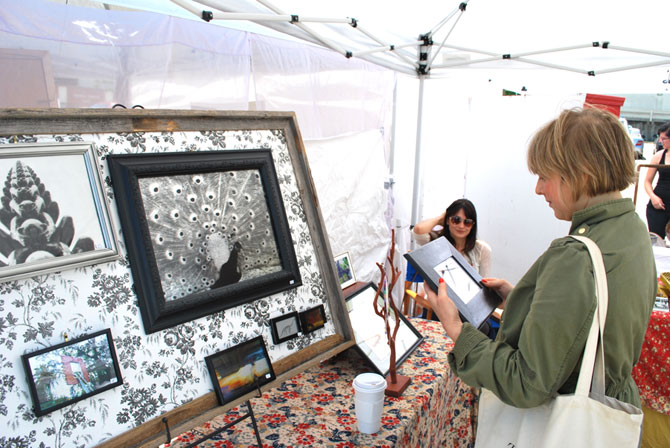 As nationwide interest in handmade items has continued to increase over the years, more cities have jumped in on the trend of holding craft fairs. Participating in a newly established event in unknown territory can be an intimidating risk for traveling vendors, however, whose sales are greatly influenced by the marketing and promotional skills of the organizer, as well as by their own familiarity and name recognition with consumers. Recognizing this niche need, Ferguson is stepping in to offer Indie South as a reputable entity that can prioritize artists' best interests full-time.
"Expanding into other markets around the Southeast is just the beginning," says Ferguson. She hopes to evolve Indie South's scope by acting as a hub that supports creative entrepreneurs through offering services and connecting them with resources to build their business.
"I have also been scouting for a possible brick-and-mortar location to serve as a base of operations. We want a space that could fulfill a lot of different purposes: from gatherings and events to workshops and maybe even retail. The possibilities feel endless right now, and it's a very exciting time for Indie South."
Like what you just read? Support Flagpole by making a donation today. Every dollar you give helps fund our ongoing mission to provide Athens with quality, independent journalism.