DO GOOD FUND: Provoking conversations about the South's history, present and future, the Do Good Fund's collection of photography subjectively documents the ever-evolving cultures and landscapes of rural communities and crawling cities. Established by Alan Rothschild in 2012, the Do Good Fund is a Columbus-based nonprofit dedicated to building a museum-ready collection of contemporary Southern photography by both established and emerging artists. Its mission is to be as broadly visible and accessible as possible by traveling to regional museums, nonprofit galleries and nontraditional venues—particularly those in remote destinations, which allows inhabitants to see how photographers documented their communities' shared histories.
Sponsored by the Willson Center for Humanities and Arts at UGA, "Pictures of Us: Photographs from the Do Good Fund Collection" presents a series of uniquely curated exhibitions currently on view at six different venues around Athens. Even images containing relatively mundane or routine occurrences become interesting through the photographer's intention of preserving a particular moment or place on film.
Acknowledging how monumental and defining a moment the Brown v. Board of Education ruling was to the American South, the collection's images date back as far as 1954. "Gordon Parks Confronts the Color Line"—on view at the Richard B. Russell Building Special Collections Libraries through March—pulls images from a Life magazine photo essay on segregation in the South, shot during the summer of '56 in the aftermath of the Montgomery bus boycotts. Parks, Life's first black photographer, illuminates how, though the nation had made a major step towards legal equality, African-American communities in the Deep South were still very much affected by institutionalized racial discrimination.
Reflecting a distinctly Southern slice of life, "No Strangers Here"—on view at the Dodd Galleries at the Lamar Dodd School of Art through Feb. 25—contains snapshots of people, places and things from the 1970s to the present that remain strangely familiar despite coming from an often dichotomous cultural landscape. Two images by Jerry Siegel reveal how different the experiences of young people in Selma, AL, may be. In one image, seven white girls in pastel Cinderella dresses line up on the field during a football game for the crowning of Homecoming Queen. In the other, a teenage African-American girl aims a rifle at a carnival game with a Confederate flag hanging in the background. Some images are candidly mischievous, like the sparkler-bearing children dressed for Halloween by Keith Carter, a pair of roller-rink girls by Bill Yates—one in a flower-print crop top and the other subtly flipping the bird—and a taxidermist's son gripping onto a teeth-baring coyote head by Deborah Luster.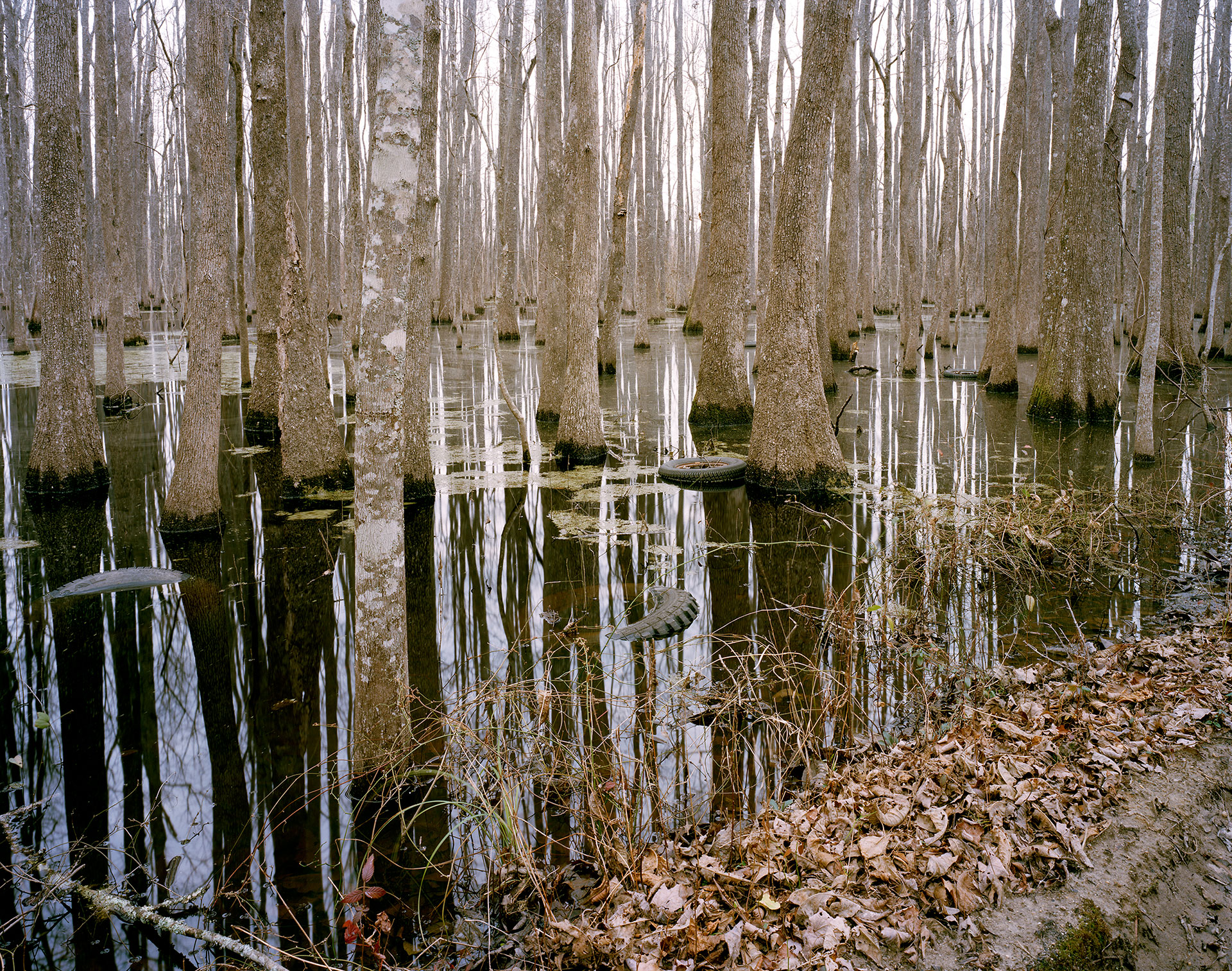 Images exploring ideas of structure, both in terms of subject matter and formal composition, appear in "Photographic Structure in the South," an exhibit curated by the Georgia Museum of Art and on view in the Quiet Gallery at the Athens-Clarke County Library through February. "23 Hour Lockdown, Chess Players, 1980" by Keith Calhoun is particularly eye-catching for its dizzying perspective; arms reach out from a long hallway of prison bars to move a chess piece, creating a parallel between jail sentences and calculated games that magnifies how slowly time can stretch by. Rachel Boillot's series "Post Script," to which "Postmistress's Daughter, Harker's Island, NC, 2013" belongs, helps document how the U.S. Postal Service has closed several thousand post offices in the past few years, displacing what often serves as a social hub for many rural towns.
Curated by the UGA College of Environment and Design, "Scenes from the Southern Terrain"—on view at the Willson Center through February—presents images investigating the interactions between natural landscapes and manmade environments.
The collection of 10 images in "Ciné Selects," on view in the cinema's BarCafé gallery through Mar. 2, focus specifically on the sculptural arrangement of elements within each frame more than the subject matter itself. Many photographers' primary intention is to capture a subject, resulting in images that are invariably filtered through the photographer's subjective experience. The images of this collection, however—a man leaning against a telephone pole on a street corner, the geometric vaulted ceiling of a church, an old tree with all of its thick branches cut short—are visually connected by how balanced their elements are positioned.
"Pictures of Us: Southern Portrait Photography," on view at the Lyndon House Arts Center through Mar. 5, introduces a cast of characters who speak to the importance of questioning who we are and why where we're from matters. From the girl reclining on the hood of a car with an ICEE in Athens by Mark Steinmetz, to a young man fueling up his truck with a dirt bike in the bed in Sullivan County, TN, by Mike Smith, to the leathery-skinned couple grinning in the sun of Miami Beach by Rosalind Solomon, the personalities resonate with the shared experience of living in the South and reflect the empathetic nature of humanity.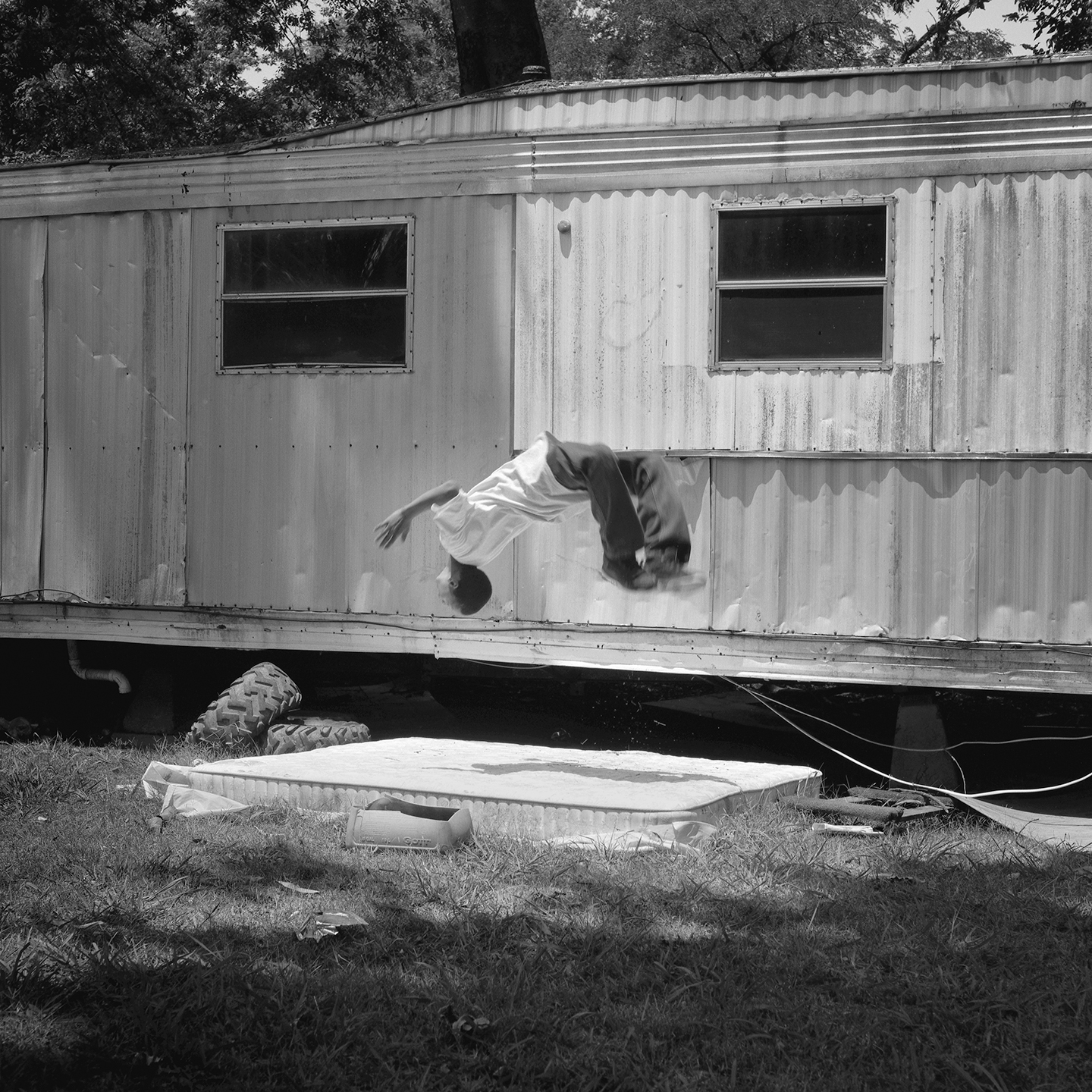 An important and deliberate initiative of the Do Good Fund is to create opportunities for discussion through complementary community-based programming in each town the collection travels to. On Thursday, Feb. 18 at 4 p.m. at the Georgia Museum of Art, William R. Ferris will present "The Storied South: Voices of Writers and Artists" as part of the Willson Center's Global Georgia Initiative speaker series. Ferris, the senior associate director of UNC's Center for the Study of the American South, has presented much of his research on African-American music, folklore and culture through interviews, books, documentary films and sound recordings. A reception held in conjunction with "Pictures of Us" will follow his lecture at the Lyndon House from 6–8 p.m.
The following day at 3 p.m., the Lyndon House will host the "Pictures of Us: Southern Photography Panel" with artists Jill Frank, Mark Steinmetz, Baldwin Lee and Mike Smith; Atlanta Celebrates Photography Program Manager David Murphy; and moderator Marni Shindelman, artist and lecturer in photography at Lamar Dodd. Local photographers may have their portfolio reviewed by the artists prior to the panel discussion; appointment requests should be directed to lyndonhouseartscenter@gmail.com.
ATHFEST MURAL: Last October, AthFest Educates announced its plan to commission a large-scale public mural to commemorate the 20th anniversary of the AthFest Music and Arts Festival. Proposals were sought from three separate collaborators: a youth-serving organization interested in producing the mural as part of a multi-month arts program; a professional artist to create a design and oversee the youth as they participate in painting the mural; and a local business property owner willing to donate a highly visible outdoor wall as the site of the mural.
The nonprofit has now announced that artist David Hale has been selected to partner with the Lyndon House Arts Center staff, who will facilitate the youth art program. Hale, who owns and operates Love Hawk Studio out of the Chase Street Warehouses, is a local illustrator and tattoo artist internationally recognized for his designs. His artwork is immediately identifiable through its mesmerizing geometric detail and clear reverence for the natural world, often starring woodland creatures like owls, foxes, bears and deer. Hale served as the theme artist of AthFest in 2013, creating imagery for the festival's signage, T-shirts and compilation album.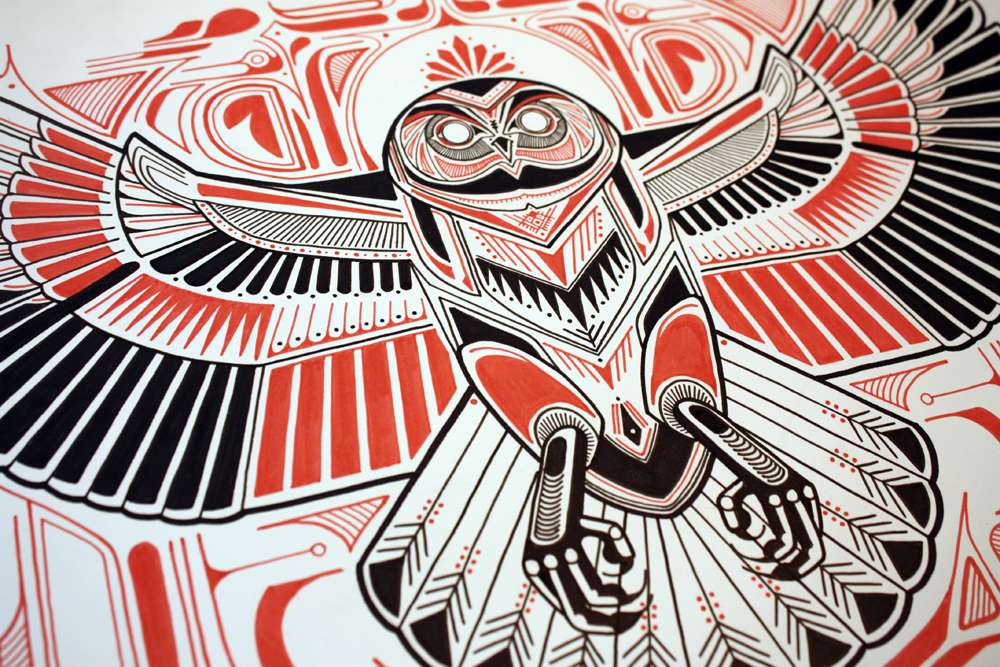 The mural project will be overseen by Hale and three high-school-aged student interns, who will guide children in painting the design through Saturday, after-school and summer programs. The Lyndon House will set aside a space for painting throughout the month of June.
Philanthropy, a Franklin, TN-based fashion boutique that donates 10 percent of all sales to various charities, has offered its east-facing wall as the mural's site. Located downtown at 294 W. Washington St., the building was once adorned with a different commissioned mural by Hale, but the then-peeling, graffiti-marred mural was removed after Sunshine Cycles relocated to Baxter Street and Philanthropy moved in during the summer of 2014.
Reflecting AthFest Educates' commitment to advancing music and arts education for youth, as well as the festival's role in strengthening the Athens music scene, the mural will showcase local artistic talent while beautifying downtown. The organization plans to invest up to $20,000 towards the mural's implementation. A dedication ceremony will be held during AthFest, set for June 22–26 this summer.
Like what you just read? Support Flagpole by making a donation today. Every dollar you give helps fund our ongoing mission to provide Athens with quality, independent journalism.