RETURN FROM EXILE: In a tragic act of ethnic cleansing, through the Indian Removal Act of 1830, the U.S. government succeeded in forcibly uprooting nearly all native inhabitants of the Southeast region—the Cherokee, Chickasaw, Choctaw, Muscogee (Creek) and Seminole tribes—from their ancestral homelands. Relocating entire communities to an unfamiliar Indian Territory west of the Mississippi River—now Oklahoma—these so-called "Five Civilized Tribes" were left to reconstruct their lives, leaving their original homelands as little more than memories preserved through oral tradition and historic documents. Currently on view at the Lyndon House Arts Center, "Return from Exile: Contemporary Southeastern Indian Art" symbolizes a long-awaited and well-deserved return, as 32 descendants present compelling artwork in the same land from which their ancestors were displaced.
Over two years in the making, "Return from Exile" is co-curated by Jace Weaver, Franklin Professor of Native American Studies and Religion and director of the Institute of Native American Studies at UGA; Bobby Martin, associate professor of visual art at John Brown University; and Tony Tiger, former chair of the art department at Bacone College. Martin and Tiger are also featured artists in the exhibition.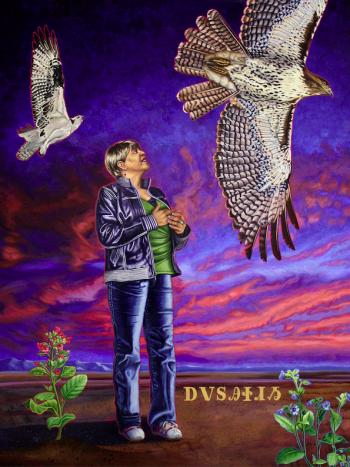 "Whenever an artist comes to town, I take them to see Lyndon House," says Weaver. "When I took Bobby Martin there, he was as taken with the space as I was. The idea of 'Return from Exile' began to take shape." After bringing Tiger into the fold, each of the three co-curators drafted a list of potential artists and extended invitations to those they felt could best address the exhibition's themes of removal, return and resilience.
Through painting, sculpture, pottery, basketry, metalwork and printmaking, the exhibition explores how contemporary Southeastern Native American artists continue to be emotionally and culturally impacted by the displacement of their ancestors. Professional artists like those in attendance for the Lyndon House's recent symposium—Roy Boney, Faren Crews, Starr Hardridge, Troy Jackson, America Meredith (whose work graces this week's Flagpole cover), Jessica Osceola, Par Ramey and Erin Shaw—challenge viewers to consider the complex ways history continues to shape the everyday lives of many descendants.
Though artwork from Southwestern and Plains tribes has become widely recognized—and often culturally appropriated—by the American public, Southeastern artists have remained largely under-represented in galleries and museums across the country. "Return from Exile" is tremendously significant in that it marks the first major attempt at organizing a traveling exhibition dedicated exclusively to contemporary artists of tribal nations with historical ties to the Southeast.
"The easy and obvious [explanation] would be the effect of Hollywood stereotyping of Native America towards teepees and buffaloes, which has become the standard image in the general public's mind of all Indians. Visually, Southeastern peoples and their art are completely different from what most people expect from 'Indian art,'" says Martin. "In much the same way, Southwestern pottery and jewelry are what most of the general public thinks of when picturing Indian arts and crafts. Southeastern styles and symbolism have their own distinct look. We hope 'Return from Exile' is a catalyst for opening eyes to the unique and powerful expressions of Southeastern tribal artists."
Athens is rich in Native history. Just look at how many Cherokee-derived words serve as street names in the Boulevard neighborhood: Yonah, Nantahala, Hiawassee, Nacoochee. Yet many locals only vaguely understand that history. This makes the Classic City a prime location to launch "Return to Exile," which seeks to educate viewers while elevating the visibility of participating artists.
"The Oconee River represents the traditional divide between Cherokee and Creek territories, so Athens literally straddles that dividing line," says Weaver. "And when UGA was founded, there were still Cherokees and Creeks in Georgia. Of course, they couldn't attend the university."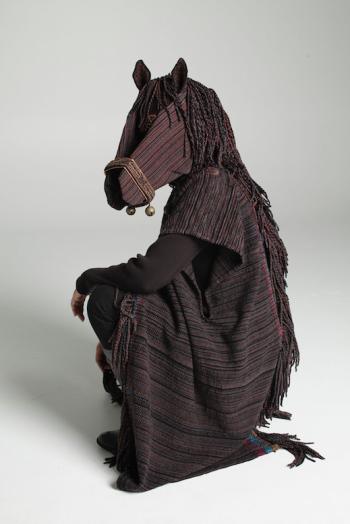 "Return from Exile" will remain on view at the Lyndon House through Saturday, Oct. 10, after which it will embark on a two-year tour across the country, with stops including the Collier County Museum in Naples, FL; the Dr. J.W. Wiggins Gallery at the Sequoyah National Research Center in Little Rock, AR; the Hardesty Arts Center in Tulsa, OK; and the Cherokee Heritage Center in Tahlequah, OK. Discussion is currently underway with the National Museum of the American Indian in Washington, D.C., the city where the Indian removal was planned, for 2018.
"We as curators felt that the greatest barrier was the simple fact that there have been few opportunities for Southeastern Indian artists to exhibit their work outside a small circuit of competitive shows and Indian art markets, mostly in Oklahoma and the Southwest," says Martin. "This is the primary reason we wanted to bring the show to Athens and other locations outside these usual venues—to expose the rest of the country to the depth and breadth of amazing work that our Southeastern Native artists are doing."
The Lyndon House will host an opening reception on Thursday, Sept. 17 from 6–8 p.m. The center will additionally offer a free screening of This May Be the Last Time on Tuesday, Sept. 22 at 6 p.m., followed by a Q&A with film director and Seminole Nation member Sterlin Harjo and Weaver. Centered around the search for Harjo's grandfather, who has mysteriously vanished after veering off a bridge into a river in Sasakwa, OK, the documentary artfully explores ancestral storytelling while tracing the evolution of powerful Creek Nation hymns.
The first annual American Indian Returnings (AIR) Talk will be held on the autumnal equinox, Wednesday, Sept. 23 at 4:30 p.m. in Room 214 of the UGA Miller Learning Center. "Something Native This Way Comes" will be presented by Jodi Byrd, a Chickasaw Nation member and associate professor of English, gender and women's studies at the University of Illinois at Urbana-Champaign.
"I think there is a palpable, undeniable power to this exhibition, which I believe occurs in large part because the artists invested so much of themselves into the themes of the show," says Martin. "Their spiritual and emotional investment is plain to see, and it makes for a moving experience, even for viewers uninitiated into the histories involved. Powerful stories are being told for those who take the time to listen."
"Return from Exile" is accompanied by a beautiful, full-color exhibition catalog featuring images and essays by the artists. Video interviews with more than a dozen participants are also available through returnfromexile.org, offering fascinating insight into the inspirations and processes behind creating each work. The curatorial team is additionally taking full advantage of social media by frequently posting installation photos and progress updates on facebook.com/returnfromexileexhibition.
MARK: Thursday's reception doubles as the official opening of "Mark," a juried exhibition of nearly 50 works by members of the Women's Caucus for Art of Georgia and invited artists. Ranging from paintings, pencil drawings and woodcut prints to sculptural objects, fiber art and digital photography, the exhibition is thematically unified through a common exploration of the nature of drawing.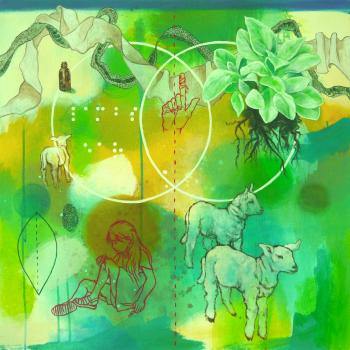 "Drawing is a porous, mutable idea. Whether one thinks of cave drawings by our earliest ancestors or the monumental line drawings on the planes of Nazca in Peru, drawing has always been physical and personal," says guest curator Georgia Strange, who is a professor at the Lamar Dodd School of Art. "I want the viewer to sense that very personal decision-making and physical act of making marks, whether the pressure is delicate and precise or loaded with force and emotion. Drawing is tactile and sensual. It is commitment."
The diversity of media and subject matter is reflective of the wide-ranging talents nurtured by the caucus, a nonprofit comprised of over 100 women artists, curators, art historians, educators and other visual arts professionals. Dedicated to increasing the visibility of women artists through exhibitions and educational programs, the WCAGA regularly collaborates with galleries, colleges and other organizations in order to reach new audiences.
Several of the show's artists will be present for "Draw Table," a participatory art event in which attendees of all experience levels can draw together around a large community table. The event will be held on Thursday, Sept. 17 from 6–8 p.m. and on the exhibition's closing day, Saturday, Oct. 10, from 1–3 p.m.
Like what you just read? Support Flagpole by making a donation today. Every dollar you give helps fund our ongoing mission to provide Athens with quality, independent journalism.