Artists exist in a perpetual state of evolution, continually refining techniques through study and practice, diversifying skills through new media and projects and maturing through public response and discourse. It's understandably a challenge, and perhaps even irrelevant, to pinpoint where exactly an artist falls on the spectrum of his or her own career—one can be seasoned but still starving, after all.
For the purpose of "Emerges VIII," an annual exhibition at the Athens Institute of Contemporary Art dedicated exclusively to showcasing upcoming local artists, the term "emerging" is loosely applied to those who are on the brink of transitioning into professional careers.
The majority of this summer's six participants, though not all, are recent graduates or current students within the MFA program at the Lamar Dodd School of Art. Though each has exhibited locally, they share a common denominator of having never shown works at ATHICA before. The honor of being recognized by an established contemporary gallery doubles as each artist's formal introduction to ATHICA's network of supporters and to the Athens community at large.
Guest-curated by Linnea West, who graduated with a master's degree in art history this past spring, "Emerges VIII" is thematically coalesced through heavy doses of fantasy and narrative.
"In addition to the basic parameter of the show—that the artist be emerging—I found that many artists to whose work I responded strongly dealt with narrative, but in unexpected ways," says West. "Rather than relaying an ordinary story, their works often suggested something artificial—perhaps with a hint of a darker underbelly, or something so removed from reality as to be in a fantasy land—thus with the clear suggestion that it is only illusion and not real. Both qualities are mildly subversive, and highly entertaining."
Entering the gallery, eyes are immediately drawn to "Checkered Hearts," an epic wall-spanning painting by Michael Ross. Set in a battlefield along the Finnish-Russian border during World War II at Christmastime, the hazy, dreamlike scene—which is featured on the cover of Flagpole this week—catches larger-than-life soldiers cherishing a bittersweet moment and hope for peace in the crushing bleakness of war. Drawing inspiration from his own childhood years spent growing up in Finland as well as the novel Unknown Soldier by war veteran Väinö Linna, Ross pulls from a complex well of personal memory and narrative to recreate history within a fantastical, symbol-laden landscape.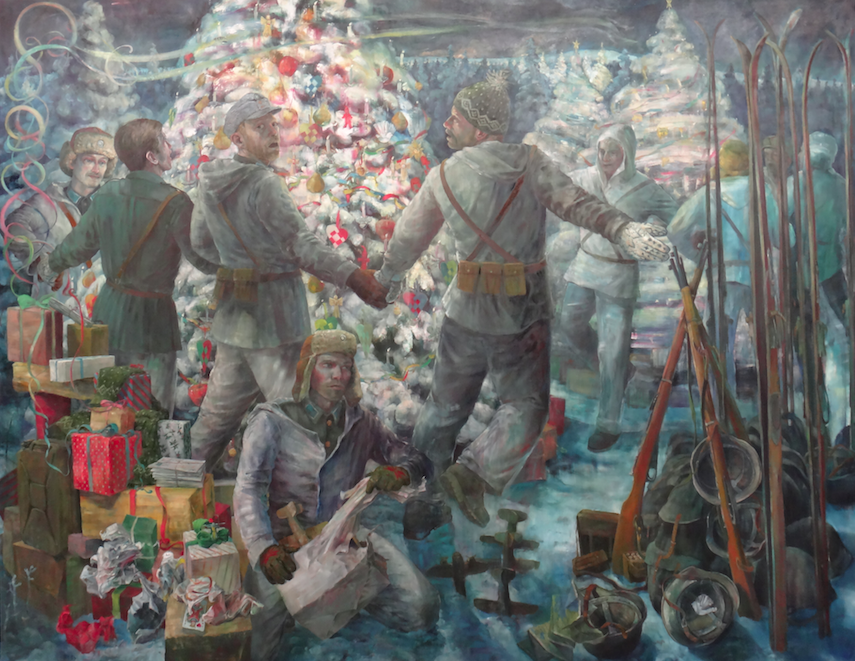 "Although it has a visually sensuous and romantic sensibility, 'Checkered Hearts' does not romanticize war. I hope that it will make people think more critically about war, especially in our time of distant but seemingly endless wars," says Ross. "On a first read, I want viewers to feel the emotional states of the soldiers and the physical sensation of the temperature and textures in the painting, [and] the tension between the celebration and the anticipation of returning to battle… I want the painting to feel like both reality and a dream, the kind of dream you wake up from in a sweat and hope wasn't real."
Similarly finding inspiration within the otherworldly realm of the subconscious, self-taught experimental photographer Ben Rouse presents striking black-and-white portraits created in collaboration with the series' subject, Laura Estrada. Based on the model's recurrent dreams of laying eggs, Rouse offers a new lens for processing innermost thoughts pertaining to fertility and fragility. Though dream interpretation is highly subjective and virtually limitless, eggs are generally understood to be positive omens symbolizing creative potential, new beginnings and metaphorically hatching from one's own shell—an incredibly appropriate fit for an exhibition themed on "emerging."
In the site-specific installation "Of Those Who Call the Woods Their Home" by Cameron Lyden, hand-drawn flourishes swirl around mounted objects resembling tools with undefined functions, leaving the viewer to invent a narrative. By applying traditional jewelry-making techniques to embellish wooden forms, Lyden creates pieces with mysterious histories that are simultaneously adorned and weathered.
The works of Jessica Machacek explore the interplay between the consumer world and the natural environment. One of her two works, "Aquarium," is an interactive piece in which household blinds can be turned to reveal that a landscape—exotic and serene, yet inarguably artificial—has been printed directly onto the slats. Instead of opening a window into the natural world, the blinds flatly reflect back a manufactured reality.
"Consumer products, built environments and modes of beautification inspire my work. It is the result of being an observer and a consumer, playfully pulling from the aesthetics and products that shape contemporary American ideals," says Machacek. "I want the viewer to become a spectator recognizing a fascination with the natural world: a place where nature is simultaneously present and absent. The work functions as contemporary nature does—for pleasure and leisure, adornment and aesthetic."
Color-saturated photographs by Winnie Gier similarly focus on the power of commercial artifice by presenting objects of unclear significance within unpeopled settings. The images mythologize the ordinary through theatrical lighting and magazine-grade glossiness, fixating attention on texture and symmetry.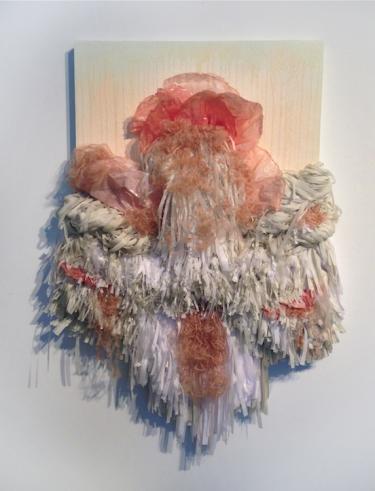 Invoking the tactile, two mixed-media sculptures by Saegan Moran employ materials that tempt to be touched like delicately layered handmade paper, fuzzy faux fur, knotted synthetic hair and slick, syrupy resin.
Athens has a lot going for itself in terms of sustaining a nurturing community for aspiring artists. Living expenses are comparably low, affording creative types more flexibility in comfortably balancing studio time with whatever day job they haven't quite managed to quit yet. The lineup of "Emerges VIII" itself is a testament to the Lamar Dodd School of Art's role in replenishing a new wave of ambitious students each year, which maintains its own built-in audience of members actively seeking new experiences through art.
"I moved to Athens for the graduate program at the Lamar Dodd School of Art, so to talk about my experience in Athens is to talk about the Dodd," says Ross. "Through two years of studies I've come to understand the ideas that motivate me. I'm digging deeper into them, making paintings that I never could have attempted before. While the Dodd is a busy and energizing place, the town of Athens has a counter-balancing calm, and I like that. I need it to dream and wonder. I like getting around on bike and foot, I like the porches, the lush landscape, the people walking their dogs, the generally friendly atmosphere."
Still, with small-town charm come small-town limitations. While there are dozens of coffee shops and restaurants eager to decorate their walls with local art, there are very few professional gallery spaces capable of accommodating receptions or artist-fueled events, let alone funding visiting artists or community outreach programming. That's why it's all the more important for Athenians to show appreciation for the arts, not just through purchasing work or offering donations, but by simply being present. Help promote receptions as anticipated events among friends, reach out to connect with artists whose work moves you, and offer trades or in-kind business donations, should the opportunity ever arise.
"The challenge is to get paid and make a living by doing what you love to do. It's difficult, and there is no one path. To attempt it is a huge personal risk, and to achieve it is a huge privilege," says Ross. "I've met several older and successful artists, and the one thing they all have in common is tenacity. The ones who believe in themselves and stick with their work over a long—sometimes decades-long—period of time eventually find a way to make a living, even a very good living. For me, I've also found it essential to live or work in a community of artists—for support, for critique, for building enthusiasm, for sharing ideas."
"Emerges VIII" opened July 11 and will remain on view through Sunday, Aug. 23. The gallery will also host an opening reception for "Intoxicating Love," a concurrent exhibition of works by local artist Broderick Flannigan, within The Box@ATHICA on Thursday, Aug. 6 from 6–8 p.m. Artist and educator Hope Hilton will lead a workshop for kids on Sunday, Aug. 16 from 2:30–4:30 p.m.
Like what you just read? Support Flagpole by making a donation today. Every dollar you give helps fund our ongoing mission to provide Athens with quality, independent journalism.