It's natural to fall into an annual pattern of activity that mirrors the ebb and flow of the seasons. Just as the flower buds begin to bloom in spring, we stretch our limbs from the stillness of winter and plant our own seeds for materializing dreams during the following season. When summer finally rolls around, many of us hit the ground running with lofty visions of adventure, escapism and personal growth. Deeply rooted in nostalgia with only a tinge of sun-baked lethargy, "Summer Vacation"—a group exhibition curated by Didi Dunphy and currently on display in the Gallery@Hotel Indigo—explores this beloved, memory-making season marked by recreation, travel and exploration.
After leafing through 100 or so issues of National Geographic that dated between the 1950s–'70s and had since been abandoned at a local thrift store, artist Winnie Gier tore out any pages that specifically depicted travelers and tourists admiring natural formations within the landscape. These vintage images serve as the core component of her unusual set of destination photos, "Lookers."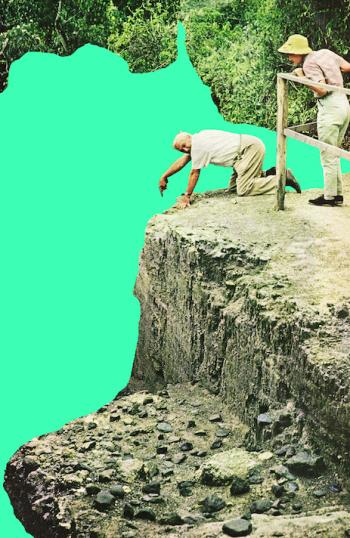 "I wanted to use these magazine pages to make art because of the pure physicality of the thing," says Gier. "The distinctive Kodachrome color, the fuzziness of the image, the chunky 'grain' from the dot-matrix printing process, the slick page and the smell of old cigarettes and mildew that permeated the room every time I opened it were all sensations that made me drunk with nostalgia."
Elevating the scenes beyond their simple journalistic reportage, Gier digitally layered flat pools of color over the centerpieces eliciting gazes or gestures. By obscuring the objects of wonderment in each photograph, a new sense of mystery is created for the gallery viewer looking in.
"In the time these images were made, summer vacations were mostly afforded to the affluent," says Gier. "A travel magazine such as National Geographic was a way for people to explore the world vicariously through journalism. People who might otherwise not be able to afford to travel out west or visit national parks or foreign lands could appreciate these destinations through the photography in the magazines."
The silhouettes of clashing colors draw attention to the focal subjects while simultaneously refusing the viewer the access necessary to understand the hidden subjects' significance. In an era where virtually every part of the world can now be Googled for crystal-clear images, "Lookers" leaves imperceivable destinations that remain left to the imagination.
The photography of Adam Forrester similarly offers fleeting glimpses into the past, prompted by the artist's recollections and alluding to historical happenings near his small hometown of Phenix City, AL. Selected from an ongoing series called "In the Valley," the three scenes create an impressionistic view of a now-quiet place that was once overrun with enough organized crime and corruption in the 1950s to have earned the nickname "Sin City."
Though Forrester has spent many years living away from his hometown, frequent return trips have instilled a new sense of appreciation and curiosity within him.
"Summer in my hometown is quiet, mysterious and beautiful—the humidity, the history and swimming at night," he says. "Growing up, I spent most of my summer vacations trying to get the hell out of my hometown. Now, I'm back there every summer. It's quite possibly the most peaceful summer vacation destination I've ever visited."
Given the theme of the exhibition, a series of rope sculptures crafted by Jourdan Joly may call to mind intricate friendship bracelets woven at summer camp, practical knots picked up for wilderness exploration or even ambitious routes for potential road trips. Instead, finding inspiration through Japanese decorative knots and calligraphy, Joly creates symmetrical designs that are strikingly fluid in their many twists and curves, yet delicately frozen into gravity-defying positions.
This kineticism is reinforced through using a medium so readily associated with activity and movement. "Rope is a great metaphor for the physical makeup of things—thinking about how it is formed by tiny fibers wound together to make thread, which then combined together makes string, and that combined and woven together in multiples creates the rope," says Joly. "It's like how everything is made from successively smaller components, but in combination make a greater whole. For instance, think of your own body as one whole entity, but it's made of threads of muscles, veins and arteries, tendons and bones—and of course many other things, but you get the picture."
Like some sort of psychedelic, three-dimensional Rorschach test, the synergy between positive and negative spaces within each of Joly's sculptures captivates the mind into tracing patterns and discovering hidden images.
No portrayal of summer would be complete without the inclusion of some good old-fashioned, adrenaline-inducing leisure activities, best represented in the show through a large site-specific installation incorporating various printmaking processes, collage and ink drawings by Michael Levine. Inspired by his own summer experiences revolving around tennis camp and lessons, the mural includes a mound of bright green tennis balls between a towering man with a racket in hand and a row of stomping bare feet. Through a mix of abstraction and loose narrative, viewers are left to form their own interpretation of the scene.
While Levine embraces an energetic, sporty athleticism, the tongue-in-cheek works of Georgia Rhodes represent the struggle of detaching from technological devices in order to fully be present, here and now, in the natural world. Two time-lapse photographs of a star-streaked sky juxtaposed with the messages "Just one with dinner" and "Okay another episode and that's it" should be immediately relatable to anyone who's chosen to spend an evening indoors with Netflix instead of outdoors with Mother Earth. Her works playfully push viewers to break through the sluggishness that so often settles in at the peak of summer heat—no judgement passed, as it truthfully is almost "too hot to fish" out there—and take advantage of exploring nature in its prime.
"Summer Vacation" is rounded out by a wall full of sweetly smiling Dolly Partons pulled from "Tease it to Jesus," a collection of portraits organized by local printmaking and design studio Smokey Road Press. In addition to reigning as the Queen of Country, Parton is also the namesake of Dollywood theme park, one of the most popular tourist destinations for vacationing families in the Great Smoky Mountains.
"Dolly is always in full bloom," says shop owner Margot Ecke. "When we think of Dolly, we think of color, music, glitter and gold. She is the perfect compliment to the themes of summer."
"Summer Vacation" will remain on view through Thursday, Sept. 24, one day past the autumnal equinox.
Like what you just read? Support Flagpole by making a donation today. Every dollar you give helps fund our ongoing mission to provide Athens with quality, independent journalism.