Tease it to Jesus: Smokey Road Press, the letterpress and design studio that has been operating out of the Leathers Building for the past two years, organizes an annual portfolio around a unique theme to collaborate with printmakers from across the country. This year, the portfolio was planned to coincide with the Southern Graphics Council, a yearly printmaking conference in Knoxville, TN, to commemorate the Queen of Country herself, Dolly Parton.
"Given the locale, it seemed only natural to organize a Dolly-themed portfolio," says Smokey Road Press owner Margot Ecke. "After all, who doesn't love Dolly?"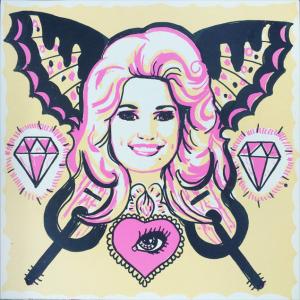 "Tease it to Jesus" includes 34 distinctive portraits of Dolly in all of her glittering, platinum blonde opulence and was unveiled last month at printmaking studio Pioneer House in Knoxville.
"Showing the prints at the Pioneer House was a no-brainer. It's a space full of honky-tonk music references, cowboy boots and letterpress machines," says Ecke. "As the former home of Yee Haw Industries, it also set a nice tone for the combination of country music portraits and printmaking."
Each artist's portrait varies greatly in style, seeking to capture the expressiveness and over-the-top personality of the country music star. "All Seeing Heart" by Rhonda Ratray features a demure Dolly in the center of a tattoo-flash-style butterfly with guitar wings. Justin Plakas' Warhol-esque pop art piece features three sassy Dollys lined up in neon pink, yellow and orange. "Hairway to Heaven," by Kathryn Polk, likens Dolly to Botticelli's "Birth of Venus," poised on a seashell with her up-do spiraling toward the sky. Other highlights include lithographs, letterpress and screen prints from Shelby DiCello Ahern, Samantha Mosby Belcher, Zoe Klosterboer, Maren Munoz, Sage Perrott, Linda Lucia Santana and Lily Smith-Kirkley.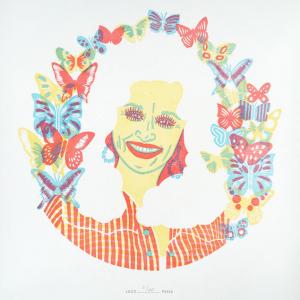 "I wanted the exhibition to be playful, fun and full of admiration for Dolly, so my selection process had a lot to do with artists who are skilled printmakers as well as Dolly fans," says Ecke. "It was also important to select artists who could capture her likeness. Dolly may have iconic, recognizable features—big hair, big breasts—but it is the articulation of her expressions and body language that make her a fascinating and a surprisingly difficult person to capture on paper," she says.
"Tease it to Jesus" is currently on view at Smokey Road Press through Thursday. Apr. 23. Within the upcoming months, the show will hit the road for stints in Dallas, TX, Asheville, NC and Oconee County.
Finders Keepers: "The Finders," currently on view at Gallery@Hotel Indigo through Saturday, June 13, celebrates resourcefulness through assemblages, shadowboxes and collages that breathe new life into found objects and images.
Amanda Scheutzow, a current MFA student at Lamar Dodd who holds a BFA in metalsmithing and jewelry from Arizona State University, creates beautifully ornate and subtly eerie metal frames studded with jewels for tintype portraits found in antique stores. Often extending metallic roots or dripping verdigris decay, these family trees reflect forgotten histories. Garrett Hayes, a new-to-town artist by way of Los Angeles, injects personality into common materials like bark, hemp, porcelain, cork, an old chair and "Grandpa's horseshoes" by repurposing them into wall-bound sculptures.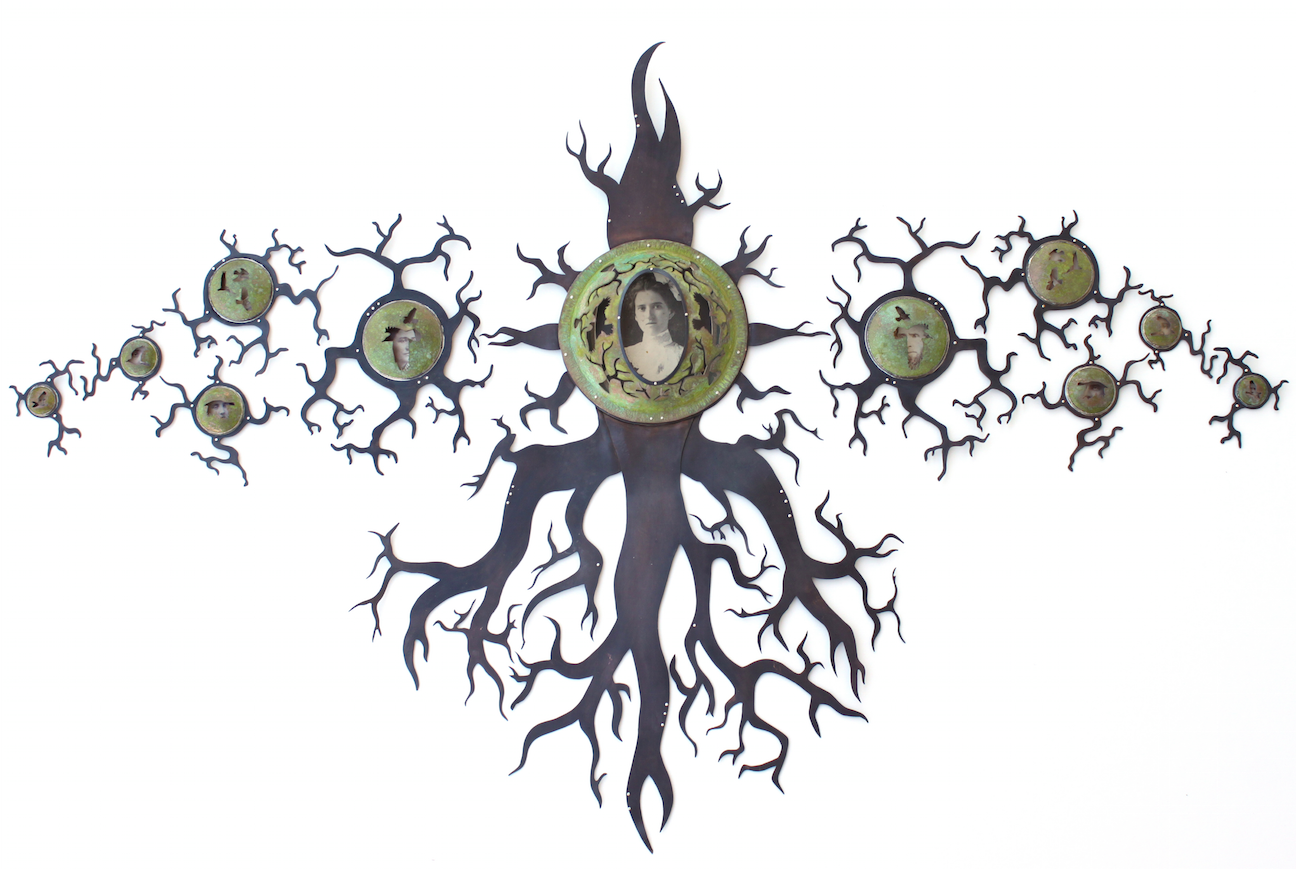 The shadowboxes of Lisa Freeman invite viewers into intimate little worlds full of handwritten notes, newspaper clippings, photographs, maps and other keepsakes. Chris Novey contributes two large-scale shadowboxes that mimic an imaginary newsletter's display case full of nonsensical anecdotes and artifacts.
Local mixed-media artist and musician Charlie Asher Key creates dreamlike narratives within landscapes collaged from children's stories, magazines and old books from second-hand stores. The simple assemblages of Taylor Kuzia, a recent Lamar Dodd graduate who holds a BFA in printmaking, frame the mundane by utilizing scraps of newsprint, cyanotype and plastic panel.
An opening reception for "The Finders" on Thursday, Apr. 16 from 6:30–8:30 p.m. coincides with Third Thursday, the monthly event in which Athens' seven largest art venues stay open late from 6–9 p.m. The Classic Center will open two new exhibitions of its own this evening. "Peaceable Kingdom," an animal-themed show in Classic Gallery I, includes contributions by local artists Will Eskridge, Lawson Grice, Jená A. Johnson, Susan Pelham and Cheryl Washburn. In Classic Gallery II, "Flight" will focus on winged creatures, with pieces by Margaret Agner, Eskridge, Johnson, Maria Mueller and Pelham. Third Thursday's other participating venues include ATHICA, Ciné, Georgia Museum of Art and the Lyndon House Arts Center; the galleries in the Lamar Dodd School of Art will be closed.
Like what you just read? Support Flagpole by making a donation today. Every dollar you give helps fund our ongoing mission to provide Athens with quality, independent journalism.