Master of Fine Arts: As part of a longstanding tradition that dates back to collaborations between artist Lamar Dodd and Georgia Museum of Art founder Alfred Holbrook, the museum will showcase the works of students graduating from UGA's Lamar Dodd School of Art in the "Master of Fine Arts Degree Candidates Exhibition." The annual show not only represents the culmination of each artist's formal training with the terminal degree, it also debuts a new wave of young artists as they enter the art world.
New partnerships in Atlanta and New York City have led to an exciting opportunity for the graduates to reach audiences outside of Athens. A second exhibition is currently on view at the Atlanta Decorative Arts Center through Thursday, Apr. 30, with a reception on Wednesday, Apr. 22. The works will then hit the road for a show at Rogue Space Chelsea in NYC from Tuesday, May 26–Thursday, June 4, with a reception on Thursday, May 28.
This year's MFA candidates are drawing and painting students Patrick Brien, Joseph Camoosa, Andrew Indelicato, Allan Innman and Mahera Khaleque; photography students Winnie Gier, Anna Gay Leavitt, Georgia Rhodes and Lucas Underwood; printmaking students Tyler Leslie and Jessica Machacek; jewelry and metals students Cameron Lyden and Lillian Smith; sculpture students Louisa Powell and Phillip Scarpone; interior design students Andrew Soper and Bo Wang; ceramics student Mark Johnson; and fabric design student Zipporah Thompson.
A reception for the MFA show will coincide with the museum's quarterly open house, 90 Carlton: Spring, on Friday, Apr. 10 from 6–9 p.m. The students will discuss their work during the panel discussion "MFA Speaks" on Thursday, Apr. 23 at 5:30 p.m., prior to Museum Mix, the museum's thrice-yearly art party. The spring edition, which will follow from 8 p.m.–12 a.m., features late-night access to all the galleries, music by DJs Booty Boyz, portraits by Michael Lachowski's Foto Pixx and a runway collection by Athens Fashion Collective of ensembles inspired by the museum's current shows. The exhibition will remain on view through Sunday, May 3.
Southworks: The Oconee Cultural Arts Foundation in Watkinsville will host its own opening reception on the evening of Friday, Apr. 10 from 6–9 p.m. for two new exhibitions. The 20th annual "Southworks Juried Art Exhibition," on view in OCAF's Main Gallery, presents pieces in a variety of media submitted from across the nation. This year's guest juror was Will South, who is currently the chief curator at the Columbia Museum of Art in Columbia, SC and in the past has served as a curator at the Dayton Art Institute in Dayton, OH and the Weatherspoon Art Museum at the University of North Carolina Greensboro.
From over 425 entries, South selected 96 works by 87 artists.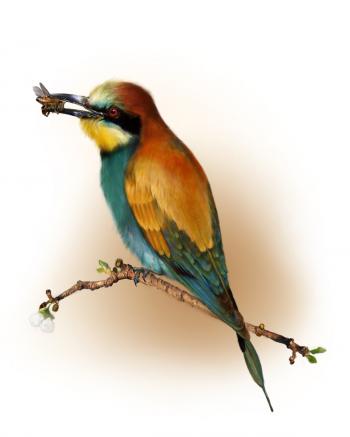 Each year during "Southworks," OCAF presents a "Director's Choice" solo exhibition in the Members' Gallery. Showcasing the work of a Watkinsville artist, "Jan Perkins: Art, Innovation & Technology" features a collection of digital fine art and mixed media paintings depicting wildlife. Classically trained with bachelor's degrees in art education and art therapy and a professional career in marketing, advertising and graphic design, Perkins balances traditional techniques with new technologies. Driven by her love of animals and a desire to capture their true essence, she works exclusively from her own collection of wildlife photography. Once she has selected an image of an animal in its natural environment to work from, she uses a digitizing tablet, special software and a stylus brush to paint a portrait onto an LCD screen. Her approach to digital painting is largely similar to that of traditional painting—start with a loose sketch and finish with minute details—but digital painting offers a limitless palette of colors and the flexibility of editing layers. Once the digital painting is complete, the image is printed on archival paper, modified through oils and pastels, and finished with a topcoat of resin. The finished pieces reveal hyper-real portraits of wild animals.
Perkins will lead a special gallery tour and demonstration on Saturday, Apr. 11 from 10 a.m.–12 p.m. Both "Southworks" and "Jan Perkins" will remain on view through Friday, May 8.
Like what you just read? Support Flagpole by making a donation today. Every dollar you give helps fund our ongoing mission to provide Athens with quality, independent journalism.