40TH ANNUAL JURIED EXHIBITION: Anchoring an impressive list of upcoming programs celebrating the Lyndon House Arts Center's 40th anniversary, the "40th Juried Exhibition" is a professionally oriented competition presenting a finely combed selection of works by local artists. The Center selects a different guest juror each year, this time around bringing in Carter Foster, Curator of Drawing at the Whitney Museum of American Art in New York.
"This year, we had the biggest response from the arts community to date," says Didi Dunphy, program supervisor at the Lyndon House. "Carter Foster reviewed 864 works of art and selected 194 by 160 artists. The show has always been a barometer of the arts quality in our area, and as the livability increases through the influx of arts, food and culture, artists are able to live and flourish here."
The works range among paintings, drawings, sculpture, ceramics, photography and fiber art, with emerging and established artists represented. Merit awards and honorable mentions will be announced at the opening reception on Thursday, Mar. 5 from 6–8 p.m., and the exhibit will remain on view through Saturday, May 2.
KEEP IT COMING: In addition to the "Juried Exhibition," Lyndon House recently announced a promising string of shows for the upcoming season.
In recognition of its 125th year, The Ladies Garden Club of Athens will present the "Southern Garden Series," opening Saturday, Apr. 25 and closing with a reception on Thursday, May 21. "The Home Show: Artist Inspired Birdhouses" will display a neighborhood of unusual sculptural works created to benefit Athens Area Habitat for Humanity. "Where We Live, Work and Play" will present playful sculptural and kinetic works by Tad Gloeckler, Cameron Lyden and Michael Oliveri and Martijn van Wagdendonk. Exploring the natural process of decomposition and deterioration, "Beautiful Decay" will offer a range of works by Mandy Dey, Sarah Emerson, Susan Hable and Janelle Young. "The Home Show, "Where We Live, Work and Play" and "Beautiful Decay" will all be on view at Lyndon House Saturday, May 30–Saturday, Aug. 1, with a reception on Thursday, June 4.
FORTY OF SOMETHING: Lyndon House has also launched "Forty of Something," a rotating display in the main lobby that will showcase 40 items drawn from local collections. The first installment, "Forty Found Photographs," is an assemblage of images found by Lauren Fancher in thrift shops, antique stores, abandoned houses and other surprising places. Her collection, which includes interactive QR scans linking to video and audio interpretations, will be on display Thursday, Mar. 5–Friday, Mar. 27.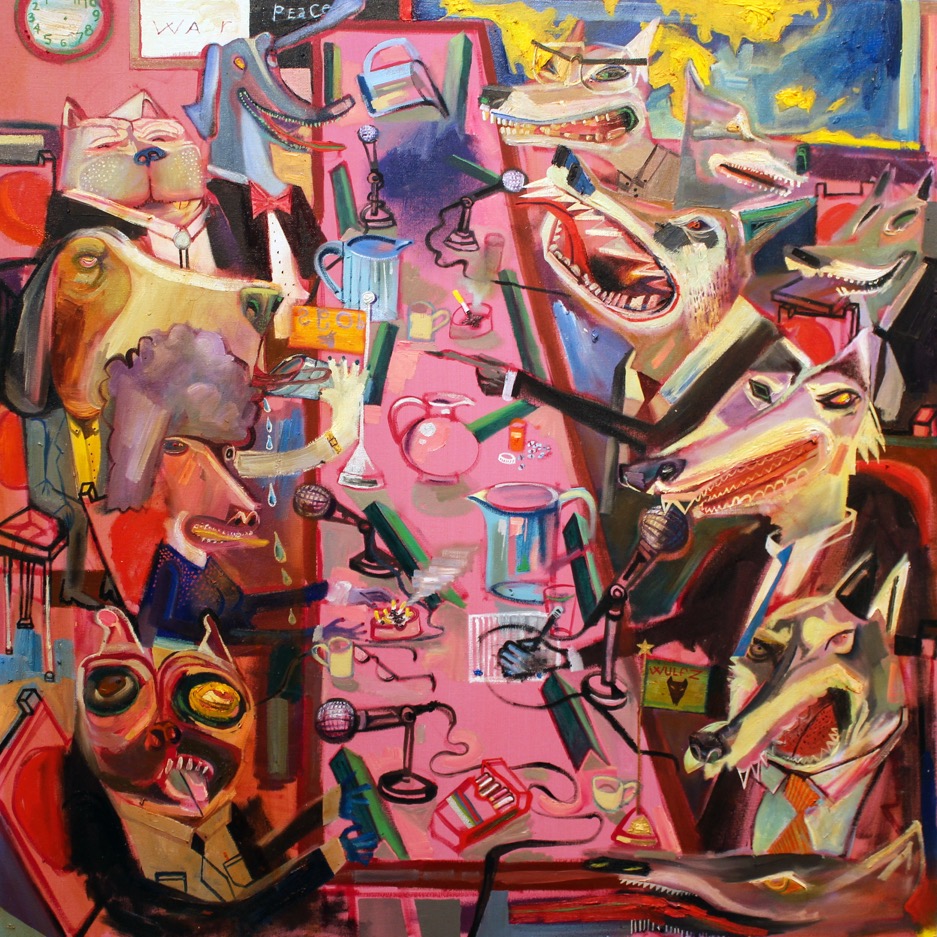 THE LOUNGE GALLERY: As another extension of celebrating 40 years of art, Lyndon House has launched the comfortable, brightly lit Lounge Gallery as a new space to showcase quarterly solo exhibitions by emerging artists. The gallery's inaugural show features a collection of intensely patterned, imaginative landscapes by Katherine Dunlap, who recently graduated from Lamar Dodd with a BFA in painting and drawing. All artist receptions in the Lounge Gallery will coincide with Third Thursday, the monthly event in which the city's seven largest art venues hold extended visiting hours. A reception for Dunlap will be held on Thursday, Mar. 19 from 6–9 p.m., and the show is currently on view through Friday, May 8.
KIDS WORKSHOPS: One major goal of Lyndon House is to continue spreading its roots throughout the community by partnering with kindred spirits. "My hope is that the Arts Center, as the anchor arts institution in downtown Athens, develops more outreach and partnerships with other wonderful creative organizations, as we have so many," says Dunphy. Held in partnership with Chess and Community, "Pawns, Kings and Queens" on Saturdays, Apr. 18 and 25, offers a chance to create custom chess boards. During the "Swag My Ride Workshop," held in conjunction with the Twilight Criterium Race on Saturday, Apr. 25, kids can decorate their own bikes. "The Way Things Move: Stop Motion Animation and Video" on Saturdays, May 2 and 9, was funded through an AthFest Education grant.
ADULTS, TOO: In addition to the art classes in painting, jewelry and metalsmithing, drawing and stained glass that Lyndon House regularly offers each season, the Lunch & Learn series is another official extension of the anniversary's programming. Co-hosted by the Athens Area Arts Council, these afternoon lectures include a talk on social media and online portfolios led by Michael Lachowski on Wednesday, Mar. 18 and a discussion on creating proposals for public art grants led by Marilyn Wolf-Ragatz on Wednesday. Apr. 15. Local storytelling showcase Rabbit Box will host "For Art's Sake" to celebrate Lyndon House on Thursday, July 9 at The Foundry.
Like what you just read? Support Flagpole by making a donation today. Every dollar you give helps fund our ongoing mission to provide Athens with quality, independent journalism.