Townie Boys: Motivated to nurture strong bonds within the community, local salon Model Citizen is resurrecting a glorious gem of Athens' past, the Townie Boy Calendar, featuring over 40 of our town's most charming characters showing some skin for a good cause. The original Townie Boy Calendar was created in 1994 as a benefit for the Athens Rape Crisis Center, which has since evolved into The Cottage Sexual Assault Center & Children's Advocacy Center. The original starred Athens luminaries like Michael Stipe, Vic Chesnutt and Ted Hafer. The 2015 edition, which will benefit Nuci's Space, is the latest project in a series of creative and collaborative fundraisers Model Citizen has spearheaded, such as last Halloween's "I Scream Social" for Community Connection of Northeast Georgia.
"We take our name at more than face value," says salon co-owner Shayne McBride. "Model Citizen was created as a way to take our creativity out into the community at large, not just the clients in our chairs. I have served on the board of directors of several non-profits and saw the need for some fresh blood and creative ideas. Why not put 'fun' back in fundraising?"
Drawing inspiration from spreads (no pun intended) in Vanity Fair's Hollywood and music issues, the Townie Boy Calendar includes a risqué collection of group shots and solo portraits of the men who make Athens distinct.
"We wanted it to have a mix of the expected and unexpected. We wanted to make sure it wasn't just musicians. Service industry is the lifeblood of downtown, and we wanted to make sure that was showcased," says McBride.
Among performers—including Mike Mills, Ryan Monahan and DJs Zack Duncan, Alfredo Lapuz and Mark Weathersby—you'll find a handful of farmers, physicians, drag queens, non-profit chairs and visual artists, including Michael Lachowski, Stan Mullins and Michael Oliveri. There are plenty of familiar faces here, such as chefs Peter Dale, Ken Manring and Mike Sutton, plus bartenders JS Dillard, Ben Garrett and Jeff Rapier. Even a few politicians participated, like Kelly Girtz, Russell Edwards and Tim Denson.
"It is all tongue-in-cheek. [Photographer] Christy [Bush]'s aesthetic is very Playgirl, circa 1977; think Burt Reynolds and a bearskin rug," says McBride. "These photos are personality. Plus, 'racy' can only be hilarious with these guys."
A launch party for the Townie Boy Calendar will happen during a "Hunky Happy Hour" on Friday, Dec. 12 from 5–8 p.m. at Old Pal. If you miss out on the live eye candy, calendars will still be available for $20 online at modelcitizensalon.com as well as in Avid Bookshop, Frontier and Agora.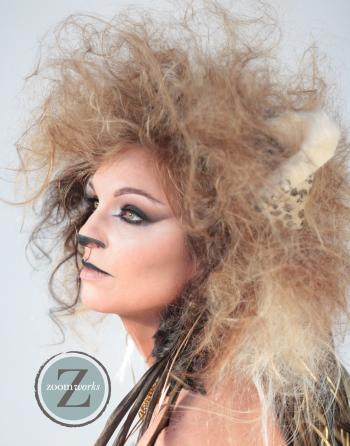 Zodiac Girls: Each year, Marisu Wehrenberg and Shannah Montgomery of Athens-based studio ZoomWorks take on a creative venture to push themselves and experiment as photographers. After turning one of their favorite models into a lioness as a promotional piece for the studio—with the assistance of makeup artist Jeni Smith and hair stylist Stephanie Lott—the duo were inspired to complete a series of cosmic shots for a feminine Zodiac Calendar. Fashioned in the boudoir style, a genre of portraiture that the studio specializes in, the calendar is intended to showcase the beauty and power found in all women through a series of creative pin-ups—think more-elegant-than-erotic—that transform each month's model into a personification of her astrological sign.
A free launch party for the calendar will be held Thursday, Dec. 11 from 7–9 p.m. at Hendershot's Coffee Bar, where attendees can meet all of the ladies who were in front of and behind the camera for the project. A portion of the proceeds will benefit the Jeannette Rankin Foundation, a non-profit that provides scholarships and support to low-income women seeking to complete college.
"Wherever we can, we try to include a fundraising component to our work. We felt that an obvious partner would be a non-profit that focused on women," says Wehrenberg. "This organization helps women realize their full potential through higher education, and it just seemed like a great fit: celebrating the power of women, their influence on the world around them and how they aspire to rise beyond limits placed on them."
Calendars can be purchased for $20 at the launch, or ordered by contacting ZoomWorks at 706-227-3777 or info@zoom-works.com.
Like what you just read? Support Flagpole by making a donation today. Every dollar you give helps fund our ongoing mission to provide Athens with quality, independent journalism.