Ultimately a love letter to the recording company that helped shape much of the local scene's aural and visual aesthetic, Athens Celebrates Elephant 6 is a series of exhibitions exploring the artwork surrounding the music collective's longstanding and illustrious history.
Dreamed up in the early '90s by childhood friends Robert Schneider, Will Hart, Bill Doss and Jeff Mangum, who grew up making music together in Ruston, LA, the Elephant 6 Recording Company released its first 7-inch EP in 1993 for Schneider's band, The Apples in Stereo. That same year, Doss, Hart and Mangum moved to Athens—relocating the label's base with them—and began forming one of the most influential chapters of Athens music history with bands like Olivia Tremor Control and Neutral Milk Hotel at the forefront. As friends from Ruston and elsewhere slowly joined the core in Athens, the roster grew to include Elf Power, The Music Tapes, the Gerbils, the Sunshine Fix, Circulatory System, of Montreal and a handful more.
Although the collective is best known for its music, visual arts have always played an essential part in the group's endeavors. Not only do many of the collective's musicians double as well-known visual artists themselves, but a wave of others have been inspired to document or contribute to E6 projects. Athens Celebrates Elephant 6 seeks to showcase this body of work, now spanning over 20 years, with special attention to paintings, album and poster art, theatrical stage props and memorabilia.
For six Athens cultural venues to participate in focusing on a common theme at once is an unprecedented and considerably difficult endeavor—preliminary planning for the series began back in February 2013—reflecting the true collaborative spirit of the collective.
"The idea is to get the input and perspectives of a number of curators and organizations that all have very different capabilities and styles,"says head coordinator Lizzie Zucker Saltz. "I liked the idea of spreading it around, since there are so many different ways this diverse, amorphous entity known as E6 could be celebrated."
Reverberations
Lyndon House Arts Center · On view through Saturday, Oct. 11
In addition to highlighting posters and album covers alongside the original artwork they were based on, "Reverberations" includes photography by Jason Thrasher and Chad Stockfleth, stop-action animation videos for Supercluster created by Hannah Jones, whimsical props constructed for The Music Tapes performances, costumes from a The Apples in Stereo tour and paintings starring E6-ers by Terry Rowlett. Curated by Zucker Saltz, the show epitomizes the range of media E6-ers dabbled in. An opening reception, held in conjunction with Lyndon House's other exhibit, "The Art of the Craft," will be held on Sunday, Sept. 7 from 2–4 p.m.
n [] c t u r n e
GlassCube@Indigo · On view through Wednesday, Dec. 31
On view 24 hours a day near the main entrance of Hotel Indigo, Dana Jo Cooley's site-specific installation in the GlassCube utilizes her skills in fabrication developed through working on prop and stage designs for bands. She used cardboard to segment the cube into smaller sections, and each cubby contains a found object or repurposed material such as marble-printed books, butterflies, a rusty bedspring, mirrors and mason jars. The collection of items is unified through an emphasis on texture—delicately folded or cut paper, rough wood, smooth metal—and an interweaving color palette of silver, gold, cream and earth tones.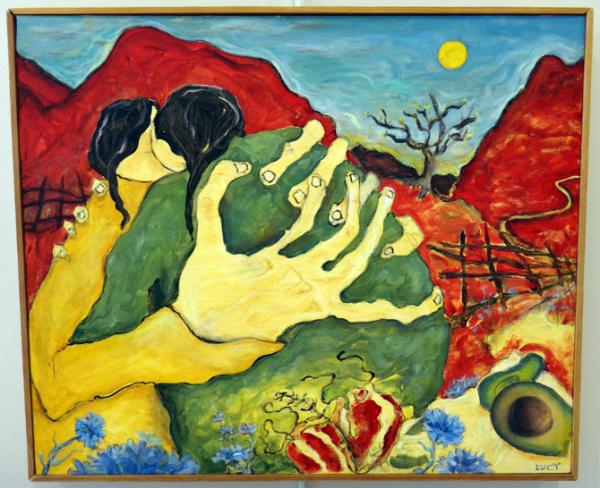 Carnival Part I
University of North Georgia, Oconee Campus · On view through Wednesday, Sept. 24
Curated by Beth Sale, who shares the hometown of Ruston, LA, with the E6 founders, the first installment of "Carnival" includes paintings by Lucy Calhoun, John d'Azzo and Charlie Johnston, encaustic works by Amy Hairston and photography by Kristine Potter. Each artist shares a slice of life with members of E6, demonstrating the underlying interconnectedness rooting the collective together. Calhoun, for example, graduated from Ruston High School the same year as Hart, Mangum and Schneider, and after studying art at Lousiana Tech University, moved to Athens and sang on several early Sunshine Fix songs and performed with Dixie Blood Moustache. While also attending LTU, d'Azzo met Will Westbrook and Scott Spillane, with whom he started the Gerbils, and after moving to Athens, took painting courses from his roommate, Rowlett.
Carnival Part II
University of North Georgia, Oconee Campus · Tuesday, Sept. 30–Thursday, Oct. 30
At the end of the month, the walls will welcome a second cast of characters—Jill Carnes, Andy Gonzales, Kelly Hart, Will Hart and Sarah Kirkpatrick. "The celebration of Elephant 6 requires a chaotic symphony of varied voices," Sale says. "This is a 'Carnival' of artworks—over 10 artists all working in different styles with a similar thread of joy connecting them."
Advice from the Oceans
Athens Institute for Contemporary Art · Saturday, Sept. 13–Sunday, Nov. 16
Perhaps the most indicative of E6's experimental nature will be ATHICA's exhibit curated by Angie Grass, Hairston and Sale, who were members of Dixie Blood Moustache, a performance art group remembered for devising imaginative, often avant-garde projects such as creating sound collages by playing appliances. The show will focus on interactive objects, including "Ocean Telephones" by Schneider, a sound installation by Hart and a re-creation of "The Little Show" by Doss and Westbrook, which was first shown in the early '90s on the top floor of Louisiana Tech's Wyly Tower. Additional collaborative works will be contributed by other E6 musicians, members of Dixie Blood Moustache and artist friends. An opening reception will be held Saturday, Sept. 13 from 6–8 p.m.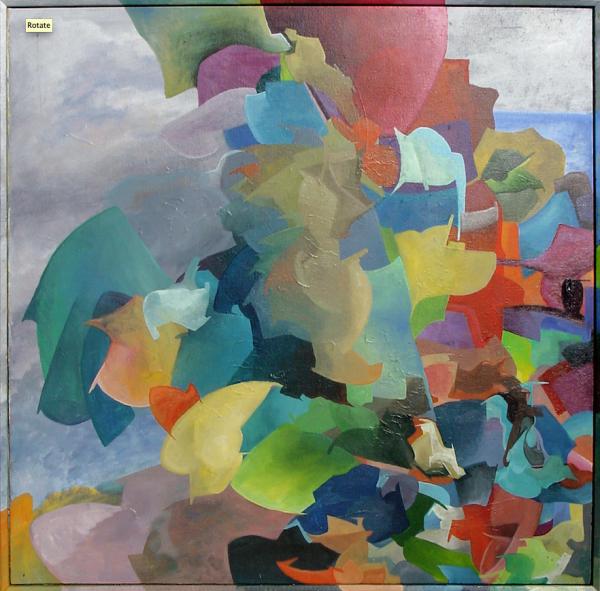 The… of E6
The Georgia Museum of Art · Saturday, Oct. 4–Sunday, Jan. 4
An album's cover is invaluable real estate, capable of conveying the personality and expressions held inside to the eyes of potential listeners. It's no surprise, then, that the creativity of E6-ers spills over into producing interesting imagery and packaging to complement recordings. GMOA's exhibition, curated by Lynn Boland, includes original artwork used for album covers, along with other examples of the group's visual culture, with artists including Will Hart, David Barnes, Mangum, Steve Keene, Carnes and Rowlett. "More than anything, I want to emphasize how integrated visual thinking was in everything that was going on as E6 got going in Athens," Boland says. "The art and music really were inseparable."
Correlated events include "Teen Studio: Art and Music" on Thursday, Nov. 6 at 5:30 p.m. and "Family Day: Art and Music" on Saturday, Oct. 11 at 10 a.m. In both, participants can create their own music posters and album art. On Thursday, Nov. 6 at 7 p.m., GMOA will screen The Past is a Grotesque Animal, a new documentary on eccentric of Montreal frontman Barnes, revealing a candid glimpse into the delicate balance between the pursuit of creating transcendent music and maintaining relationships with those around him. The film will be followed by a Q&A with Los Angeles-based director and former Athenian Jason Miller via Skype.
A Place We Have Been To
Ciné · Monday, Oct. 13
"What a beautiful dream that could flash on the screen in the blink of an eye and be gone," sings Mangum on "In the Aeroplane Over the Sea." Athens Celebrates Elephant 6 wouldn't be complete without acknowledgement of the cinematography about and by E6-ers. Ciné will screen an excerpt from A Place We Have Been To, an upcoming documentary in progress by filmmaker Stockfleth, that chronicles the group's history through exclusive interviews, found footage, video archives and live performances. Stockfleth will be in attendance along with producer Dan Efram, and the evening will include a live music performance by Circulatory System and Schneider. The details of the event are still being pressed out, but the theater hopes also to screen Major Organ and the Adding Machine—a wonderfully weird, surrealist short film directed by Joey Foreman and OTC/Elf Power member Eric Harris—which is based on the self-titled concept album of the E6 supergroup led by the elusive, possibly fictional, Major Organ.
Like what you just read? Support Flagpole by making a donation today. Every dollar you give helps fund our ongoing mission to provide Athens with quality, independent journalism.