As one of the largest exhibitions of its kind in the Southeast, the 12th annual "Perspectives: Georgia Pottery Invitational" at the Oconee Cultural Arts Center presents the work of 50 of Georgia's most talented contemporary ceramic artists through multiple exhibitions, gallery talks, artist demonstrations and studio tours.
"Perspectives" kicks off with an opening gala reception and preview sale on Friday, Aug. 29 from 6–9 p.m. A $10 admission fee provides first dibs at the extensive selection of handmade pottery. The reception also includes an opportunity to meet this year's participating artists, enjoy refreshments and hear a live performance by the Solstice Sisters, who harmonize old-time country, traditional folk and swing.
The largest collection of functional and decorative pottery will be on sale in Rocket Hall, with an overwhelming total of 5,000 original pieces ranging from pots, bowls, cups, vases, dinnerware, serving trays, plates, sculptures and more. In the Main Gallery, "Participating Potters: 2014" offers an abbreviated, crème de la crème showcase with two of the best pieces created by each artist, as well as one additional piece selected from their private collections. For this year's lineup, Athens will be represented by Maria Dondero, Carter Gillies, Juana Gnecco, Jennifer Graff, Rob Sutherland and Minsoo Yuh. First-time participants include Cindy Cindy Angless of Clarksville, Jim Bridgeman of Fayetteville, Gnecco, Kathy Murphy of Macon, Kathy Phelps of Atlanta and Tripti Yoganathan of Tucker.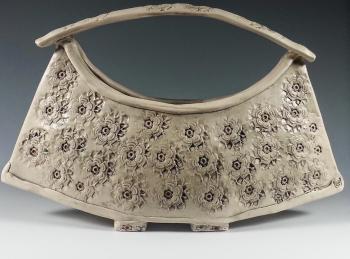 In the Members' Gallery, "Trifecta Clay Perfecta" showcases the extraordinary work of Ron Meyers, Ted Saupe and Sunkoo Yuh. Retired as Professor Emeritus after 20 years of teaching at UGA, Meyers has influenced generations of emerging artists and is widely recognized across the country for his red earthenware functional pieces decorated with spontaneous, expressionistic colored slip paintings. Saupe, a UGA ceramics professor, relies on memory, free association and daily experiences to convey personal narratives through utilitarian pieces. Yuh, also a professor at Lamar Dodd, creates alluringly surreal ceramic sculptures composed of clustered plants, animals and caricature-like humans.
In the Hall Gallery, "Music of Clay" presents English-style earthenware ocarinas by David Chrzan. Taking whimsical forms like dinosaurs, dragons and sea monsters decorated with richly colored and textured glazes, his handmade musical wind instruments are capable of playing nine notes.
Michael Pitts will lead free gallery talks on Sunday, Aug. 31 and Sunday, Sept. 14 at 1 p.m. Pitts, who has over 35 years of experience in pottery, will cover topics including styles, clays, glazes and firing techniques while using various pieces in the exhibit as examples.
OCAF will host free demonstrations on Saturdays from 1–4 p.m. in the Rocket Hall Courtyard. On Aug. 30, Atlanta-based studio potter, ceramic historian and educator Rick Berman will focus on wheel-throwing. The following week on Sept. 6, Marise Fransolino, also from Atlanta, will share her own tips for throwing and altering pieces. Closing out the series, Athens potter Maria Dondero, known around town for her cream-colored earthenware pieces distinctively painted with plants and animals, will describe approaches to surface design.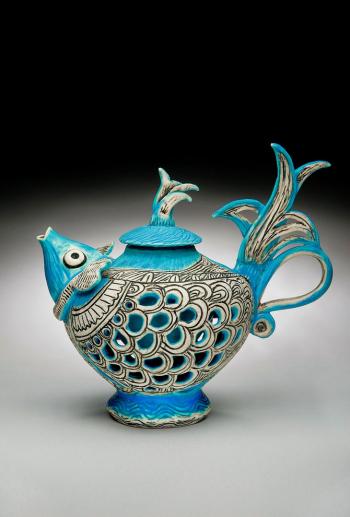 On Sunday, Sept. 14 from 1–5 p.m., "Perspectives" is also facilitating self-guided studio tours for the public to get a behind-the-scenes look at Normaltown Pottery, the personal studio of Juana Gnecco located at 410 King Ave. in Athens, and Happy Valley Pottery, located at 1210 Carson Graves Road in Watkinsville. Gnecco has been very much involved in the local community over the past few years—organizing pottery classes for Latino women through a program called Casa de la Cultura, teaching children at the Lyndon House Arts Center and working as a studio assistant at Good Dirt. She is currently a member of the Long Road Studios clay collective, which opened a permanent gallery this past May in Bishop. Happy Valley Pottery—co-owned by Jerry and Kathy Chappelle, who also run Chappelle Gallery—was created in 1970 as an artist community and incubator housing many studios, with over 250 artists having trained under the Chappelles. Attendees can pick up a map in the Hall Sales Gallery during the exhibition.
"Perspectives" will be on view through Wednesday, Sept. 17 from 10 a.m.–5 p.m. daily, including Labor Day. OCAF is located at 34 School St. in Watkinsville, roughly 10 miles from downtown Athens.
Like what you just read? Support Flagpole by making a donation today. Every dollar you give helps fund our ongoing mission to provide Athens with quality, independent journalism.