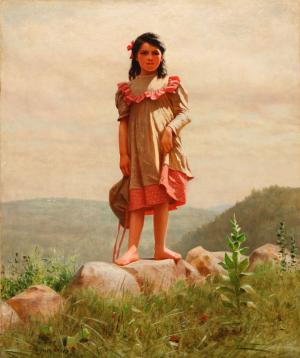 America the Beautiful: Through portraits, still-lifes and landscapes, "Picturing America: Signature Works from the Westmoreland Museum of American Art" provides a survey of American art from colonial times to the mid-20th Century, while the country emerged as the leading cultural capital in the world. Currently on display at the Georgia Museum of Art, the exhibition from the Greensburg, PA museum includes 56 paintings and sculptures spanning 200 years of American history.
Portraits, America's earliest and most dominant form of pictorial expression, were most often commissioned to record a person's affluence, as a means of attaining immortality and as memento mori pieces for remembering the dead. The collection offers a spectrum, ranging from objective portraits like Westmoreland's first painting acquisition, "Portrait of George Washington" by Rembrandt Peale, to more subjective, narrative paintings like "Death of Elaine" by Thomas Hovenden, which depicts King Arthur, Queen Guenivere and Sir Lancelot mourning over the body of Elaine, who has died from a broken heart.
Though still-life paintings continued to thrive into the 20th Century, their focus generally shifted away from recording organic materials to creating arrangements of abstract forms. This contrast can be seen between trompe l'oeil master Severin Roesen's "Still Life with Fruit," a brilliantly hued oil painting epitomizing the country's physical bounty, and American Abstract Artists founding member Balcomb Greene's "Organic Forms," a geometric work playing with shape and space.
Reflecting the transformation of American society from primarily agrarian to industrial, the exhibition's landscape paintings range from pristine natural settings to city scenes. Lush waterfall painting "Silver Thread Falls, Pennsylvania" by Hudson River School painter James Brade Sword and "The Outer Harbor" by foremost Impressionist painter Frederick Childe Hassam contrast greatly with the paintings of "Pittsburgh's Painter Laureate" Samuel Rosenberg, who documented socioeconomic life of the urban poor during the Depression.
Unique to this exhibit, labels have been eliminated from the gallery walls. Instead, the museum offers iPads—which can be checked out for free from the security guards—with a slideshow providing much more biographical and background information on each piece than would be possible to put on the physical walls without overwhelming viewers.
In conjunction with the exhibit, the museum will present "Picturing America," a series of films either shot or set within the exhibit's time span. The partially fictionalized biopic Young Mr. Lincoln, screening on Thursday, July 10, follows novice lawyer Abraham Lincoln as he attempts to prove the innocence of two brothers accused of murder. Following on Thursday, July 17, the 1942 documentary Native Land exposes violations of Americans' civil liberties by depicting the struggle of trade unions against union-busting corporations. Closing out the series on Thursday, July 31, Charlie Chaplin's silent comedy Modern Times is a social commentary on the difficulty of surviving in the modern, industrialized world during the Great Depression. All films begin at 7 p.m. and are free and open to the public.
Additional events include Family Day: Picturing America on Saturday, July 19 at 10 a.m.; an Artful Conversation with curator of education Carissa DiCindio on Wednesday, Aug. 13 at 2 p.m.; a Teen Studio with local artist Hope Hilton on Thursday, Aug. 14 at 5:30 p.m.; and a Tour at Two with associate curator of European art Laura Valeri on Wednesday, Aug, 20 at 2 p.m. The exhibit will be on display through Sunday, Aug. 24.
Geometric Growth: The Georgia Museum also recently unveiled a new installation in its Jane and Harry Willson Sculpture Garden, an outdoor space devoted to works of art by female sculptors. "Terra Verte" by Scottish artist Patricia Leighton consists of six "growing cubes," elevated frameworks of bright stainless steel covered in a lush patchwork of delicate sedum plants, positioned throughout the three tiers of the garden. The cubes, which are currently dotted with tiny, bright fuchsia and yellow flowers, will subtly transform over the next year as the vegetation grows, blooms and changes color with each season, demonstrating Leighton's attention to the site's environmental conditions.
At the root of Leighton's body of work is the integration of art and site, combining architectural and geometric structures with organic forms. She has been creating art in the public realm for over 25 years, often collaborating with teams of ecologists, engineers, architects and landscape architects to create large-scale, site-specific commissions that reflect the history and culture of each location as well as its geology and environment.
"Terra Verte" will be on display through Sunday, May 31, 2015 as will "Stone Levity," a conceptually similar sculpture by Leighton's husband, Del Geist, which is currently installed in the Performing and Visual Arts Complex quad. Leighton will return in the fall to give a talk about her installation.
Like what you just read? Support Flagpole by making a donation today. Every dollar you give helps fund our ongoing mission to provide Athens with quality, independent journalism.