Wholly feminine and fierce, "A Conspiracy," currently on view at Flicker Theatre and Bar, presents collages by Kenneth Aguar and oil paintings by Manda McKay.
Aguar's series of collages, "Burnt Offerings," blends science fiction, fantasy and popular culture, placing pin-up models and historical symbols alongside images borrowed from monster movies like Godzilla and Planet of the Apes, and comic books like "Conan the Barbarian," "Howard the Duck" and "Swamp Thing."
"There is a method to the madness. It's kind of intuitive and based on trial and error and mathematics—addition and subtraction. It's like putting together a jigsaw puzzle, basically. Anyone can make a collage, but like any medium, you have to produce 100 crummy ones before you have a breakthrough. I pretty much started cranking them in the early '90s out of necessity, 'cause I couldn't afford art supplies," Aguar says. "Color theory, art history, perspective and human anatomy were all principles picked up while at art school. I draw my images from vintage source material obtained during the '60s and '70s. Some of them are hand-colored with markers or colored pencil, but basically it's straight-up old school cut and paste craftsmanship. No computers were used in the making of the art object. I like to leave them a little rough around the edges."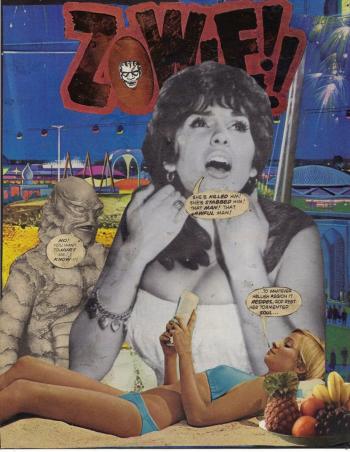 Many of the collages include nude women—stars strategically placed over their nipples—and while intrinsically erotic in their idealized beauty, they are incorporated not with the intention of being objectifying or exploitative but as a celebration of the feminine divine—"the fertility goddess, the queen, Eve, the muse, the Virgin Mary," Aguar says.
"I think art should imitate life and be based on personal experience. You store up those experiences and then you externalize them, while at the same time putting your own spin on things… I hope that—with any good art—the viewer will see something different every time they look and find hidden meaning, thereby unlocking secrets and peeling layers."
The impressively hyperrealistic still life oil paintings of Manda McKay present compositions of natural materials delicately arranged into suggestive new forms with subtle feminist and political undertones.
"Some of this work celebrates femininity, but much of it satirizes our cultural norms. Sex can have life-altering consequences, yet people are very casual about it," McKay says.
Combining items like shells, skulls, fruit, feathers, flowers and insects into provocative images allows McKay to approach sensitive issues gently. The fragility and simple beauty of the painted materials balance the honest, sometimes harsh reality each painting suggests.
"The initial inspiration for my work came from John Currin, but my biggest influences are Banksy, Ai Weiwei and Georgia O'Keeffe," she says. "I often paint in response to something I read about in the news, or I may find some object in the woods that inspires a painting. Last summer, the heavy rains brought orange mushrooms, and one of them made its way into the painting 'Birth.'"
Though formally trained in medical illustration, with experience working as an illustrator at the Auburn University College of Veterinary Medicine and for online courses at Athens Tech, McKay is primarily self-taught when it comes to oil painting. Rather than following a traditional method of using paints thinned with turpentine followed by thicker layers of paint and glazes, her approach incorporates a "dry brush" technique learned for watercolors at the Medical College of Georgia. The method yields super-smooth, color-saturated paintings while mindfully not sending harmful solvents into the local water supply.
"I began painting still lifes in order to question popular ideals of beauty and sexuality. My work is often more political nowadays, spotlighting issues like gendercide," she says. "I hope that my paintings will help viewers to confront topics that may otherwise be distasteful, such as intimate-partner abuse. I also hope that the work will be uplifting or inspirational, suggesting a solution to a problem rather than being mired in negativity."
"A Conspiracy" will be on view at Flicker through the end of the month. A free artist reception with Aguar and McKay is scheduled for Friday, June 13 from 6–9 p.m. Following the reception, around 10 p.m., Aguar will reactivate 8-Track Gorilla, a mysterious persona in a gorilla costume that has haunted clubs with weird performances off and on for over a decade. The Gorilla joins Dex Romweber Duo and Nate and the Nightmares at Little Kings Shuffle Club.
Like what you just read? Support Flagpole by making a donation today. Every dollar you give helps fund our ongoing mission to provide Athens with quality, independent journalism.