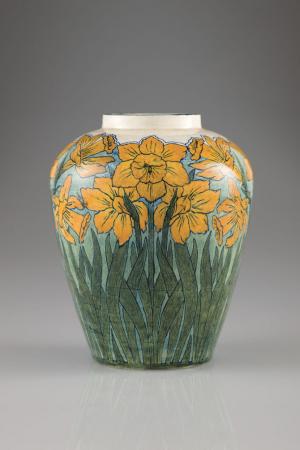 Clay Ladies: Envisioned as an artistic and social experiment to instruct young Southern women in developing self-reliance through craftsmanship, The Newcomb Pottery—an educational institution, professional enterprise and artists collective—is one of the most significant American Arts & Crafts potteries of the 20th Century. Organized by the Newcomb Art Gallery and the Smithsonian Institution Traveling Exhibition Service, "Women, Art and Social Change: The Newcomb Pottery Enterprise"—on display at the Georgia Museum of Art from Saturday, May 17–Sunday Aug. 31—features over 130 objects created by the women of the Newcomb community.
Founded at the H. Sophie Newcomb Memorial College—Tulane University's women's coordinate college—in New Orleans in 1895, the Pottery implemented the anti-industrial philosophies of the Arts and Crafts movement. Rejecting impersonal, machine-produced items, the movement emphasized craftsman-style decorative items typically simple in form and high in quality. Inspired by the flora and fauna of the Gulf South, each piece exemplifies the Pottery's distinctly Southern aesthetic and regional sensibility, with glossy cobalt blue and sage green designs incorporating images like irises, crepe myrtle, live oaks and an iconic "moss and moonlight" motif.
In addition to pottery, women were trained in applying modern design aesthetics to traditional skills like needlework, bookbinding, china painting, calligraphy and lettering, printmaking, metalwork and jewelry making. Though men were hired to perform the physical work—throwing the pots, firing the kiln and handing the glazing—dozens of women were employed over the Pottery's four decades of operation to create designs, promoting art for the betterment of women.
Associated events include a Teen Studio on Thursday, May 22; 90 Carlton: Summer, the museum's open house on Saturday, June 13; and Family Day on Saturday, June 14.
A Surreal Start: Following this past fall's exhibition of magic realist paintings by Carroll Cloar, "The Crossroads of Memory: Carroll Cloar and the American South," the Georgia Museum of Art is presenting "The Lithographs of Carroll Cloar" from Saturday, May 17–Sunday, Aug. 10.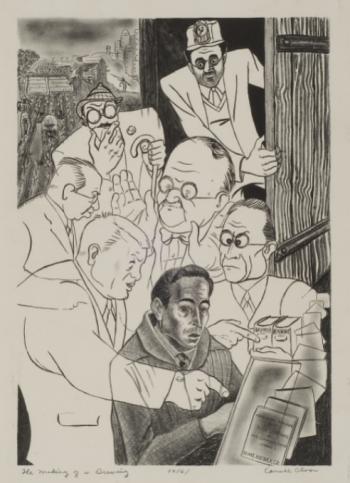 Created between 1936–1940 at the Art Students League of New York during the beginning of Cloar's career, the complete set of 31 lithographs depict people and scenes from his rural hometown in Earle, AR. As with his paintings, the lithographs have a subtle, surrealist tone, predominantly drawing inspiration from his recollection of childhood memories. Whereas his colorful paintings often used thousands of tiny points of paint to create texture as well as a unique layering process resulting in undertones of marbled, psychedelic washes, the black-and-white contrast of the lithographs offers a strikingly different atmosphere.
Cloar is known for blending regionalism and rural identity with elements of fantasy and childhood imagination, creating scenes that are nearly believable but slightly peculiar in their impossibility. His lithographs offer a glimpse into the development of this style. While not immediately unusual, a picture of six males of various ages posing shoulder-to-shoulder is given away to be an uncanny self-portrait by its title, "Group of Myselves." Much more surreal, "Nostalgia" is a collage of two large fish swimming across the projection of a cowboy movie while a woman undresses, baseball players hug and a string of bald, wide-eyed faces stare blankly in the corner.
Related events include Family Day on Saturday, May 17; 90 Carlton: Summer on Friday, June 13; and Artful Conversation on Wednesday, June 25.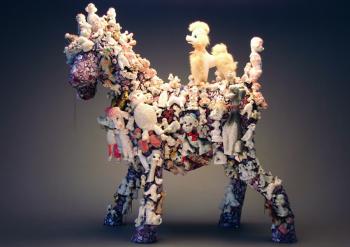 Fun Houses: In an effort to deepen its coverage of the visual arts, WUGA 91.7 FM is launching a new monthly series of interviews highlighting local professional artists. The Friends of WUGA group will sponsor corresponding visits to their art-filled, one-of-a-kind homes, allowing visitors to see the artists' personal collections of artwork as well as pieces that are still in the works. The series kicks off on Saturday, May 17 from 3–5 p.m. at 568 Pulaski St., the home of Mary Engel, whose large sculptures of animals are adorned with found objects. Entry is $10 for Friends of WUGA and $15 for non-members, and reservations can be made by contacting Abbie Thaxton at 706-542-9842 or thaxtona@uga.edu. The 2014 lineup continues with painter June Ball in June, painter John Cleaveland in July, multimedia artist and graphic designer Cindy Jerrell in August, potter Rebecca Wood in September, mosaic artist Krysia Haag in October and painter Philip Juras in November.
Like what you just read? Support Flagpole by making a donation today. Every dollar you give helps fund our ongoing mission to provide Athens with quality, independent journalism.