Big Imaginations: Curated by AthensHasArt! founder Nance Daniels, "Enchantment"—on display at ARTini's Art Lounge through mid-May—features drawings by Margaret Schreiber, paintings by Cameron Bliss and photographs by Michelle Norris that explore the relationship between reality and fantasy through bold colors and repetitive patterns.
Influenced by Magical Realism, Margaret Schreiber's lifelike colored pencil portraits of women contemplate the interplay between identity and expectations, both internally and externally. Working from photographs and reference books to achieve believable landscapes, Schreiber incorporates images from pop culture which add an element of fantasy.
"I have used Disney images, because these characters and the stories that go along with them are usually encountered when we are children; thus we have affection for and trust of them," says Schreiber. "From the beginning, Disney movies have used non-human animal characters to intervene in the romantic lives of humans—often princesses. I recently re-watched Snow White, taking special note of the three-and-a-half minute 'Whistle While You Work,' during which woodland creatures assist Snow White in cleaning house. I just think it is funny that, whether or not we as individuals subscribe to the philosophy behind it, there is a pop cultural conceit that the non-human world is invested in human custom."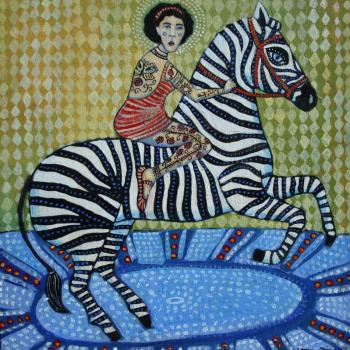 Employing repeating patterns and hundreds of tiny dots distinctively marking the folk-art style, Cameron Bliss' carnival and circus paintings question the somber lifestyle and culture hidden beneath the animated facade of entertainers. "Who isn't intrigued by juggling gypsies? Bearded and tattooed women? Bears on unicycles and clowns on stilts? But as I painted the characters' faces, I began to look into their eyes and wonder what kind of lives did they really have," says Bliss. "That's when this series became more about the psychology behind the performers' lives when they weren't entertaining the crowds, rather than the jolly performers we think they should be."
Recent Lamar Dodd graduate Michelle Norris' series of photographs, "Provisions," repurposes consumable items like slices of cheese, a watermelon and cocktails within environments of pastel hues of pink and teal. "I hope to create interest in these otherwise mundane objects by transporting them into unusual surroundings. I construct worlds that emphasize color, pattern and form above all else, encouraging us to take a closer look at things we've passed idly by before," Norris says.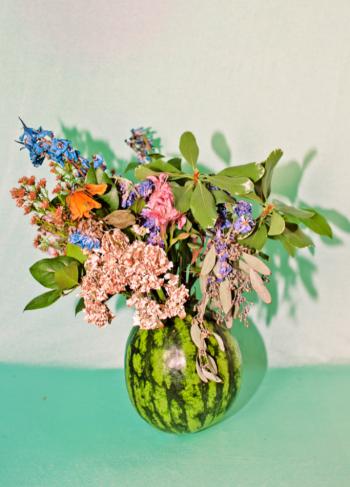 AthensHasArt! is an arts organization that began in 2010 by hosting shows in a gallery space above Ben's Bikes, and has since expanded into curating exhibits and events for multiple venues around town. The organization recently hosted "Mother: the Collective Dance Experience"—an event that included dancing, live music and visual art at Buffalo's Café to fundraise for The Cottage Sexual Assault and Children's Advocacy Center—and will host an artist reception for new paintings by Andy Cherewick at the Leathers Building on Wednesday, Apr. 23 from 5–7 p.m.
An opening reception for "Enchantment" on Thursday, Apr. 17 from 7–10 p.m. will feature an interactive food-art project by Lynn Kovaciny and Ana Tedford, as well as a series of shadow puppet plays led by Desiree Sharpe. The plays follow Baba Yaga—a supernatural being from Slavic folklore, typically depicted as a terrifying, elderly witch who lives in a chicken-footed hut out in the woods—as she schools others and learns a few life lessons herself.
Go Inside: "INTERIOR/EXTERIOR: Structural Constellations," is a full-gallery installation by Vespucci, the arts collaborative between Cody VanderKaay and Rusty Wallace, that seeks to transform the Athens Institute for Contemporary Art into a space for contemplation, by responding directly to the gallery's angles, proportions and lines.
Drawing inspiration from Kurt Schwitter's architectural project Merzbau, Josef Albers' geometric "Structural Constellations" drawings, and "The Inside of the Outside," an article by Stephen DeStaebler that examines the process and experience of artists while working, Vespucci used everyday materials like wood, cardboard and plastic sheeting to transform the gallery from merely a venue for viewing art into a work of art itself. "As the viewer moves through our installation, the myriad compositions formed by the installation elements and the existing gallery structure at certain moments align and resonate with other elements, all the while encouraging a dynamic exploration through the space, much like looking for and seeing constellations in the night sky," says Wallace.
The duo discussed ideas and logistics for several months leading up to the installation, but once construction began, they allowed themselves to be guided through creative response and spontaneity. "We both come to our collaborative efforts with a high degree of skills and experience but enjoy the process of learning, discovering and playing in order to find rich solutions to questions in our exhibition ideas," says Wallace. "From day one in our collaboration, we set out to make work that is fresh for us both—that has no signature of either of our individual bodies of artwork."
In conjunction with Third Thursday, when six local art venues stay open late on the third Thursday of each month, ATHICA will host INTERIOR/EXTERIOR: Nocturne on Thursday, Apr. 17 from 7:30–9 p.m. featuring performance art by Ted Kuhn and live music from Thunder O(h)m. "INTERIOR/EXTERIOR: Structural Constellations" will be on display through Sunday, May 4.
Like what you just read? Support Flagpole by making a donation today. Every dollar you give helps fund our ongoing mission to provide Athens with quality, independent journalism.