Rising out of the South's agrarian culture, religious fervor and racial tensions, 20th Century self-taught, vernacular artists offer a body of richly diverse visual art full of marked attachments to place. Curated by Susan Crawley, former folk art curator at Atlanta's High Museum of Art, "Georgia and Beyond: Southern, Self-taught Art, Past and Present," currently on display at the Madison-Morgan Cultural Center, highlights the accomplishments of vernacular artists. Broken into three galleries—for Southern artists, Georgia artists and current artists—the exhibit shares these idiosyncratic ways of viewing the world.
Art can be evaluated on the white walls of galleries, away from the cultural and historical circumstances in which it was created, but biography can provide essential context for appreciating many works of vernacular art. Born into slavery, Bill Traylor continued to spend much of his life farming on a plantation following emancipation. At the age of 85, he moved to Montgomery, AL, where he spent the remainder of his days sitting on sidewalks and creating over 1,500 drawings of the passersby in his new urban community and from his memories of the farm, documenting an ever-changing South.
For some vernacular artists whose artwork is more conceptual in nature, very little, aside from their upbringing and education, separates the appearance of their work from that of formally-trained artists. Thornton Dial, whose large-scale assemblage, "Feeding the Cupola," depicts scrap metal being fed into a furnace, comments on Alabama's transformation from an agricultural to industrial economy.
Most Southern self-taught artists were of limited means, creating art with skills acquired through working on farms or in factories and by repurposing materials like scrap metal, house paint, plywood and even dirt. Mr. Imagination, who began focusing on art after experiencing a spiritual vision following a gunshot-induced coma, created sandstone sculptures inspired by African and Egyptian figures, incorporating thousands of bottlecaps, nails, mirrors, vintage commercial items and other found objects. Similarly recycling materials and also influenced by African cultural expression, Lonnie Holley created a lush environment full of sculptures and paintings around his Birmingham, AL, home, until his property was bought for the expansion of the Birmingham International Airport. Famous for his yard art, David Butler filled his lawn with tin cut-outs of critters drawn from Biblical and mythological scenes and with kinetic sculptures like weathervanes and spinning "whirligigs" intended to ward off evil.
Of the dozen or so artists selected to represent Georgia, the exhibition includes pieces by visionary artists Howard Finster and Eddie Owens Martin a.k.a. St. EOM, who respectively created two of the most fully realized art environments in the country: Finster's Paradise Garden and Owens' Pasaquan.
Finster, a Baptist minister with only a 6th grade education, received a vision from God at the age of 59 to spread the gospel through sacred art. He then dedicated the rest of his life to developing Paradise Garden—a four-acre folk art sculpture garden in Summerville, GA, complete with a bicycle tower, mirror house and the iconic five-story "Folk Art Chapel"—as well as over 46,000 pieces of art, many covered with Biblical verses.
During a fever-induced vision while living in New York City, Owens was visited by three messengers from the future, who instructed him to return to his rural hometown of Buena Vista, GA as St. EOM and create a peaceful place for future beings. The result is Pasaquan, a seven-acre artscape vibrantly painted with cosmic patterns and futuristic figures.
As society becomes more electronically connected, the isolation from the art world that helped foster 20th Century self-taught artists has lessened. While some members of the new wave are now highly educated in fields other than art, most still share their predecessors' strong sense of place—particularly places of the imagination—and a preoccupation with spirituality, which has expanded to reflect more than orthodox Christianity. Ultimately, what connects them is a drive to discover their own distinctive style.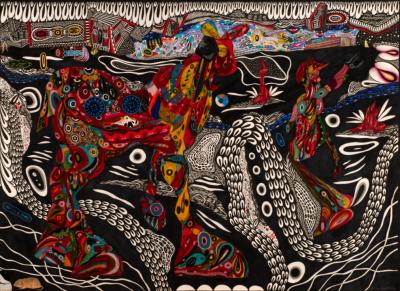 Though unschooled as an artist, JJ Cromer holds a bachelor's degree in history and master's degrees in English and in library and information science. After years of working as a librarian, he renewed his hobby of drawing, finding in his art ambiguity and creativity capable of countering his straightforward job. Over the years, his style of painting, with its reoccurring clothespin-like figures and looping aesthetic, has become more refined, exploring themes of environmentalism, technology and class inequalities.
Voice actor and radio personality George Lowe, best known for his 14-year role as the voice of Space Ghost on Cartoon Network's Space Ghost Coast to Coast, is another professional who leads a double life as an artist. His watercolor collages of colorfully patterned shapes seem abstract at first, but on second glance take shape as landscapes with rolling hills and city skylines.
Like many traditional vernacular artists, William Fields draws inspiration from a well of intense spirituality. Rejecting his Southern Baptist upbringing, the Winston-Salem artist has spent roughly 40 years studying esoteric spiritual and philosophical traditions ranging from Hermeticism, Tantra, Gnostic Christianity and Tibetan Buddhism. After entering a meditative state, Fields uses pastels and colored pencils to illustrate the entities he encounters. The results of his practice are mystical, psychedelic renderings of unusual beings covered in faces and symbols.
John Culver, another spiritual man who believes God works through him, makes hypnotizing, busy pieces that explore time and space travel. The kaleidoscopic geometry of his paint pen and marker drawings is similarly present in the impressive creations by Haint (Alan Wayne Bradley), who meticulously cuts and layers painted mat board into dense constructions. Erratic, geometric patterns also dominate the imaginative and narrative scenes painted with gouache by Melissa Polhamus.
"Georgia and Beyond" is on display Tuesdays–Saturdays 10 a.m.–5 p.m. and Sundays 2 p.m.–5 p.m. through Apr. 13. The Madison-Morgan Cultural Center is located at 434 S. Main St. in Madison, which is about 30 miles south of Athens down Hwy. 441. Admission to the Center is $5 adults, $4 seniors and $3 students.
Like what you just read? Support Flagpole by making a donation today. Every dollar you give helps fund our ongoing mission to provide Athens with quality, independent journalism.