A Different Time: Before the flurry of animal and vegetable activity that marks the start of spring, there is the mineral quiet of winter. Hushed snowfalls, frozen and crystallized water, silent wisps of clouds in the sky create a landscape that is marked by absence of noise and activity. A new exhibition at the GMOA of paintings by George Ault and other notable artists who worked during the WWII era seems to hold this sense of a fullness of nothingness. The artwork in "To Make a World: George Ault and 1940s America†forms a meditative and thoughtful environment.
The show begins with Ault's "Artist at Work,†which depicts his spare cottage home with the artist's face hidden behind the canvas he paints. The walls of Ault's home are the same color chosen by the GMOA to highlight the gallery walls, unifying our space with his domestic interior. From this entry into his world, we are drawn into the particular time and place of Ault's universe.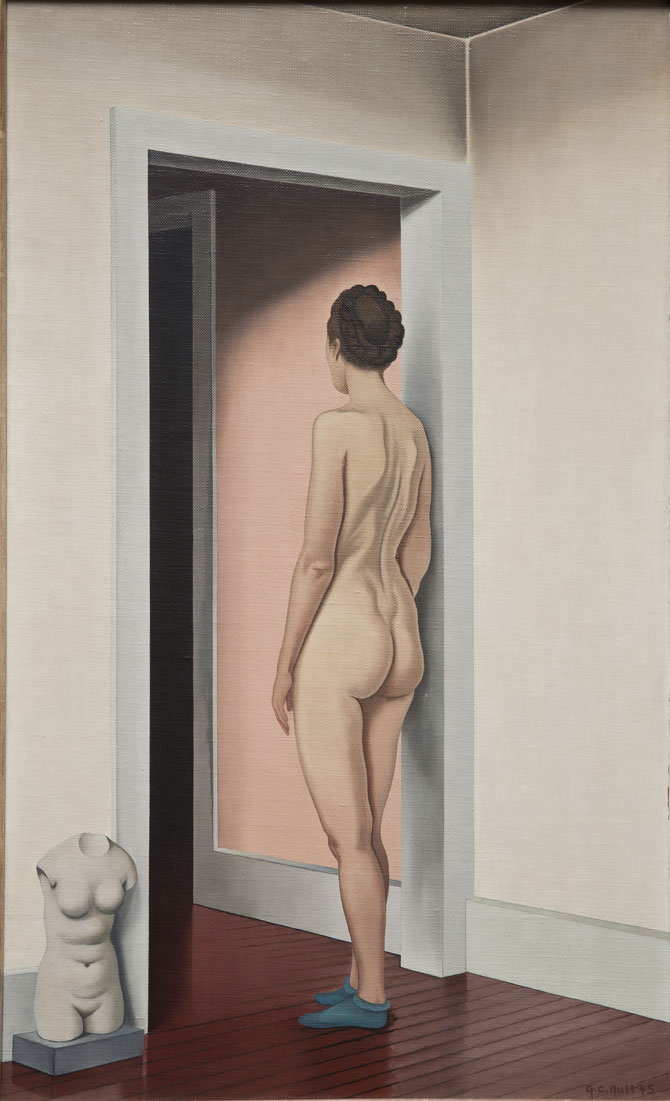 Ault moved from New York City to Woodstock in 1937, retreating from personal loss and hoping to escape the impending chaos of WWII. Others sought refuge in this quiet town, too, and an artists' enclave developed, which continues to this day. The exhibition, on loan from the Smithsonian American Art Museum, includes photographs of Woodstock's residents, as well as follow-up stories about those who enlisted in the war and who did not return. The absence of these individuals is reflected in the sparsely populated landscapes Ault and others painted of the area in works like "Brook in the Mountains.â€
In other works, Ault painted a "portrait†of the same barn—once in sunlight and again in moonlight—distilling the angled planes of the building into a simplified geometry. Next to these is Edward Hopper's "Dawn in Pennsylvania,†a dreamlike industrial setting of stark shadows and stillness that reminded me of the eerie paintings Giorgio de Chirico created a couple of decades earlier. In Hopper's painting, vacant windows and darkened doorways present us with the abyss, a sparseness that speaks volumes about the people who are absent. Andrew Wyeth's "Public Sale†is a beautiful tempera painting on panel depicting the sale of a destitute farmer's household goods. Although this painting is populated by figures (neighbors hoping for a deal), the sense of impending absence and loss is palpable.
The exhibition, which is as much about American art in the years preceding and during WWII as it is about Ault, contains many scenes of spareness and quiet, but with some exceptions. In "New Haven Green,†Dede Plummer painted a busy street scene with a flattened perspective to show a variety of people walking the crisscrossed grids of sidewalks in a rush of activity. Production design drawings and stills from the 1945 film Mildred Pierce by art director Anton Grot create a noir-ish setting in one gallery. Life magazine correspondents Peter Hurd (who was Andrew Wyeth's brother-in-law) and Paul Sample contribute wartime perspectives with paintings of flares and searchlights on the battlefield (Hurd) and soldiers watching a film with rifles at the ready (Sample).
In the last gallery of the exhibition, I saw Ault's "Russell's Corners†series as his rural version of Monet's Rouen Cathedral paintings. Four paintings, painted just a few years apart, show the same view down a street with just a few clapboard buildings and no sign of those who might live within them. In each, the streetlights radiate in the darkness like a beacon. In the last picture, "August Night,†painted in the year of his death, one can see almost nothing in the composition but this light, radiating like a star in this lonely place. Here, as in many of his other paintings, it is the sky that holds the emotional information. Ault's pictures, for all their stillness, resonate with expression. In 1948, Ault committed suicide by drowning himself in one of the streams by his house. Knowing this, the calm settings of his paintings seem all the more poignant. The exhibition runs through Apr. 16.
While You're There: Celebrating the work of local master craftsman, collector and restorer Henry Eugene Thomas (1883–1965), "Georgia Bellflowers†is another exhibition currently at the GMOA and not to be missed. This show is the first of its kind and includes 17 examples of Thomas' Colonial Revival furniture—with his signature gold bellflower inlay—as well as ephemera about his life in Athens. Curator Ashley Callahan's catalog describes Thomas as an important figure in the history of decorative arts in the South; this unique exhibition provides a portrait of the artist as well as the town in which he lived and worked. On view through Apr. 15.
Like what you just read? Support Flagpole by making a donation today. Every dollar you give helps fund our ongoing mission to provide Athens with quality, independent journalism.