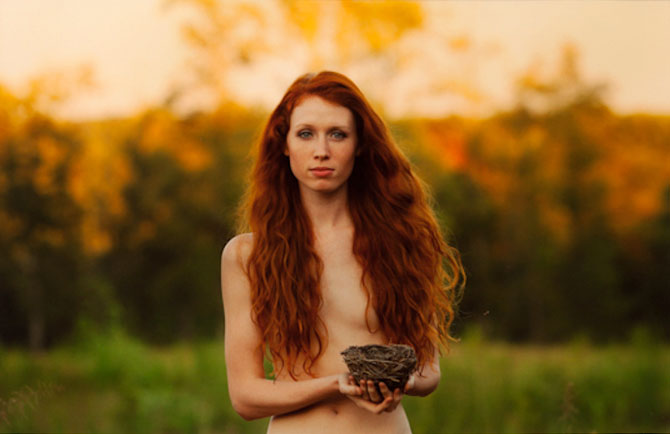 It's That Time Again: The Lyndon House Arts Center opened its "37th Juried Exhibition†last week with 175 artworks on display, now through Apr. 21. Guest curator Heather Pasanti of the Albright-Knox Art Gallery in Buffalo, NY selected the paintings, sculpture, photography, prints and works in other media for the exhibition from a group of 566 individual submissions. According to a statement in the catalog, her curatorial direction is guided by her experience as a contemporary art critic where "a good work of art has both a visually arresting presence and a smart conceptual underpinning.†In addition to an intellectual approach to choosing artwork for the exhibition, those on display also had a more visceral effect on Pasanti, "where the art's 'freshness' comes through and piques my interest—or not.â€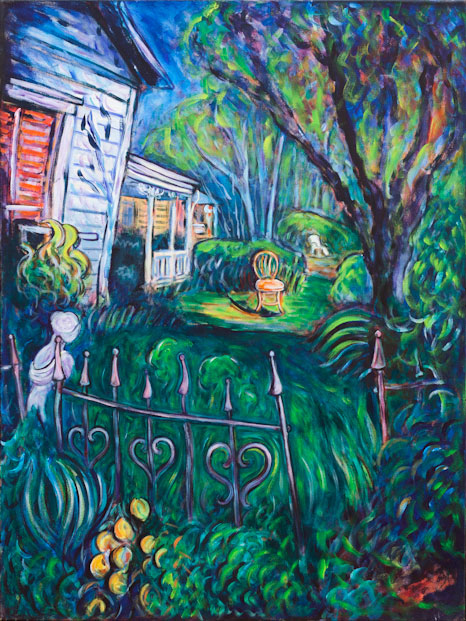 The artists who made the cut this year include some familiar names as well as new participants. Well known Athens photographer Ian McFarlane won an Honorable Mention award with his photograph, "Brittany with Nest." Painters Mary Porter (who won a Merit Award for "Midnight on Hiawasseeâ€), Jonathan Jacquet and Starr Campbell return this year and are joined by some names that are new to me. One of my favorite pieces is David Siffert's "Bangkok Market,†a painting in gouache depicting narrow boats on the water as seen from above, their hulls packed with fruit and other goods for sale. The tightly compressed composition breaks the scene into neat geometric shapes. People in the boats reach across to one another to steady their vessels, creating a tenuous stability in this floating market.
Speaking of enclosed spaces, "Friendly Mortician (Ryan)†by Anna Schoenbaechler is a portrait of a man in a darkened doorway, the frame closing in like a coffin. Bright light illuminates his face, white collar and folded hands. His expression—a mysterious smile—seems to hide a secret to which we are not yet privy. Margie Spalding's gorgeous "Japanese Vase with Apples†is also a standout. The composition of a green scarab-colored ginger jar, flowering branch and small apples is alive with light and life. Both paintings won Purchase Awards and are already off the bidding block.
Working in multi-media to "paint†literary scenes like a knight on horseback on his way "To Slay the Jabberwock†(a Merit Award winner) and Madame Butterfly floating on water and "Waiting for Pinkerton,†Susan T. Pehlham summons fantastical visions in complex collage and painting. Teh Reaver, Jr.'s paintings in acrylic and collage are also otherwordly visions. Bright colors, repetition and skewed perspective in "Trü Class,†for example, create a psychedelic puzzle of a picture. In stripped-down black and white, but no less arresting, is Margaret Agner's "Sacred Bond.†This monotype print depicts a family of four and their faithful canine companion—but with a difference. Their faces are smudged to make them simultaneously everyone and no one, while concentric lines around their bodies reverberate with emotional energy, not unlike Edvard Munch's "The Kiss.â€
In the three-dimensional category, Tad Gloeckler's work, "Reconsidering the Everyday,†is anything but ordinary. What appears to be a drugstore display from the future presents jewelry made from clear acrylic and drugs and vitamins. A spiky bib necklace holds doses of omega-3, and rings and bracelets keep jewel-toned analgesics near at hand. Also distinctive are sculptures by Jorie Berman (winning an Honorable Mention for "Bulbous Figure with Five Headsâ€), Kyungmin Park's poignant "L'oiseau Mort', Lee Ann Mitchell's cast iron triffid-like sculpture "Subtle Mutations†and Duane Paxson's "Home Land Defense,†a large steel cage enclosing what may be a wooden seed. One piece that is both a self-portrait and an abstracted sculpture is Louis Kudon's "Burl Hollow Form.†Placed on a low shelf near the stairs, it may be easy to miss, but bend down to take a look at this wonderfully textured image that may have appeared as an unbidden surprise to the artist as well as to the viewer.
Like Kudon's sculpture, the "37th Juried Exhibition" is full of surprises and well worth a closer look. Artworks not accepted by the Lyndon House show are still on public view at the "Refusés 2012†exhibition sponsored by Don Byram Art. Catch them at the Bottleworks art space on Prince Avenue through Mar. 24.
World Class: The Lamar Dodd School of Art showcases an exhibition which originally appeared at the Ministry of Foreign Affairs in Sophia, Bulgaria. "Drawing Across Borders†is a collaborative project in portraiture between LDSOA Professor Diane Edison and New Bulgarian University Professor Ekaterina Russinova. Edison's work includes several large-scale drawings on black paper. In these, her subject's face fills the space, giving us a close-up look at every pore and wrinkle as well as permission to stare deeply into the eyes of these unguarded strangers. Russinova also works with pencil and focuses on creating detailed and expressive faces, rather than full-length portraits. She adds a flourish of color in the background of her works or in a detail like a bright yellow flower tucked behind the ear of her sitter, something that enhances our perception of the subject's emotional state. Edison's and Russinova's engaging portraits are on view in Gallery 307 until Mar. 8, when the closing reception will take place in the gallery from 7–9 p.m.
Like what you just read? Support Flagpole by making a donation today. Every dollar you give helps fund our ongoing mission to provide Athens with quality, independent journalism.