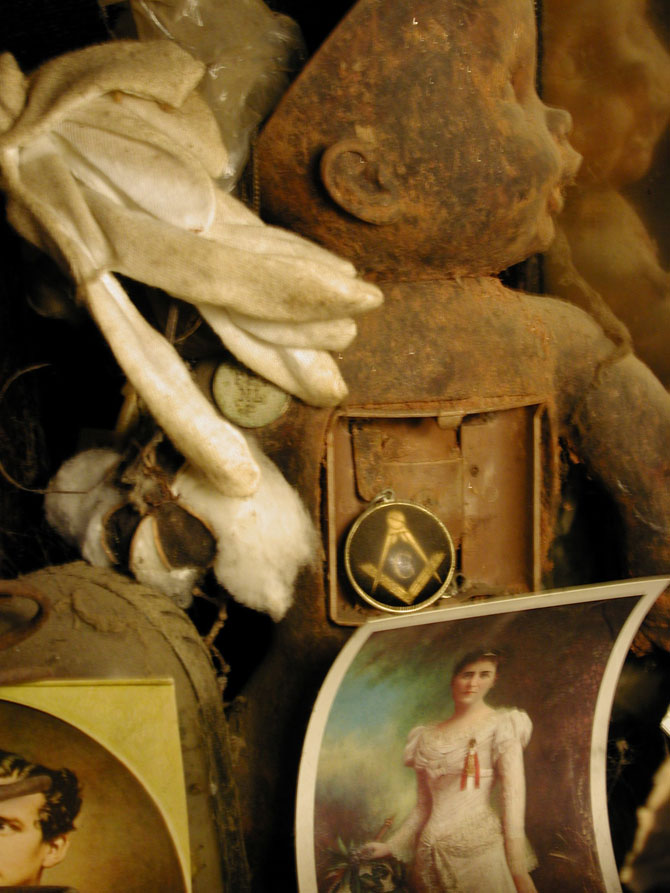 The word "Southern†conjures up dozens of evocative images and polarizing stereotypes. To title an exhibition of contemporary art with this adjective poses a challenge for us as viewers: What do we expect to see, and will we be surprised, annoyed or comforted by what we find? At ATHICA, Lamar Dodd School of Art professor emerita Judith McWillie, assisted by Lauren Williamson, has curated an exhibition of painting, sculpture, photography and multi-media work by artists hailing from around the U.S., but who have all called the South home at some point in their lives.
I was surprised to find absolutely no instances of kudzu, magnolias in the moonlight, or falling-down shacks anywhere. Sure, there is religion and politics; there are ghosts, history and a few Confederate flags, but what I believe McWillie wants us to see is evidence of artists working in (or with) the South in a way that defies stereotypes. In an interview, McWillie described the reason she wanted to focus on contemporary artists from this region:
"Southerners have been making historically important modern art since the early 1960s. Some have had an enormous influence on the art world and the culture at large: Robert Rauschenberg, Jasper Johns, Cy Twombly in painting and William Eggleston in photography, for example. I wanted to historicize this period and then focus on what I believe to be the axis of a specific sensibility, a 'subliminal spirituality' manifesting in all of the works in the exhibition even though they are different from one another aesthetically.â€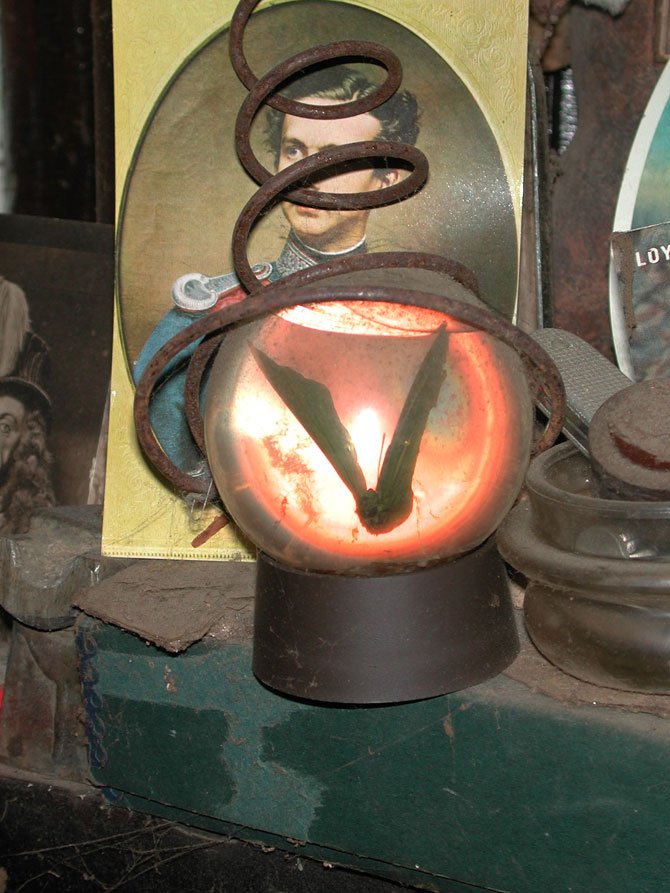 The exhibition begins with a collaborative work between two brothers, Sam Seawright and his brother John, who passed away in 2001. "A Poet's House†is comprised of Sam's photographs of items in John's home: vignettes of old postcards and letters, rusty ornaments and dusty items, each with a patina of history and romance. Samples of John's poetry and writing are also part of the exhibition, including his "Ghost Fry†column which appeared in Flagpole for many years.
On the same wall is work by Drék Davis, who communes with the past in the form of large, painted fans combining Haitian Voudoun symbols to create new meanings. He applies this syncretic approach in two paintings from his "Idle Warship†series. On a painted canvas fastened to the floor, Davis overlaid the "stars and bars†with Oshun patterns and invites visitors to walk over the flags, perhaps as a gesture of desecration or of acknowledgment that we stand on this shared history.
A second flag is beneath Stanley Bermudez Moros' painting "Heritage?,†which also echoes the Confederate banner. Bermudez Moros critiques this symbol by incorporating images of lynching and the KKK into the painting, which was banned from the Biennial Faculty Exhibition at Gainesville College last year. Creating a different kind of symbolic textile, Hope Hilton's ghostly quilt made of cut vellum recreates the story quilt made by Harriet Powers, a former slave who lived in Washington, GA and whose original artwork is part of the Smithsonian collection. Against the pale gallery wall, the quilt is just perceptible, but close attention to the cut pieces reveals narratives in the panels. Hilton's rigorous research into Powers' life and artwork is memorialized in this delicate tribute.
These artists, in particular, seem to explore the idea of communing with the dead and exploring their own connection to the past. I was reminded of that often-quoted line from William Faulkner's Requiem for a Nun: "The past is never dead. It's not even past." I asked McWillie if she thought this tendency was a particularly Southern trait. She replied, "We say that the show includes four generations of artists because it treats the deceased ones such as Harriet Powers, Washington Harris and John Seawright as contemporaries of the other nine. The exhibition is the catalyst for creating this 'radical contemporaneity.' So, if Faulkner's quote is accurate, and I believe it is, there is no need to distance any of these artists from one another by age, race or taxonomy. Once we realize that, there is no such thing as an anachronism, and the dead continue to communicate through what they have made.â€
The living past is a part of the elaborate "recreation" of Washington Harris' Saint Paul Spiritual Holy Temple in Memphis, TN. The folk art temple was created by Harris, an African-Native American from central Mississippi, and his extended family in the tradition of New Orleans spiritual churches from the 1920s. Currently, due to lack of funding for upkeep, it is threatened with decay. The site is comprised of over 1,500 works of sacred art that Harris called "The Degrees of God.†Recreated here as a separate space in the gallery, the installation allows visitors to enter and sit in contemplation. McWillie adds that this work—both in Memphis and in ATHICA as documented by the photography of James Perry Walker—"inhabits the same space and time as Michael Lachowski's photographs of Segway scooters and deer trophies and Sam Seawright's photographs of his brother's artifacts. I propose the temple as a new Southern archetype; from there, the works in the exhibition inform each other in unexpected ways.â€
Unexpected, indeed, were Judy Rushin's minimalist sculptures. These grid-like compositions of cast plastic and boards may be somewhat unassuming at first glance, but they, too, have a history. The artist began using these materials after experiencing Hurricane Katrina firsthand. Her assemblages speak of human connections and piecing life back together again from the flotsam and jetsam left behind in a disaster, real or figurative. Steven Thompson's site-specific installation, "Worship the Wind,†is similarly a work in abstraction. Badges bearing phrases like "Trust the dust†and "Worship†are attached to a branch-like structure, forming what McWillie sees as a comment on "…the destabilization of values as markets supersede the core dynamics of identity.â€
Creative affiliated events are a hallmark of exhibitions at ATHICA. Though Ted Kuhn's performance of "Keep Hope Alive†has already taken place, there is more to come this weekend. On Friday, Feb. 17 at 6:30 p.m., there will be a multi-media and literary event organized by Judy Long honoring John Seawright, titled "The Universe of John Seawright," with readings by local writers and artists, including Coleman Barks, Dana Downs and Flagpole's own Pete McCommons. This Sunday, Feb. 19 from 2–4 p.m, "Stitching Stars," a children's workshop led by Hope Hilton, will engage kids in learning about Harriet Powers and making their own paper quilt-square. The closing event on Sunday, Mar. 4 from 3–6 p.m. includes a lecture by Judith McWillie on the Saint Paul Spiritual Holy Temple and her efforts to both document and save these important cultural artifacts. See www.athica.org for more information.
Like what you just read? Support Flagpole by making a donation today. Every dollar you give helps fund our ongoing mission to provide Athens with quality, independent journalism.