ALLEY WAY (236 Clayton St.) "Automony is Light" is a temporary collaborative public art exhibition curated by Mickey Boyd and Rachel Lea Seburn with contributions by Martin Chamberlin, Zahria Cook, Nate Dixon, Meredith Emery, Katie Ford and Ethan Snow. Opening reception Apr. 23, 6–8 p.m. Through May 7.
THE ATHENAEUM (287 W. Broad St.) This year's MFA exit exhibition, "Downstream," features the works of Rosie Brock, Luka Carter, Casey Connelly, Victoria Dugger, Isys Hennigar, Matthew Hoban, Craig Howarth, Forrest Lawson and Annie Simpson. Through May 14.
ATHENS INSTITUTE FOR CONTEMPORARY ART: ATHICA (675 Pulaski St.) "Material Alchemy: Metal and Color" features artists whose work investigates contemporary practices of metalsmithing, from wearable to sculptural. Opening Reception Apr. 23, 6–8 p.m. Curator/Artist Talk via Zoom on Apr. 25, 5:30 p.m. Speaker Ann Cahoon via Zoom Apr. 28, 1 p.m. Music Nights with Joe Leone and Louis Ramanos on May 7, Shane Parrish on May 13, and Killick and Ravish Momin on May 16, all at 7 p.m. Exhibition runs through May 22.
ATHICA@CINÉ GALLERY (234 W. Hancock Ave.) Curated by Allie Calcote, "In Bloom" is an assembly of works embodying the vibrancy, light-heartedness and vigor of springtime. Participating artists include Margaret Agner, Maggie Davis, Richard Huston, Helen Kuykendall, Ray Lee, Donna McCavitt, Paula Reynaldi, Sue Sellew, Amy Wraga and Mia York. Through Apr. 25.
AURUM STUDIOS (125 E. Clayton St.) Margaret Agner presents a collection of pastels, many of which were created in the company of the Athens Plein Air painters.
CLASSIC CENTER (300 N. Thomas St.) "Hello, Welcome!" presents abstract worlds by Maggie Davis, Jonah Cordy, Carol MacAllister and Jason Matherly. • "Classic City" interprets the city of Athens, GA through the works of James Burns, Sydney Shores, Thompson Sewell and Allison Ward.
CREATURE COMFORTS BREWING CO. (271 W. Hancock Ave.) Philadelphia native Carolyn Suzanne Schew explores daydreams in "Somewhere Else," a collection of technicolor landscapes and animals. Meet the artist on closing day, May 15.
DODD GALLERIES (270 River Rd.) ​​The Lamar Dodd School of Art's second round of BFA exhibitions features artists working in painting and drawing, sculpture, textile design, ceramics, photography and video. Opening reception Apr. 22, 6–8 p.m. Through Apr. 29.
EARTH DAY 2022 ART CHALLENGE (sustainability.uga.edu) The UGA Office of Sustainability presents an annual online exhibition in celebration of Earth Day. This year's theme reflects on the impact of Georgia's pollinators on the sustainability of food systems .On view Apr. 22–30.
FLICKER THEATRE & BAR (263 W. Washington St.) Organized by Jennifer Niswonger-Morris, this month features a collection of goth art. Through April.
GEORGIA MUSEUM OF ART (90 Carlton St.) "Wealth and Beauty: Pier Francesco Foschi and Painting in Renaissance Florence." Through Apr. 24. • "Lou Stovall: Of Land and Origins" features selected works by the printmaker who is the 2022 recipient of the museum's Larry D. and Brenda A. Thompson Award. Through May 29. • "In Dialogue: Views of Empire: Grand and Humble" displays two print collections that create a conversation about what it meant to be a working-class citizen in mid-19th-century Russia. Through Aug. 21. • "Jennifer Steinkamp: The Technologies of Nature." Through Aug. 21. • "Graphic Eloquence: American Modernism on Paper from the Collection of Michael T. Ricker." Through Sept. 4.
GLASSCUBE@INDIGO (500 College Ave.) Zane Cochran presents "Aurora," a sculptural interpretation of the aurora borealis using 3D geometric figures and lights.
THE GRIT (199 Prince Ave.) Informed by her background as an architectural interior designer, Shirley Chambliss creates textiles demonstrating an appreciation for the sensuality of color and texture. Through Apr. 24.
HENDERSHOT'S COFFEE (237 Prince Ave.) Colorful painted portraits by Mark Dalling. Through April.
HEIRLOOM CAFE (815 N. Chase St.) Inspired by the absence of travel during the pandemic, Kristen Bach's photo collection, "When We Traveled," revisits the people, colors, textures and environments the artist's family encountered in past years. Through May 2.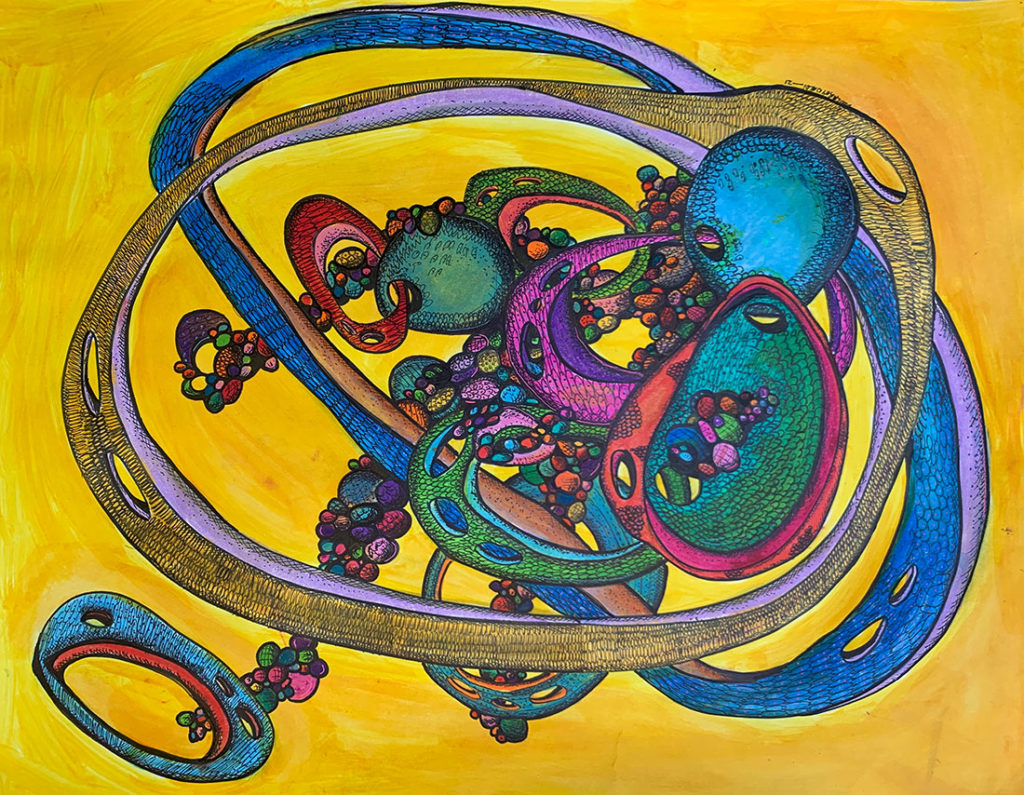 LYNDON HOUSE ARTS CENTER (211 Hoyt St.) AJ Aremu presents a large-scale installation for "Window Works," a site-specific series that utilizes the building's front entrance windows for outdoor art viewing. • Curated by Miranda Lash of the Museum of Contemporary Art Denver, the 47th annual Juried Exhibition includes 160 works of drawing, metal work, painting, photography, sculpture, video and more. Artist talks held Apr. 21 and May 19 at 6 p.m., plus Apr. 23 at 2 p.m. Through May 21. • Collections from our Community presents Tatiana Veneruso's collection of vintage purses that represent over 100 years of handbag history. Through June 4. • Lucile Stephens' paintings and hand-built ceramic works are fantastical, inventive and many times inspired by flora and fauna. Through June 18. • "Local Athenian: One Degree of Separation" shares portraits of local residents taken by Emily Cameron for her website, which shares stories through interviews and photographs. Storytelling on the Lawn will be held Apr. 28 at 6 p.m. Through June 18.
MADISON-MORGAN CULTURAL CENTER (434 S. Main St., Madison) On view in the Collector's Cabinet is a display of Chinese Export Porcelain owned by the Morehouse family. Through June.
OCONEE CULTURAL ARTS FOUNDATION (34 School St., Watkinsville) "43rd Georgia Watercolor Society National Exhibition" presents works by 79 different artists from across the state. "Rhythm & Movement: The Art of Music" explores the intersection between music and visual arts. Artists created pieces in response to hearing songs by local artists of various genres. Through June 3.
ODUM SCHOOL OF ECOLOGY GALLERY (140 E. Green St.) Natural science illustrator C Olivia Carlisle shares insect, botanical and ecosystems illustrations alongside "The Birdwing Butterflies of Papua New Guinea," a display featuring specimens assembled by James W. Porter and photographs by Carolyn Crist. Through May 18.
POETRY WINDOWS (Multiple Locations) Athens Poet Laureate Jeff Fallis, the Athens Cultural Affairs Commission and the Athens Downtown Development Authority collaborated on displaying poems in storefront windows. Participating locations include Viva Argentine, Lindsey's Culinary Market, Condor Chocolate, Wuxtry Records, Creature Comforts, Medusa Salon and More. Through April.
QUIET GALLERY AT ACC LIBRARY (2025 Baxter St.) Anthony Salzman's exhibition, "Images and Whimages," pays tribute to both spiritual icons and "whimages," or whimsical images that are inspired during the early hours of the day. Through May 6.
SOUTHERN BREWING CO. (231 Collins Industrial Blvd.) "Life on Mars" is a pop-up exhibition organized by a group of students who work together under the name "Carnival of Sorts." Works range from drawings, paintings, textiles and mixed media. Reception Apr. 21, 7–11 p.m.
TIF SIGFRIDS (393 N. Finley St.) Claudia Keep presents a solo show, "Day in, Day Out." Through May 7.
TINY ATH GALLERY (174 Cleveland Ave.) Sarah Moon's exhibition, "Out of Time: Athens," pays homage to popular local businesses. Open on Third Thursday, Apr. 21, 6-9 p.m. Open by appointment through April.
UGA COLLEGE OF ENGINEERING (597 D. W. Brooks Dr.) Jan Perkins presents "The Art of Engineering and Technology," a series of nine large panels interpreting research in various fields of engineering: chemical, biomedical, environmental, civil, agricultural, mechanical, electrical and more.
UGA SPECIAL COLLECTIONS LIBRARIES (300 S. Hull St.) The new Ted Turner Exhibition Hall and Gallery showcases CNN founder and environmentalist Ted Turner's life and legacy through memorabilia, photographs and other items. • "Not Only for Ourselves: The Integration of UGA Athletics" celebrates the 50th anniversary of integration of the Georgia Bulldogs football team. Through Spring 2022. • "At War With Nature: The Battle to Control Pests in Georgia's Fields, Forests and Front Yards" includes 3D models of insects alongside newspaper articles, government documents and photos to take viewers through the entomological and horticultural wars that Georgians have waged in their own yards, as well as the environmental, ecological and public health concerns related to pests and eradication efforts. Through May 27. • "Frankie Welch's Americana: Fashion, Scarves and Politics" explores the life of a Georgia native who owned a Virginia boutique, designing scarves and dresses used in political campaigns and events and worn by women throughout the country in the 1960s and '70s. Through July 8.
Like what you just read? Support Flagpole by making a donation today. Every dollar you give helps fund our ongoing mission to provide Athens with quality, independent journalism.