Who could forget Anthony Hopkins' stunning turn as Der Fuhrer in the 1981 made for TV movie The Bunker? What's that? It's impossible to forget something you never knew about? Touché. No, Hopkins' Hitler wasn't his true star turn; that would come 10 years later in his role as hyper-literate proto-foodie Dr. Hannibal Lecter. He was 54. The moral to be found in this, our perfunctory introductory paragraph, is as follows: when you ply your trade of choice consistently, turns out you get increasingly better at it. Your turn at success may simply be a matter of time—in the case of Sir Hopkins or any number of other famed names, perhaps a slightly longer amount of time.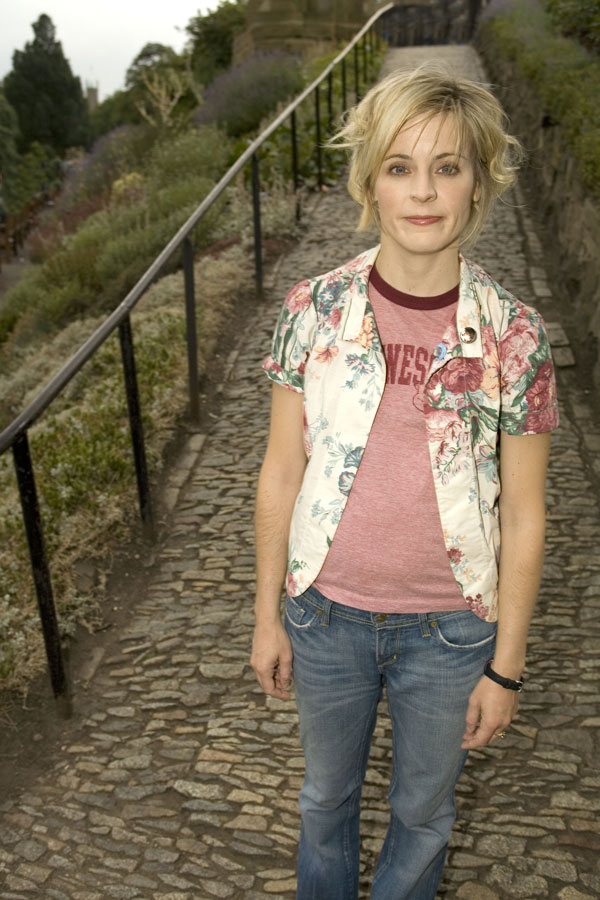 So, in the context of that broader timeline, the 15-plus years Maria Bamford spent honing her craft to become one of America's most well-regarded stand-up comediennes could be seen as a relative overnight success.
Those familiar with Bamford's work likely know her from the documentary The Comedians of Comedy, which tracked a quartet of "alternative†comics eschewing traditional "Laff Shack†style comedy clubs in favor of a tour of indie-rock-centric venues. Next to Patton Oswalt's nerd-fury, Zach Galifianakis' (pre-superfame) non sequiturs and Brian Posehn's pervy Chewbacca-isms, her uniqueness shone through immediately. Aside from her lone presence contributing almost entirely "clean†material, Bamford spent less time speaking in her actual voice (a somewhat timid pixie-squeak) than she did doing her uncanny vocal impressions. But even then, as opposed to Oswalt's conservative-baiting political humor, Bamford's voices are from everyday life. The personas she mimics are apt to be encountered by anybody—the overly polite coffeehouse patron, the boredom-petrified office worker, the condescending, upwardly mobile yuppie. But rather than putting on a "character†and leaving it there, Bamford's take on these personas lacerates the social contract, using her wide-eyed "default†voice to narrate her navigation of the loud, obnoxious world we live in.
Growing up in Duluth, MN, "I listened to Steve Martin and Eddie Murphy as a kid, but I didn't really think of it as an idea for a job,†says Bamford, speaking from her home in Eagle Rock, CA in a voice betraying only a shade more of a Midwestern accent than that of her onstage performances. "I did a talent show in college, and then I didn't do it again until I transferred to the University of Minnesota. They had more open mics in Minneapolis, and so I started doing those. And I was like, 'Oh, this is exactly what I like doing.' So that's what I did!â€
After graduating, Bamford moved to Los Angeles to pursue her stand-up career. Asked how Los Angeles' comedy scene is different from those elsewhere, she says, "I think it's the same everywhere. I guess the only weird thing about L.A. is, at least in my brain, I think, 'Oh, somebody's watching here.' Which, I think in general, is not true; nobody cares,†she laughs. "But you know, it seems somehow weighted a little bit in L.A. But it's just open mics, or have a show in your living room, or wherever it feels good to just start doing it. And if you do enjoy it, it doesn't matter what happens because you're enjoying it. But I think it's just like music, where sometimes it takes a long time to get paid for it. Sometimes it does, but sometimes it doesn't—some people start making money right away, but that wasn't my experience. I had to have a day-job for at least 10 years, maybe eight to 10 years. But around the eighth or 10th year I didn't have to temp as much.â€
Unlike many funny people, stand-up for her was the thing, not a means to some other end. "I think stand-up, live performance is my favorite. It's really empowering to do it anytime, and say whatever you want; I think I'll always do that,†she says. "I just shot a pilot, and the exciting thing about that is being with other people. Stand-up can be—can be—sort of isolated. You're just by yourself. But I don't know; I really love stand-up. I would be happy just doing that.â€
Most recently, Bamford can be seen portraying the super-shopper pitchwoman for Target's holiday 4 a.m. massacres or alongside other comedian's comedians in the Los Angeles-based "Comedy Death-ray†performance night/ radio show. Pressed to pinpoint what moment in her career pushed her over the top in terms of success or exposure, she demurs: "Well, I think it's a combination of things. You know that Critical Mass thing, where, you know… you get enough bicycles, and then more people grab their bicycles, and then there's a bunch of bicycles, and pretty much, y'know… traffic stops. That's a metaphor from San Francisco…â€
Like what you just read? Support Flagpole by making a donation today. Every dollar you give helps fund our ongoing mission to provide Athens with quality, independent journalism.