New Venture: Downtown shop of wonders Agora has been a hot spot for vintage and designer fashion, accessories, home decor and other miscellaneous knick-knacks for many years, but is now adding a whole other side to its operations. Business owner Airee Hong Edwards, with the assistance of seamstress Lindsey Suminic, is launching a fashion line out of the store that will use vintage fabrics and clothes to reconstruct unique looks. The first opportunity to see the new designs in person will be at the premiere, "Worn in the U.S.A.,†at the 40 Watt Club on Thursday, Mar. 22 at 7 p.m. The fashion show will include four sub-themes: romantic, avant-garde, Aztec and American.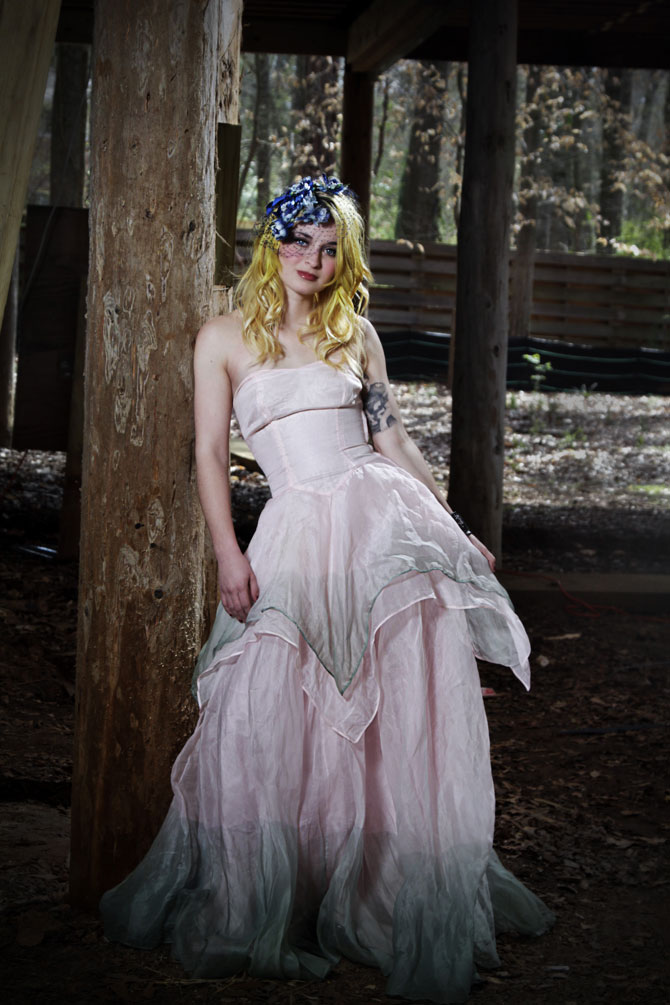 "We hope to highlight the fact that America is made great by the diversity of its people and the incredible variety of threads they contribute to create the tapestry of American culture,†says Edwards.
A suggested contribution of $7 at the door will benefit Freedom University and the Athens Latino Center for Education and Services (ALCES), two local organizations that provide classes for Athens' Latino community. The show will be catered by local Latino restaurants and will be followed by a dance party with DJ Z Dog.
Flip a Coin. Tails, You Head Here: That same evening, Hope Haven of Northeast Georgia, a nonprofit that provides services to over 100 adults with developmental disabilities in the area, will hold its own annual fashion show called "Threads of Hope†at the Athens Country Club. Festivities kick off at 6 p.m. with cocktails, heavy hors d'oeuvres, a silent auction and a raffle; the models will take the runway at 7:30 p.m. Tickets are $50 per person and go towards providing day habitation, employment opportunities, respite care and support for individuals with developmental disabilities. For more information, visit www.hopehaven.net.
And Another: Cheeky Peach (voted Athens' Favorite Local Clothing Boutique by Flagpole readers this year) will host a "Wild Romance Fashion Show†on Wednesday, Apr. 4, 6–10 p.m., in the Rialto Room of Hotel Indigo. Salon Lux will be onsite to style hair and makeup, and Cheeky Peach's latest spring and summer trends will be worn by models from UGA's in-house modeling agency, UGAgency, as well as by several ladies in leadership positions from various campus organizations. All proceeds benefit the Cancer Foundation of Northeast Georgia, a local charity that helps cancer patients and their families pay medical bills and other expenses incurred during the onset of treatment. Tickets can be purchased ahead of time at Cheeky Peach or Salon Lux for $8, or at the door the night of for $10. For more information, visit www.cheekypeachathens.com.
Packrat Paradise: Whether you happen to have a lot of plastics piling up in your home or are of the dumpster-diving sort, ATHICA is currently accepting designers and models for a "Trashion Fashion Show†showcasing wearable art and ensembles made from upcycled materials. Upcycling, a process through which waste materials are transformed into creations with higher value, is distinct from recycling in that no energy is expended while converting raw materials into new products. The fashion show is in conjunction with ATHICA's upcoming exhibition, "Upcycle,†and will take place during the opening reception, which happens to coincide with Earth Day, on Sunday, Apr. 22 at 4:30 p.m. Celebrity judges will award prizes to contestants based not only on the style of their outfits but by the un-recyclable nature of the materials used. Turn your garbage into garb and email trashyfash@athica.org by Sunday, Apr. 15 to participate. Visit www.athica.org for details.
Chic for Cheap: In case you missed it, the department of textiles, merchandising and interiors of the UGA College of Family and Consumer Sciences recently held its first annual fashion week, complete with a historic clothing exhibit, fashion films, a seminar with a professional stylist and three separate fashion shows. UGA Fashion Week has come and gone, but you can still get a sample of emerging trends and handmade items on campus at Couture a-la-Cart. The kiosk, a pop-up retail shop designed, built and operated by fashion merchandising students, sells clothing and accessories created by young designers on consignment. The shop plans on setting up every Tuesday and Wednesday from 11 a.m.–3 p.m. outside of Dawson Hall until Apr. 24. For more information, email couturealacart@gmail.com.
Down the Line: The GMOA will present "Dress the Part: Fashion in Movies and Magazines Film Series†in conjunction with the newest exhibition, "Pattern and Palette in Print: Gentry Magazine and a New Generation of Trendsetters.†The series includes a screening of Bill Cunningham New York on Thursday, Apr. 12, Funny Face on Thursday, Apr. 19 and The September Issue on Thursday, Apr. 26. All films begin at 7 p.m. in the M. Smith Griffith Auditorium. For film synopses, visit www.georgiamuseum.org.
Like what you just read? Support Flagpole by making a donation today. Every dollar you give helps fund our ongoing mission to provide Athens with quality, independent journalism.