Part independent live wrestling, part rock-and-roll show, Classic City Wrestling matches are pure spectacle. In true Athens fashion, straightforward athleticism is elevated into an art form of its own through live music and elements of improvisational theater and character building.
Classic City Wrestling began in 2015 as a series of viewing parties held at Flicker Theatre & Bar, where host Cole Taylor would throw old wrestling classics onto the big screen for audiences to yell at and laugh over. The parties eventually petered out, but Taylor held on to the fantasy of one day owning his own pro wrestling promotion company. He knew that he would want it to feel distinct and have the same sort of energy that makes the local arts scene thrive.
It wasn't until the COVID pandemic hit and Taylor's career as a tour manager in the music industry was put on hold that he revisited that idea. Looking to get involved with the local wrestling scene in his new free time, he contacted Justin Legend, a wrestler and musician with whom he had become friends through the viewing parties, and eventually became a ring announcer at Southern Violence and Wrestling gigs. As the pandemic subsided, venues reopened and life slowly returned to near-normal, Taylor and Legend realized they were ready to launch their own wrestling promotion company they had both been dreaming of.
"We treat wrestling as a true art form," says Taylor. "We believe that pro wrestling deserves to be in the same conversations that all of the other great art forms from Athens, GA are in. Our wrestlers are artists, Justin—who books the show—is an artist, the bands are artists, referees, film crew and so on… With our intention of creating true art and entertainment, we create an environment that is different than many other wrestling shows."
While Taylor primarily coordinates with live bands and venue staff, Legend is responsible for writing the scripts that propel the sport into performance art. Wrestlers are given direction about the core plot ahead of the big night, but are able to lean into their personas and embellish dialogue as they see fit to bring the storylines to life.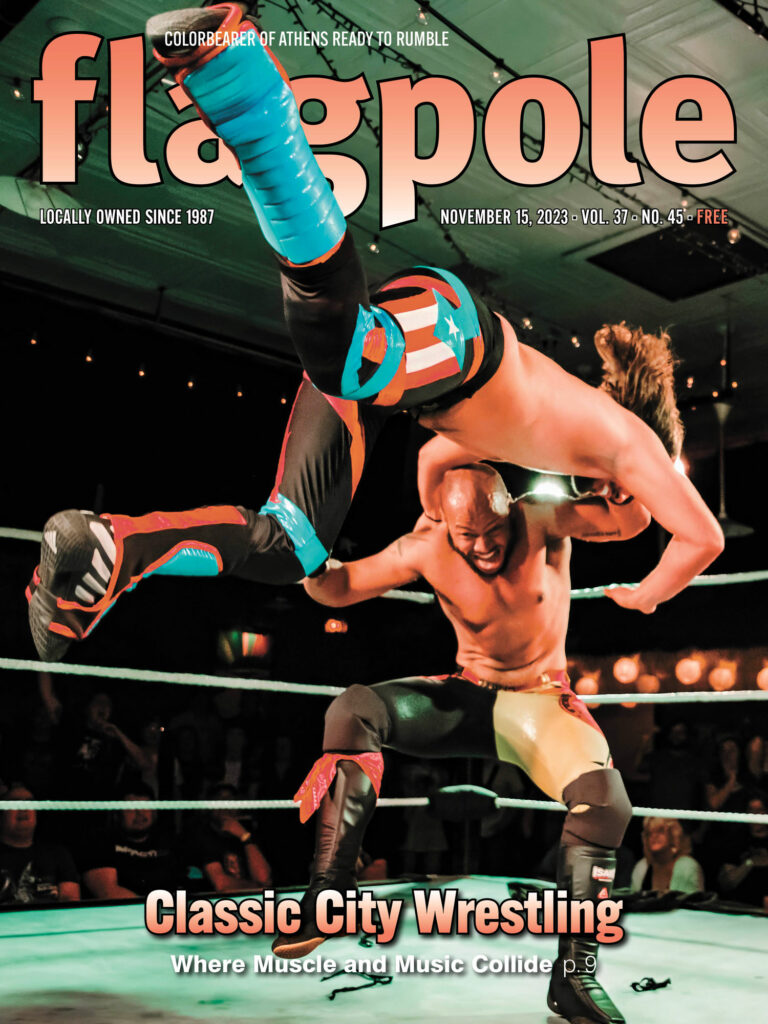 "What makes wrestling so special is that in many ways it's one of the last remaining forms of live improvisational theater," says Legend. "I have the specific stories in mind, and the major points we need to hit to get to a resolution. The performers in the ring are the ones making it come to life by telling the story. Storytellers have different techniques. The final product is a memorable performance as a result of so many creative minds working together."
On the surface, what distinguishes CCW from other promotion groups of its kind is most visibly (and audibly) the live musicians who pump up the wrestlers and energize the audiences. CCW events also, however, feature consistently diverse lineups of wrestlers from all across the region, and—despite all of the performative smack talk and competitive maneuvers that might be happening within the ring—maintain an inclusive, safe and friendly environment for all.
"We are not trying to make a political statement, but we are simply being ourselves," says Taylor. "We believe in inclusion. Before every show we make a statement saying, 'You can yell all you want, but no racist, homophobic, or transphobic comments will be tolerated.' We have every walk of life as a part of the show and in our audience as well. I love the fact that a punk rocker and a grandmother can cheer together over the same body slam. That is part of what makes us special."
Since its live debut at Southern Brewing Company with Classic City Jukebox in April 2022, Classic City Wrestling has nestled into the 40 Watt Club, hosted bands such as The Dexateens and Five Eight, and steadily broadened its aspirations. Just last month, CCW hosted a packed event at The Eastern in Atlanta with St. Paul & the Broken Bones. Taylor and Legend plan to continue expanding into the Southeast region and beyond, hoping to become nationally recognized for the exhilarating, unusual experience CCW offers.
Classic City Wrestling will return to the 40 Watt Club on Saturday, Nov. 25 at 7 p.m. to kick off a new holiday tradition, "Thanksgiving Classic," with musical guest Monsoon. Highlights include "the 7-foot nightmare" Krule facing off against Austin Towers, Robert Martyr versus Najasism versus Rico Gonzalez in a triple threat match, the return of ultimate tag team CREEPS, and the CCW debut of Suge D against Duncan Mitchell Avecilla. For the main event, Dominick Stuckley will challenge Owen Knight—who appears on this week's cover of Flagpole alongside Avecilla—for the Classic City Wrestling heavyweight title.
General admission tickets are $10, reserved second-row ringside seats are $20, and front-row VIP seats—which throw in a CCW koozie and limited-edition art print of the event poster—are $25. The last several events have sold out in advance due to the event's popularity and limited standing room, so reserving tickets before the Turkey Day tryptophan sinks in is recommended.
"At Classic City Wrestling we believe that wrestling is for everyone," says Legend. "The world is hard enough. We wanted to create a place where people of all backgrounds can come together and maybe for a couple of hours, take the focus off of our differences, and just have fun and raise all kinds of hell celebrating what makes us the same, which is a love for music, wrestling or hopefully both."
WHO: Classic City Wrestling: Thanksgiving Classic
WHERE: 40 Watt Club
WHEN: Saturday, Nov. 25, 7 p.m. (doors), 8 p.m. (bell)
HOW MUCH: $10–25
Like what you just read? Support Flagpole by making a donation today. Every dollar you give helps fund our ongoing mission to provide Athens with quality, independent journalism.