Over the last six years, Xavier Ellison, under his artist name Anime Zayy, has put out numerous albums, EPs and singles with a consistency that matches his efforts to refine and develop a sound unique in the Athens hip-hop scene. It balances introspective thoughts, love ballads and trap rap with an airy sound that treads between ambient pop rap and R&B.
"My goal was always… when people hear my music, to make them float," says Ellison.
That experience of floating is deeply rooted in Ellison's entire brand as an artist, which features butterflies as a visual anchor. From cover art to merch designs to Ellison's personal fashion, butterflies make an intentional appearance. Ellison explains that he's always loved butterflies since he was a child, and it's an image he wants people to associate with him. Combined with space themes and soft color palettes, he puts a lot of thought into creating an aesthetic that matches the music.
The cover art and title of Ellison's new album, Immortal, coming out on May 27, might feel at odds with the description of his work so far, but that, too, has a purpose. Although it appears much darker in tone, with Ellison sprouting devilish horns from his forehead, the overall message is one of growth. 
"When people hear the title Immortal, they probably be like, 'Oh, this dude crazy; he thinks he's immortal,'" says Ellison. "That's not really the point I'm talking about. I want to be a better version of myself for when it's time for me to leave this realm. I have my art. When I'm gone, the stuff that I left out is still here."
Taking inspiration from Tyler, the Creator's Call Me If You Get Lost, there's a story woven into the tracks narrated by Jeffery Blakely, known as rapper Kxng Blanco. The story explains how the devil horns represent Ellison transparently wearing his sins, which everyone carries but few bare upfront. By being honest about exactly who you are, all of the good and the bad, you can move forward with intent to be an even better person. This journey and idea of blossoming guides the narrative of all the album's pieces.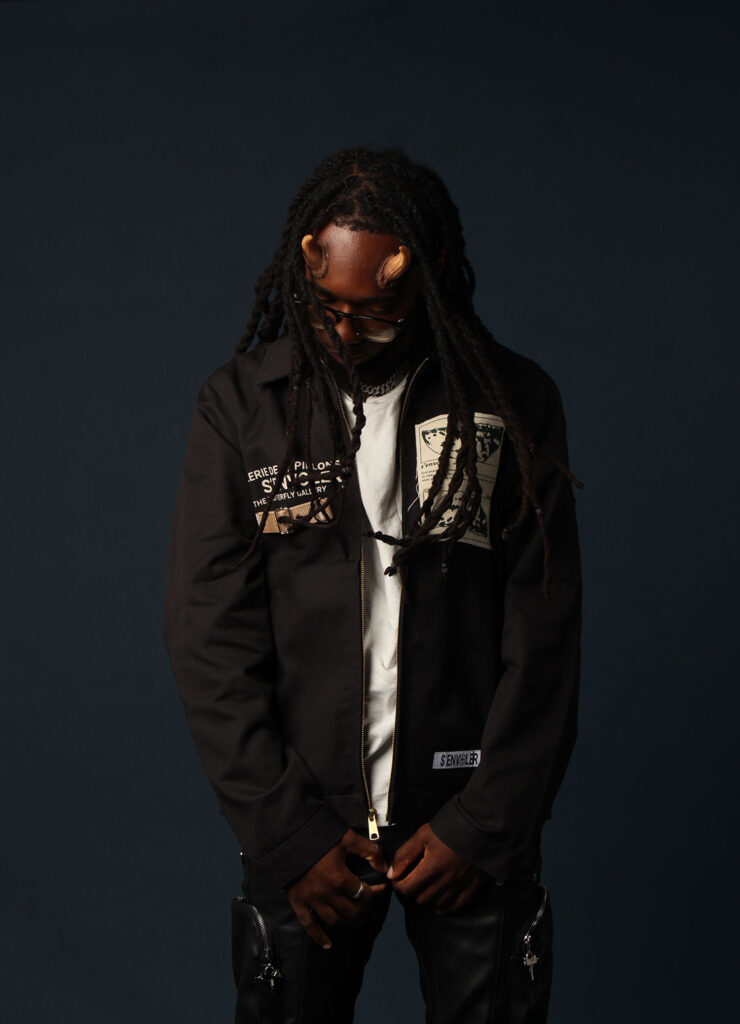 Aside from Blakely recording Immortal's intro, Ellison recorded, mixed and mastered all of the tracks. From album to album and track to track in Ellison's discography, there's a very fluid and cohesive feel that can be explained by fewer cooks in the kitchen. However, there's also a trail of ever-improving confidence and sound quality reflective of Ellison cultivating his skills over the years. The DIY spirit is strong in Athens, especially in expansive hip-hop home studios, and Ellison feels his hands-on approach has been key in how he's developed his sound.
"I want to be in control of everything, because I know what I need to do to bring my sound out. And me personally, I'm bad at giving directions. So if I can figure it out myself, nine times out of 10 I'll know how to do it," says Ellison.
Pinpointing and bringing out that sound has been a process, but it's no surprise that Ellison's mainstream influences include Travis Scott and Chris Brown, along with Kanye's more psychedelic beats as inspiration. Growing up in a family of musicians also played an important role in Ellison becoming an artist. His father, Darrin Ellison, has a rich history in Athens as the award-winning hip-hop artist Elite Tha Showstoppa. Latashia Pittard-Watkins, his mother, sings as the neo soul and R&B artist Tashia Love. She's even featured on some of his previous projects. Being surrounded by music, Ellison explains he always knew that's what he wanted to do, but for a long time he had no intentions of being a rapper.
"I wanted to be more in the background scenes because I used to always see my mom in the studio, but I was more interested in the production than the actual singing. That's why I started making beats early on," says Ellison. "I love vibes more than hype music. [My mom] could be a reason why."
Ellison started making beats at a young age, then in the summer of 2017, as he was going into his senior year of high school, he started rapping for the first time. At the time he and his friends created the hip-hop collective Rich Music Cartel, and they encouraged him to try out the mic. Rich Music Cartel was a starting point that operated as a group endeavor making hype hip hop, so it wasn't until Ellison began exploring Anime Zayy as a solo artist that he started experimenting with his now iconic lo-fi and floaty sound.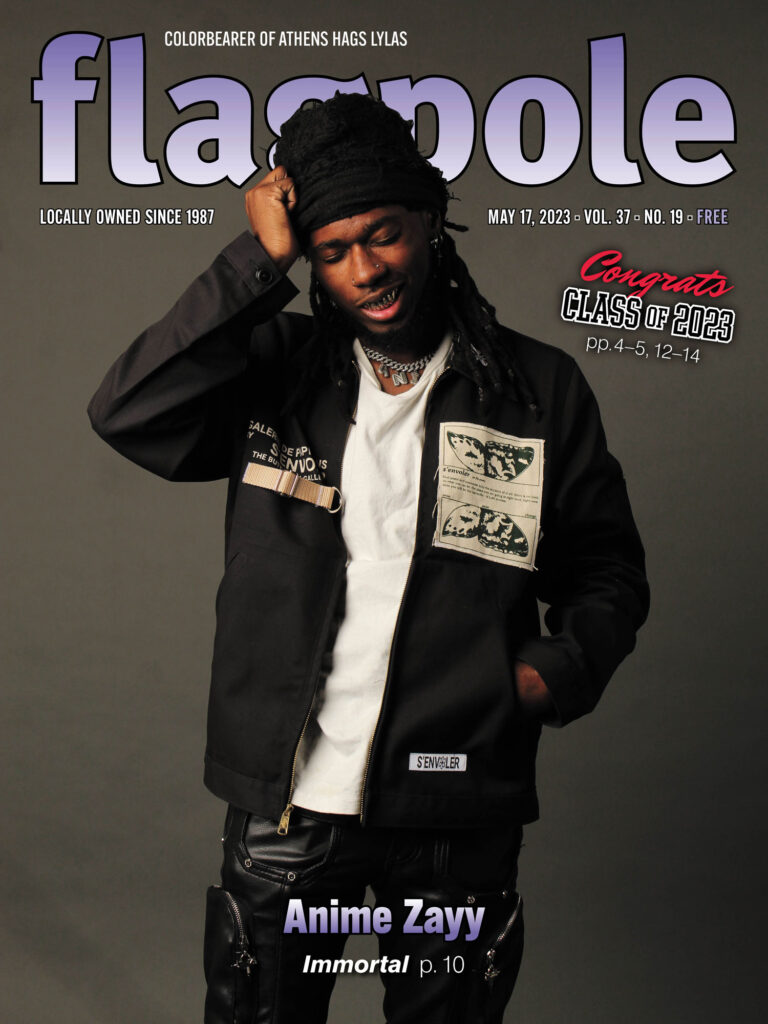 There was a moment as he was just getting started as an artist that he looks back on now as "the turning point." In 2018 his father's family was having a birthday party for his grandmother, and being the creative group that they are, they held a family talent show. The experience was motivating and opened Ellison's eyes that he wanted to pursue music in a real way. Coming from a family that already has a reputation for music can be pressuring for some, but Ellison is adamant that he's never tried to live up to expectations and has always pursued his own path that's true to himself, which has meant being the oddball at times.
For the release of Immortal, Ellison did let family conversations impact one decision: to distribute a clean version. He says that he does have a giant family that supports him, but many of his elders have been dismayed at the amount of cursing in the past and wished they had a clean version to stream. Not to mention, many community performance opportunities require family-friendly edits, so having an explicit and clean version will only open his music to a wider audience. It's also important to him that children, as the future, can have appropriate access to his music and message.
As an artist, Ellison has been in the lucky position to have a supportive family, and he says that no one ever told him to stop. Even if they had, he feels he's always believed in himself so strongly that nothing could have changed that. As a final statement about his work and his journey, he wants others to pursue their creative interests and not let the time and patience required convince them otherwise.
"I can say that my old, old stuff was trash. Not going to lie to you. I just knew that eventually I was going to sound better," says Ellison. "I'm at the point where I feel like I have my sound, and I know where I want to be. I know I'm not there yet, but I know where I want to be, and I think I'm on track to that."
Like what you just read? Support Flagpole by making a donation today. Every dollar you give helps fund our ongoing mission to provide Athens with quality, independent journalism.