Since the mid-1970s, the Lyndon House Arts Center has served as a community hub for the arts, not only as a place to view and appreciate artwork, but as an incubator for fostering the creative pursuits of aspiring artists. Today, this is accomplished through a myriad of programs: studio memberships with access to state of the art equipment, an artist residency program, classes for all ages taught by professional artists, internships, educational lectures and other special events.
The 48th annual Juried Exhibition, the center's annual anchor show that opened last week on Mar. 2, showcases the diverse talents of Athens-area creatives and presents a time capsule of today's art scene. This year's guest juror, María Elena Ortiz, was given the challenging task of reviewing 682 works by 245 different artists. From this pool of submissions, she whittled down a selection that totals 154 pieces by 107 artists. Media include painting, drawing, photography, sculpture, printmaking, fiber art, metalwork, woodwork and mixed media, and a total of 18 different awards were distributed to recognize artists.
Ortiz, who recently became curator at the Modern Art Museum of Fort Worth in Texas, has previously worked at the Pérez Art Museum Miami—where she founded the Caribbean Cultural Institute—and the Sala de Arte Público Siqueiros in Mexico City. In her statement for the exhibition's publication, she describes how the submitted works represent the diversity of art produced in the region, and how these works reflect shifts happening on a larger geographic scale.  
"All of these artists created works inspired by the histories, cultures and environments of Georgia, reflecting on today," says Ortiz. "The artists epitomize current trends in contemporary art such as scenes of the everyday, figuration, textiles, abstraction, conceptual video and experimental works on paper. The exhibition illustrates the convergence of different art practices and mediums breaking the boundaries among traditional forms of making and craft. The selection is a microcosm of what happens creatively locally, echoing national trends."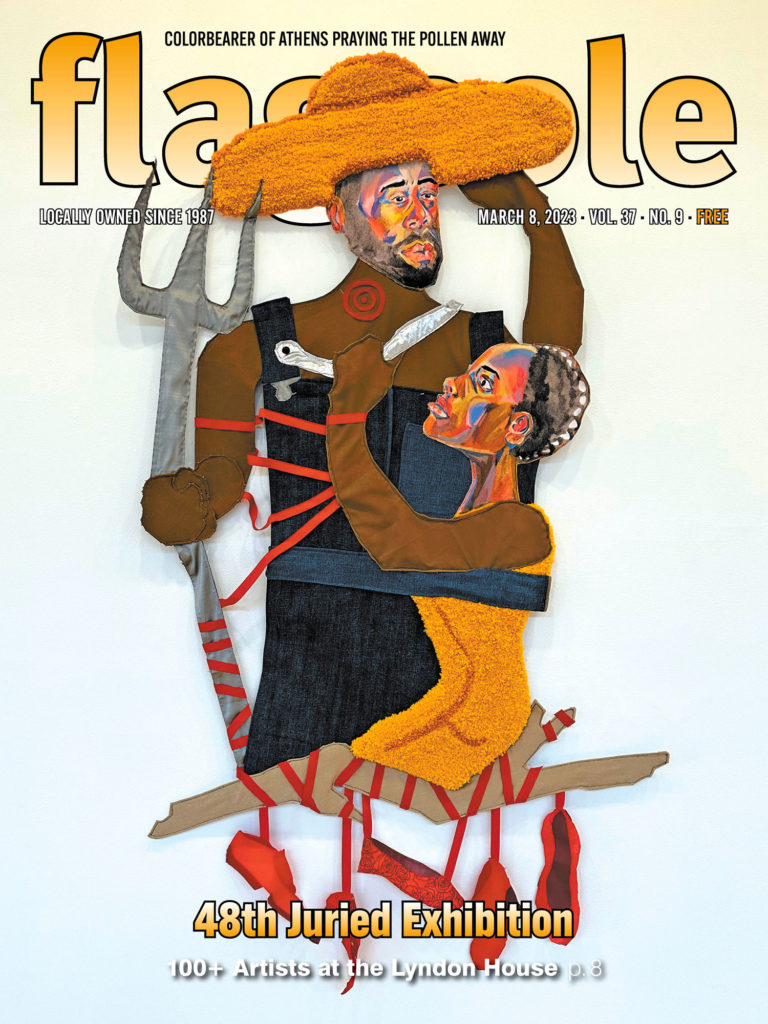 Of particular interest to Ortiz is how traditional art forms can be approached with contemporary twists. On the cover of this week's Flagpole, "Woman is Smarter than the Devil Himself" by Jasmine Best received the Lyndon House Arts Foundation Award for Excellence. Her other mixed-media piece in the show, "The Devil Taught Her How To Use Em'," won the Art Center Choice Award, which comes with an opportunity to present a solo show next year.
Part of a series exploring Black Southern folklore, Best's creative approach combines traditional fiber art techniques with new digital techniques. She often starts with a drawing on paper using paints and inks, then photographs or scans the image to paint digitally. This digital painting is then printed onto fabric, which is then stitched into the textile collage.
"I have been exploring Southern storytelling to connect contemporary visual narrative culture in hopes of defining what makes Southern art," says Best. "Both works in the show play off the Southern story trope of how the devil is seen as the ultimate trickster, often smarter than God in most stories. Despite patriarchy being prevalent in a lot of these stories, women are often depicted as the smartest in a story, so they are often aligned with the devil in stories."
While walking through the gallery, it's worth considering each piece's placement in relation to its neighbors, as many were deliberately arranged to draw parallels, reinforce themes or create visual balance. This thoughtfulness during installation leads to a more cohesive presentation and engaging viewing experience. Beyond looking at each piece individually, visitors are encouraged to make connections between artists and think of the exhibition as a collective representation of today's local scene.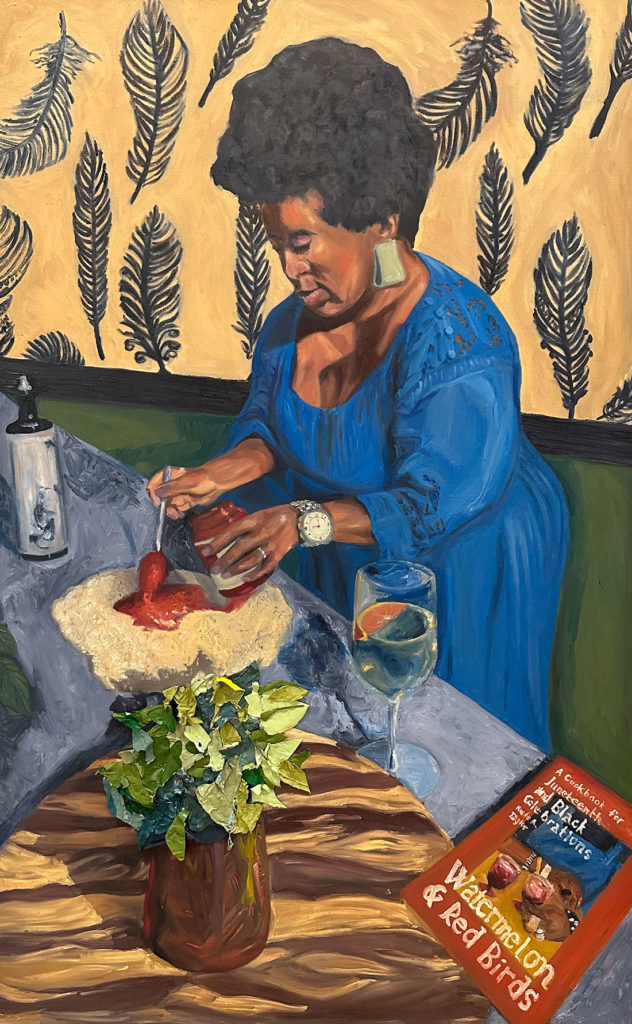 "In the Garden of My Mind" by Gunnar Tarsa, "A Message from the Action Man" by Jared Brown and "Traitors: Abettors in Sedition" are works in very different mediums—digital illustration, painted wood and cotton quilting—but, hung together, they heighten each other's vibrant colors and dizzying forms. Jim Herbert's larger-than-life painting of a reclining nude couple in "At Sea," meanwhile, couldn't be more different than the neighboring black-and-white photo of a chaotically disorganized "Paul's Room" by Sophie Bier at first glance, but the two are similar in the way the eye must unravel details before the overall image pops into place.
Artist talks will be held every Thursday evening in April at 6 p.m. Participating artists include Abigail West, Michael Ross, Kathryn Réfi and Adrien Helm on Apr. 6; Jasmine Best, Lauren Fancher, Ray Lee and Kaitlin Thurlow on Apr. 13; Carolyn Schew, Sebastian Granados, Jessica Crooks and Shelby Little on Apr. 20; and Kelsey Wishik, Chad Whitworth, TJ Alexander and Mandy Williams on Apr. 27.
The 48th Juried Exhibition will remain on view through May 6, and two additional shows will open on Apr. 1. "The Green Life Art Exhibition" is an annual art contest geared towards K-12 students to promote environmental education and sustainability. "Breathing Room" spotlights past and present employees of R. Wood Studio and their independent creative pursuits.
Like what you just read? Support Flagpole by making a donation today. Every dollar you give helps fund our ongoing mission to provide Athens with quality, independent journalism.