Music is one of the magical forms of media that can transcend barriers like language and facilitate cultural exchanges. The Athens Tango Project has been exploring the tango music genre originating in Argentina with the local community for over a decade. As a testament to what the group has become, the title of its debut EP Para Compartir, released Jan. 18, 2023, translates as "to be shared."
Laura Camacho founded the Athens Tango Project in 2012 as a University of Georgia School of Music graduate student from Argentina. From its inception, the group has been continuously transforming, reimagining and learning. When it first came together, Camacho had been jamming at house parties as a double bass player with musicians more on the jazz spectrum of music. After meeting a lot of new people through these parties or mutual friends and acquaintances, Camacho found a group interested in playing tango together.
"The funny thing is, I wasn't expecting to teach anybody. I just wanted to get together and play. And what happened is—it didn't sound like tango at all. And that's where I started scratching my head and realizing that all the things that I was doing instinctively were not that instinctive," says Camacho. "I had to decide if we were going to continue to play, we had to get better."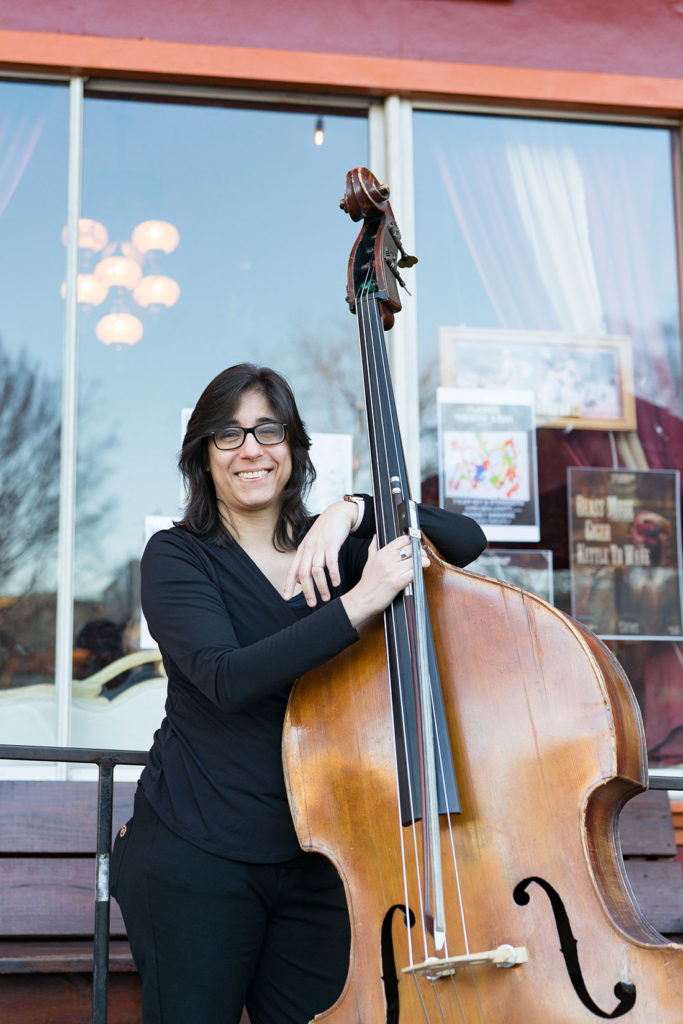 Tango had much deeper roots for Camacho than the musicians around her. In Argentina, her grandmother was an avid tango dancer who would often play tango records when they spent time together and would even lead in teaching Camacho how to properly dance in precise timing and rhythm. For Camacho, her passion for music grew greatly through her pre-teen and teen years, but she was hesitant to pursue music or where to even begin.
"I had to come to the conclusion that I felt intimidated, and I thought it was so big because it was big for me. It took a while until I found the double bass… I was 19. And I couldn't stop doing it," says Camacho. "I was already working, so it took a lot of effort because I had to get up early, go to the conservatory before having to commute on the subway to go to work. And I would do that. I had never done that. I never made that effort for something in my life."
After taking lessons at the conservatory in Buenos Aires, Camacho went on to teach double bass and youth orchestras, always continuing to practice and perfect her craft along the way. She attended a double bass masterclass taught by UGA professor Milton Masciadri in Buenos Aires, and by the end of the weekend she was offered a scholarship to visit UGA. After a brief exchange student program and falling in love with Athens, Camacho officially relocated in August of 2009.
"[Athens Tango Project] all evolved from me missing the music and finding a way, a medium, to have it happen," says Camacho. "It grew into something where I understood that there was a little bit of work to be done. If we have excellent musicians locally, why not exchange a little bit of this information that I have with me?"
Over the past decade of performing, "exchange" has been embedded in the fabric of Athens Tango Project in many ways. The group is open to a constant flow of musicians, whether it be UGA graduate students who often move away or collaborating musicians just passing through. This is a large reason why Athens Tango Project has only just now debuted its first recorded project this year. However, that's not to say it has held the group back. Athens Tango Project won the world category at both the 2014 and 2016 Flagpole Athens Music Awards, participated in a TEDxUGA talk and was featured in James Preston's 2018 Athens Rising documentary.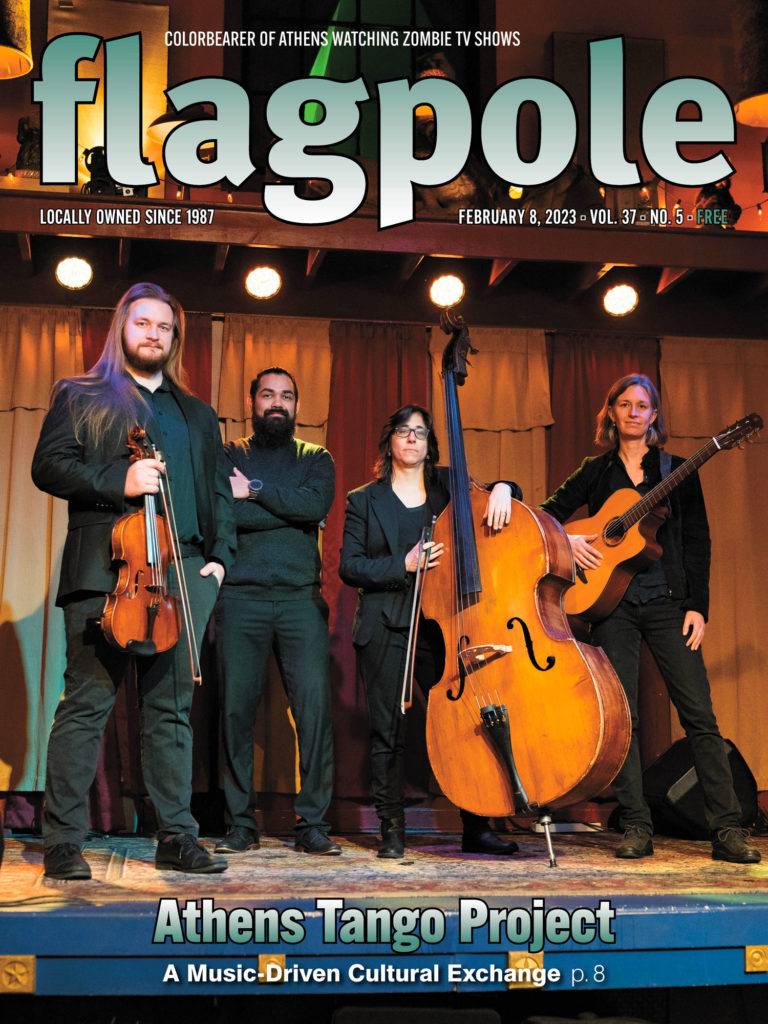 "I ended up recording the EP because somebody offered to record [us], and we did a trial," says Camacho. "I didn't realize how important it was to have a goal to put it out there, because then you have to make sure it's up to your standards, whatever those are."
After the trial went well, the group decided to fully commit to an EP. Featured musicians are John Cooper (violin, viola), Catherine Goodrum (guitar), Monique Osorio (vocals), John Phillips (percussion), Benjamin Pozo (piano) and Matt Vu (keyboard). The first five tracks were recorded live at Covenant Presbyterian Church in Athens by Asher Hill, with mixing and mastering completed by Jason NeSmith.
Camacho explains that the goal for this project was to find a sound that worked for the group and put together a collection of songs that more firmly grounded the identity of Athens Tango Project and showcased its evolution. Each song represents a version of the original that tips a respectful nod while also capturing the group's unique process. The result is a mix of classical tango pieces and modern covers that bridge generations, audiences and, ultimately, cultures.
The final track on the EP is a cover of R.E.M.'s "Drive," which is one of Camacho's favorite songs. When the EP was sent to a radio station in Spain, this track stood out to the host who fell in love with it. Honoring the universality of music is one of the key inspirations behind this project, says Camacho. It's an added bonus for anyone coming to the music who loves tango or R.E.M. to find that they also love that other side they may have never heard before.
"I wanted to deliver something that will make people dance and cry at the same time, which I think is the essence of a good pop song," says Camacho. "It's never perfect, but I think the beauty exceeds the imperfections."
Now that Athens Tango Project has music streaming, more can be expected to follow soon. Back in December, the group went to Chase Park Transduction, producing what Camacho says are higher quality recordings than those recorded live in the church. One of the group's challenges is the types of musicians available in Athens or even Georgia. Traditional tango music is often performed by much larger groups of musicians with different instruments than what's present in the local talent pool. Thankfully Camacho has a vast network from her time spent touring, playing festivals and working on larger projects.
"I had the opportunity to play with Laura Camacho at the Tango Festival in Philadelphia in 2022, when she came to play with my orchestra as a very special guest, and I was really impressed by her performance that day. After that, I had the opportunity to share with her a few recordings that she was directing, and I also listened to her latest release Para Compartir, both things that made me confirm that we are in presence of an excellent bass player who really knows the tango style like not many," says Emiliano Messiez, one of the United States' most highly esteemed tango pianists.
For the work-in-progress recordings, Camacho is bringing in tango professionals from out of state to rehearse and record with the local group. It "keeps [her] on [her] toes" with colleagues, she says, but also provides an opportunity for everyone to learn from one another. Some of the artists play tango full time while others are more classically trained. The environment of the Athens Tango Project is truly a never-ending classroom for everyone involved.
This is most true for Camacho, who approached this project as a way to reconnect with the music she loves in a new town in a foreign country. Athens Tango Project has taught her how to better receive input and distinguish when to keep tradition and when to try something new if it benefits the goal, she says.
The Athens Tango Project's next performance will be at the All About That Bass showcase benefitting Project Safe on Feb. 23 at Ramsey Concert Hall. The group will do a stripped down set with fewer members, as the focus of the event is to display the talented bassists in Athens who serve as a foundation for notable bands such as Klezmer Local 42, Cicada Rhythm and The Randall Bramblett Band, among others.
"I really cannot do anything else. Well, I can do a lot of things, but something else happens with me when I'm making music and I'm performing," says Camacho. "I've been very serious and got all my degrees and all my jobs, but I really cannot change being on stage playing tango or symphonic music… I really cannot replace that."
WHO: All About That Bass
WHERE: Ramsey Concert Hall
WHEN: Thursday, Feb. 23, 7:30 p.m.
HOW MUCH: $20
Like what you just read? Support Flagpole by making a donation today. Every dollar you give helps fund our ongoing mission to provide Athens with quality, independent journalism.