Serendipity has a way of revealing profound opportunities during life's seemingly mundane moments. Consider the case of Mike Mantione and The Bad Ends: Mantione, the singer and guitar player with Athens' alternative rock fixture Five Eight, was walking down the street one day in 2017. By chance, he crossed paths with former R.E.M. drummer Bill Berry, where they made small talk. Unbeknownst to anyone at the time, it was the beginning of a new band, a new record, and a compelling new chapter for both of the longstanding Athens music veterans.
Mantione and Berry had certainly gotten to know each other over the years. Five Eight had even opened a number of shows for R.E.M. In the fall of 1997, after suffering a cerebral aneurysm on stage, Berry traded in his life with R.E.M. to live on a piece of land with a working sheep and hay farm on the rural outskirts of Farmington.
He rejoined his former bandmates in 2007 when R.E.M. was inducted into the Rock and Roll Hall of Fame, where they played "Begin the Begin," "Gardening At Night" and "Man On The Moon." Aside from that, his public appearances playing music have remained few and far between.
"I was telling him about a solo album I had been working on," Mantione says. "I don't know what possessed me, but I said, 'Dude, do you want to play?' He said, 'Dude, I'm retired.' I was like, 'Yeah, but …' He said, 'I don't know, Mike. Just send me something.'"
Mantione sent him a live video of a song he'd been working on called "Little Black Cloud." Six years later, their chance meeting on the street has yielded The Power and The Glory, a modern, Southern alternative pop LP that's guided by sweet harmonies and jangly guitars. Songs with titles such as "All Your Friends Are Dying," "The Ballad of Satan's Bride" and "New York Murder-Suicide" harbor an aura that sways between death-afflicted urgency and tongue-in-cheek humor as a means of coping with mortality.
The Power and the Glory (New West Records) finds Mantione and Berry writing and performing alongside guitar and mandolin player Christian Lopez, bass player Dave Domizi and keyboard player Geoff Melkonian. Five Eight guitarist Sean Dunn and former Drive-By Truckers pedal steel player John Neff make appearances throughout the album as well.
The solo album that Mantione had mentioned working on the day of his fateful encounter with Berry was a collection of demos. Many of them had been written, at least in their primitive forms, as far back as 2003 for Five Eight's self-titled "black album," but remained unreleased.
"The original idea was that I would get together with a bunch of people that I ordinarily wouldn't work with and put together this solo project," Mantione says. "It's funny, it's one of those ideas that you have and get really excited about, but then nothing ever comes of it."
Over time, one of Mantione's children was enrolled in Timothy Elementary School. It was there that he connected with Domizi after their daughters became best friends. Later, he also connected with Lopez of the acoustic string outfit Curly Maple when their sons became friends.
"We started playing together and we'd have these pool parties where we would cover a bunch of total '80s shlock," Mantione says.
It was during this time that a couple of his close friends and acquaintances from the music scene tragically committed suicide. Their deaths came as a total shock to everyone who knew them. As a result, he started writing songs from the perspective of the suicide victim, and started playing them live with Lopez and Curly Maples. Then they started playing solo shows together. The songs developed a narrative that was wholly different from the autobiographical leanings of Five Eight's early numbers.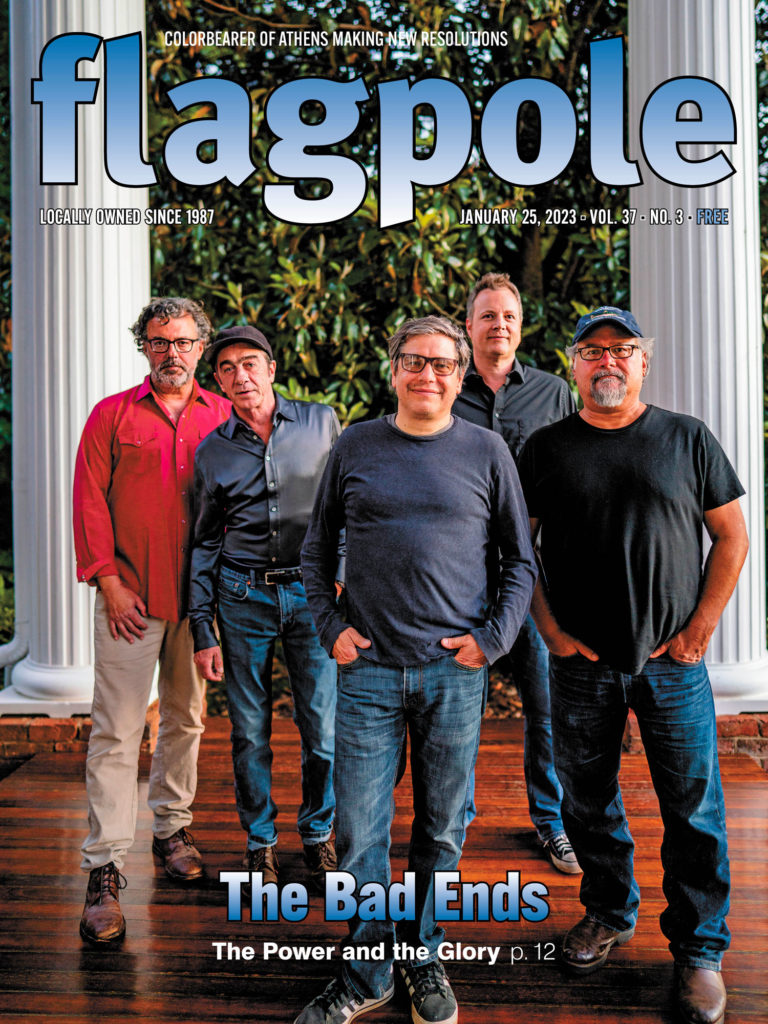 Two days after bumping into each other, Berry showed up at Mantione's house with an acoustic guitar and played a handful of songs that he'd written, including an early version of what became the instrumental number "Ode to Jose."
The song is an elegant piece that resonates with bucolic overtones imbued with a lush and stylistic twang that would feel right at home alongside anything from R.E.M.'s Out of Time.
"I stumbled on the idea for 'Ode to Jose' by sheer chance," Berry says in an email. "I grabbed a guitar sitting in my kitchen and wanted to test the tuning and just plucked random strings. The melody was delivered to me by divine fate. Since my retirement I've paid little heed to my drum kit," he goes on to say. "I play piano and guitar daily, but I rarely visit my drums unless they require dusting."
Soon, Mantione and Berry started playing together in the basement, when Mantione asked, "Why don't you try the drums?" He had a Pearl set that was similar to what Berry used to play. But with no bass player to lock into a groove with, nobody was playing any drums.
Mantione's wife Kelly suggested Domizi and Lopez join them, and the idea to release a solo record quickly grew into something much greater than what anyone had in mind. Mantione wrote a few new songs for the record, and one that made the final cut is opening number "Mile Marker 29."
"I was trying to do something with the music where you're making this play for people who are having a hard time to kind of wake up," he says. "Everybody wants better, even the people that go out. I think they go out knowing that it was better, and they never think it's gonna get better again. But the truth is, man, if you wait it out, it gets better. Life has a way of turning things around."
One evening, Mantione's mother came for a visit and made a spaghetti and meatballs dinner for everyone before practice. Afterward, on the way out the door, Berry said, "You know what, fellas? I think I'm in a band again."
Taking his place behind the kit took a little reacquainting, but he was up for it. "I was the best drummer in this assemblage of musicians, but woefully out of practice," Berry says. "Rehearsing my chops at home for a purpose was no chore. My dexterity returned quickly, and I'm arrogant enough to admit I was proud of myself."
The group's name came easily. "I knew I wanted it to be the 'Bad something,' because of what a lot of the songs were about," Mantione says. They settled on The Bad Ends because it could take on a number of meanings—a bad ending, or bad times coming to an end.
"Six years ago, when Mike invited my involvement in his solo project, it had been 20 years since I last experienced the record-making process," Berry says. "Mike's always affable demeanor, the quality of his songs, and a chance to write, produce and master the project without leaving Athens left it a no brainer."
The first single, a video for "All Your Friends Are Dying" takes shape as a distillation of Mantione's life in the Athens music scene: The pastoral countryside surrounding Berry's home, driving around a cast of iconic Athens musicians, including Vanessa Briscoe Hay of Pylon, her husband Bob Hay of the Jolly Beggars, and rapper Linqua Franqua; the pool parties, black clouds overhead, and then… zombies. In one instance the members of the group are seen riding four-wheelers. In the next scene, they are B-movie corpses.
"If you can spit in the eye of dying, that's what we're doing," Mantione says.
The most recent video for the song "Thanksgiving 1915" features an intense choreography behind impassioned singing into a broom handle juxtaposed with restaurant kitchen scenes that Mantione describes as The Muppet Movie meets "The Bear."
More with The Bad Ends is in the works, including more writing and recording (hopefully), and a handful of live dates. On Saturday, Jan. 28, the whole group plays a record release party at the 40 Watt Club. On Feb. 18, The Bad Ends play Variety Playhouse in Atlanta with Drivin' N Cryin.' John Swint of Modern Skirts will play the drums for this show.
"At my age I'm not anxious to commit to anything that would separate me from Athens for too long," Berry says. "The idea of club-hopping in a van for three weeks was great when I was in my 20s."
Still, The Power and the Glory shines a fresh light on decades of history for the Athens group's collective resume, realigned here and elevated to find new life and new energy while contemplating death. All this from simply taking a walk along the streets of Athens.
WHO: The Bad Ends, Pylon Reenactment Society, Lo Talker, A.D. Blanco
WHEN: Saturday, Jan. 28, 7 p.m. (doors)
WHERE: 40 Watt Club
HOW MUCH: $15
Like what you just read? Support Flagpole by making a donation today. Every dollar you give helps fund our ongoing mission to provide Athens with quality, independent journalism.