It was supposed to be a rebuilding year.
We lost 15 players to the NFL Draft. Stetson Bennett was supposed to continue to limit us at quarterback. Alabama was on a mission for revenge. We were supposed to be good, just maybe not quite that good.
And yet, they went and did it again. The Georgia damn Bulldogs are the national champions of college football following an all-time dismantling of TCU 65-7 in the national championship game. For those keeping count, that's back-to-back national titles for Kirby Smart and the Dawgs to go along with a perfect 15-0 record this time around. There were times I doubted I'd see a single Georgia national title in my lifetime. The Dawgs winning back-to-back titles was something that only happened in my old NCAA College Football dynasties on Playstation.
A potential dynasty is what you're talking about when you're talking about a team winning consecutive national titles. It is rarified air. It's possible that these two years are a flash in the pan, and we go another 40 before we see another one. But that doesn't seem likely. What's more likely is that Georgia is the new gold standard.
I'm not saying we've surpassed what Nick Saban has built over 16 seasons in Tuscaloosa or any other historic dynasty—not even close. But in this moment and projecting forward, it's unquestionable that Georgia rules the sport, and that the national title runs through Athens until proven otherwise.
The Dawgs are the Kings of College Football. Long may we reign.
Regardless of what the future holds, these last two Georgia teams will go down as college football royalty. It's a fringe benefit of winning consecutive natties, something that only happens once every decade or so, if that. Georgia is the fifth program in the modern history of the sport to win back-to-back titles, joining Alabama (2011-12, 1978-79), Nebraska ('94-'95), Texas ('69-70) and Oklahoma ('55-'56), although this is a murky stat between the ridiculous number of polls in college football's yesteryear and vacated titles. The Dawgs have the distinction of being the only team to do it since the advent of the College Football Playoff, and the only team to ever go 15-0.
One thing that will forever set the '22 team apart is the way it demolished TCU in the title game. It was a historic beatdown any way you want to frame it. The stat that most simply illustrates how historic the win was is that the 58-point margin is the largest in bowl history. Not College Playoff history. Not post-BCS history. Not modern bowl history. Bowl history. There hasn't been a postseason beating that bad in the history of the sport. I'm talking about old-school bowls, where every game was named after a cash crop and existed solely so Midwesterners could escape the bitter cold of winter for a few warm days in California or Texas.
But being the Kings of College Football is a tenuous position. Saban and Alabama could storm back and snatch the crown. Ohio State could put it all together and give both us and the Tide a run for our money. Or a new contender could arise in the ever-changing landscape of the sport. But as things stand now, there's every reason to believe we have what it takes to keep the throne.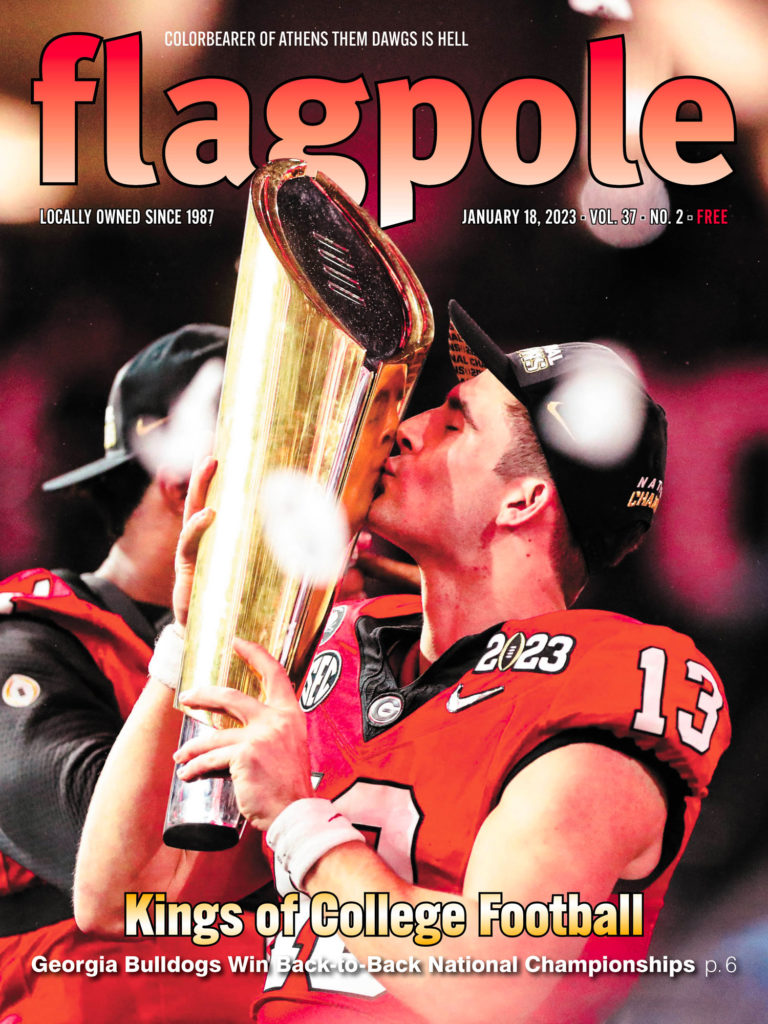 And here's the first mention of what will be the word of the year in Athens: "threepeat." If back-to-back titles make you royalty, three in a row will make you a god. It's possible, too. Schedules don't come much softer than ours next season, aided by the SEC forcing Georgia to cancel its scheduled game with future conference compatriot Oklahoma. Instead, we get Ball State and a fantastic shot at three consecutive 12-0 regular seasons. As we've seen the last two seasons, get to Atlanta at 12-0 and you're in the CFP with a shot at a title.
When the 12-team playoff comes around, making the field will be even easier. That augers well, as Kirby has proven adept at the playoff format. Smart is 5-1 all-time in the CFP, with the lone loss coming in overtime on 2nd-and-26 in 2017. (That memory stings much less after back-to-back titles.)
As time goes on, it's becoming more and more clear that Kirby is an excellent motivator. You can see his motivational mastery in the locker room speeches that have leaked over the years, from his speech before the 2017 title game—"All I wanna do is fuckin' eat!"—to his halftime speech against Florida in 2021: "It's zero to fuckin' zero, and you make 'em never wanna play you again." In his leaked alleged pregame speech for TCU, his masterpiece, Kirby dropped 11 f-bombs in a little over a minute, a rate that puts The Wolf of Wall Street to shame, and lit the fuse for one of the largest championship beatdowns in the history of American sports. "Ain't nobody in this room should be cautious. Ain't nobody in this room should be nervous about shit. Go out there and FUCK THEIR ASS UP!"
In a more general sense, he managed to make the entire team think all of America doubted them. And when you hear players from a team as good as Georgia was this year say they were doubted, they sound nuts. I do think the wider college football fanbase has forgotten how everyone just handed 'Bama the title before the season—me included—and I understand how Kirby could use that for motivation. But then I hear Nolan Smith say, "They thought we were gonna go 7-5, we end up perfect," and I'm flabbergasted that Kirby has the ability to make people genuinely believe anyone thought we were going 7-5. I don't know what kind of brainwashing technology Kirby has tucked away in the bowels of Butts-Mehre, but I imagine he could sell it to the CIA for a pretty penny if he weren't more interested in winning football games.
Kirby has also proven himself adept at not only recruiting elite talent, but supplementing it with less-heralded players he's developed. The Dawgs will continue to stack top-five classes along with programs such as Alabama and Ohio State, snagging five-stars such as Jalen Carter and Kelee Ringo. But he'll also develop no-names like Bennett from a walk-on into the greatest Georgia quarterback of all-time. Or Jordan Davis from a three-star to a first-round pick. Dan Jackson, Eric Stokes, Ladd McConkey, AD Mitchell—the list goes on. There's no reason to believe we won't continue to find and develop those diamonds in the rough on top of all the blue-chip talent.
In the end, the reason to believe that the Dawgs will continue as Kings of College Football comes down to one man: Kirby. Saban is the GOAT, but Kirby is the coach best positioned to challenge him in our lifetime. Kirby is 47. When Saban was 47, he was coaching at Michigan State and had never won a bowl game, much less a national championship.
The landscape of the sport is ever-changing, with NIL and the transfer portal and God knows what comes next. But as long as King Kirby is in charge, we're going to be at the top of the sport and have a shot at a natty every year. And with two in our pocket and a chance for more on the horizon, the throne is ours until someone takes it.
All hail the kings.
Like what you just read? Support Flagpole by making a donation today. Every dollar you give helps fund our ongoing mission to provide Athens with quality, independent journalism.