Existing somewhere near the intersection of public artwork and holiday caroling parties, Unsilent Night is a participatory, spatial soundscape that has endured as a beloved yuletide tradition for the past 30 years. New York City composer and sound artist Phil Kline created the avant-garde electronic piece to consist of four distinct tracks originally recorded onto cassettes. When he debuted the piece one chilly December night in 1992, he distributed boomboxes—each with one of the four parts—to a few dozen friends gathered outdoors in Greenwich Village. As everyone simultaneously hit "Play" and began promenading through the city, the experiment coalesced into a mobile sound sculpture of shimmering bells, chimes and chanting that swirled through the air.
"You imagine and plan pieces, and then surrender them to your process," says Kline. "This one surprised me. The first time I heard it out in the street I couldn't stop grinning. But what really surprised me was that everybody wanted to do it again next year, and then other cities wanted to do it, and it's gone around the world, pretty much by word of mouth. I could never have imagined that."
Since its debut in 1992, Unsilent Night has spread across the globe with performances held in over 150 cities across five continents. Everyone is welcome to inquire about organizing an event in their own town, if one hasn't already been established. Due to the considerably accessible nature of the composition, participation requires no musical ability, yet offers a communal experience akin to the camaraderie of a large orchestra.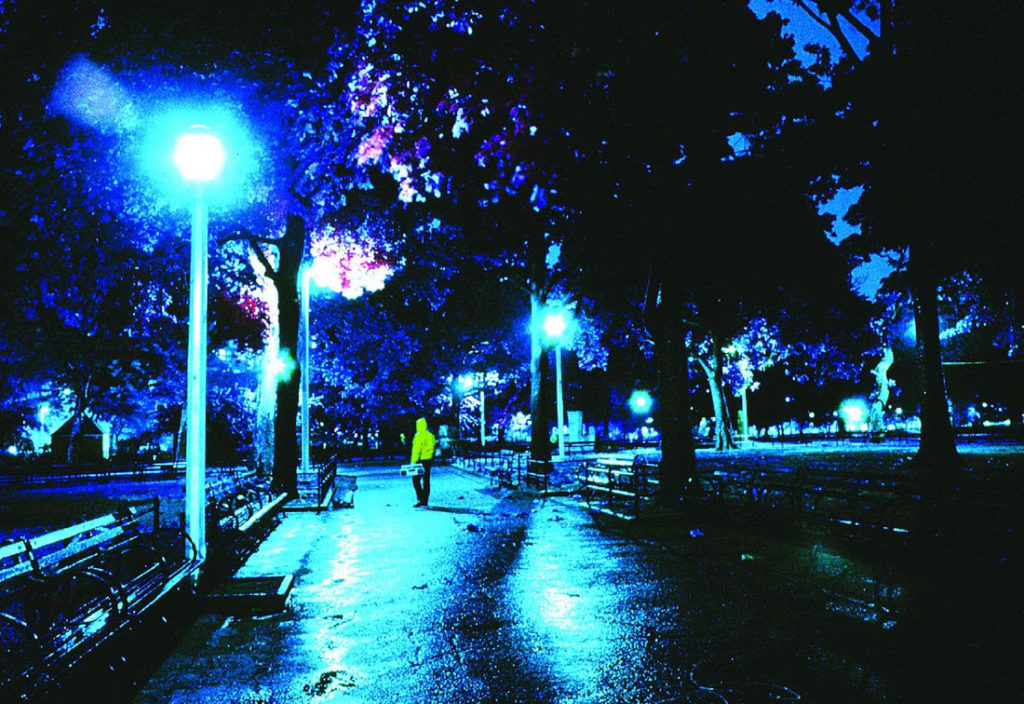 "It's a little hard to believe," says Kline about reaching the 30th anniversary. "I think it endures because it's beautiful and fun. It's a free gift, light and warmth on a cold winter night."
Although Kline originally designed the piece to incorporate the warbling charm and unpredictable playback delay of cassette tapes, technological advances and a mobile app (available for Apple iOS and Android) have made it possible to participate with digital audio players as well. Boomboxes are still ideal for both nostalgic and practical purposes, but many participants today prefer to use a smartphone or MP3 player with an external Bluetooth speaker for extra oomph. DIY sound rigs incorporating laptops, megaphones, speakers pulled on wagons or virtually any other audio device are also welcome.
While some elements of the performance, such as its volume or cohesiveness, are determined by the participants, just as many elements are shaped by the landscape's unique acoustic conditions. Buildings, trees, bystanders, traffic, noise pollution and weather can all influence how the sounds reverberate and travel throughout the space. No two performances are exactly alike, and listening experiences can vary greatly from minute to minute as the swarm of audio players criss-cross paths and shift directions.
Athens is one of over 40 cities across the U.S., Canada and Europe that will participate this year. In recognition of the composition's major milestone, Mayor Kelly Girtz has even officially proclaimed Dec. 23 to be Phil Kline's Unsilent Night Day in Athens-Clarke County.
"I had never heard the piece before, but I loved the idea of it and guessed Athens would be a perfect place for it," says Mark Mobley, who launched the local tradition in 2011 and will return as a host alongside Rachel Watkins.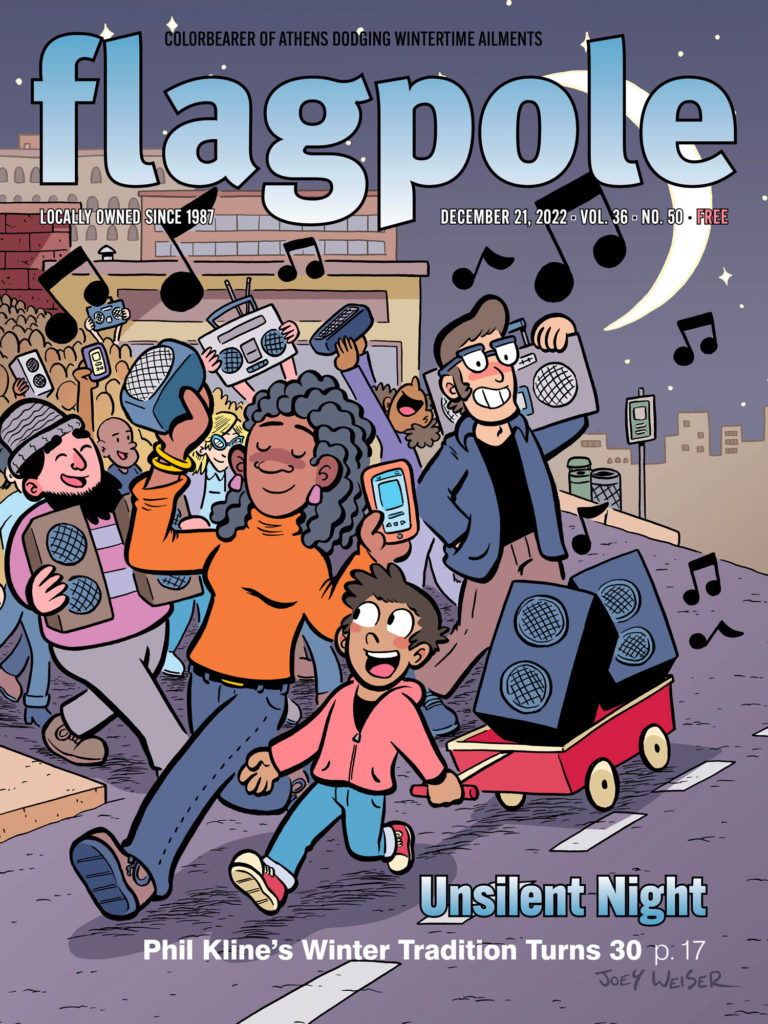 Anyone interested in participating is encouraged to gather at Little Kings Shuffle Club on Friday, Dec. 23 at 7:30 p.m. Prior to arriving, revelers should prepare by downloading the mobile app or one of the tracks available at unsilentnight.com. Once given the green light to hit "Play," the parade will wind its way through downtown and UGA's north campus quad.
During a time when Mariah Carey's "All I Want for Christmas Is You" lurks behind every corner, Unsilent Night offers a calming respite from the relentless onslaught of holiday music that seems to creep into radio airwaves, TV advertisements and retail shop playlists earlier and earlier each year. Between commercial materialism, family estrangement, financial stress and not nearly enough time spent in the sunlight, December can be altogether daunting for many. Unsilent Night, however, strips all of that away—if only for 45 minutes—to appreciate the simple comfort of community.
"It's made up of simple, relatable elements," says Mobley. "It rumbles; it floats; it chimes. The first time we did it, it miraculously turned to the sound of voices as we stepped onto the UGA quad. Goosebumps ensued."
As a nonsectarian piece of music, the work embodies the festive spirit found around the winter solstice, Christmas or Hanukkah, but is not exclusive to any particular religion. Instead, the work is more directly inspired by the wonder of the winter season itself. Flurries of tinkling bells and choruses of other-worldly voices weave in and out of peaceful ambient waves and thick walls of dizzying sound.
"It couldn't be easier or more fun to do," says Mobley. "People of all ages are welcome—it's truly family-friendly and lasts just 45 minutes. Every time we do it we want to start over again immediately. I really do believe Unsilent Night should be as much of a holiday staple as the Nutcracker, Messiah and carol concerts."
WHO: Phil Kline's Unsilent Night 
WHEN: Friday, Dec. 23, 7:30 p.m.
WHERE: Little Kings Shuffle Club
HOW MUCH: FREE!
Like what you just read? Support Flagpole by making a donation today. Every dollar you give helps fund our ongoing mission to provide Athens with quality, independent journalism.