Classic City Vintage Guitars recently celebrated its one-year anniversary, and you may not have even heard of it.
It's a small, unassuming shop in the Chase Park Warehouses district, a renovated and revitalized cotton warehouse built in the early 1900s. It's squeezed in between a tattoo parlor and a brick room with a giant mulberry tree growing in the middle, so large that it's supported by chains from the ceiling.
The inside of the shop is roomy, with rows of vintage guitars and gear stretching to the high ceilings. Dylan Keel, the man you'll have a good chance finding behind his workbench, owns and manages the shop. His big black lab, Loretta Lynn, is entirely unaware of the concept of an anniversary, but loves very much when a new face comes in the shop, and perhaps loves it even more when a longtime client comes in just to take her on a walk around the warehouse district.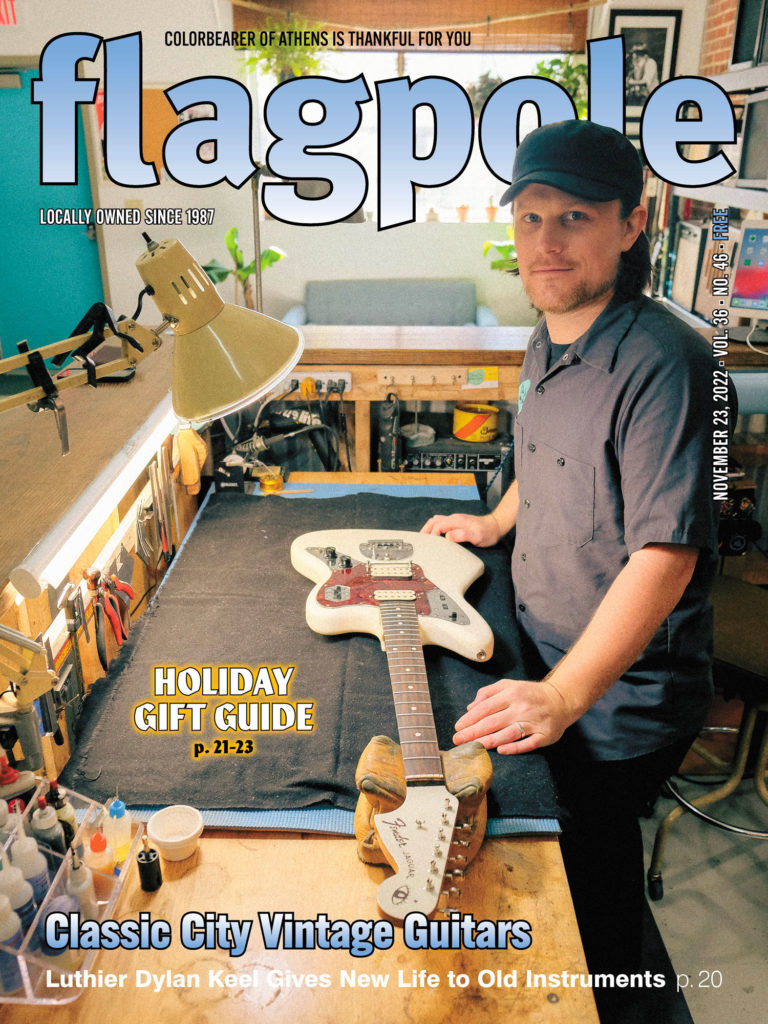 Keel, the son of Nashville songwriter Bobby Keel, received his first guitar at the age of 11. After a protracted hitchhiking experience led him to settling in California, he developed a love for budget vintage guitars. Brands like Kay and Harmony, cherished for their character, playability and affordability, became Keel's bread and butter. After working at Wildwood Manufacturing, he launched his own custom guitar brand, Keelkraft Guitars, and began doing guitar repair out of his home shop, Humboldt Guitarworks.
In 2020, Keel and his wife Liz took a leap of faith, moving from California to Athens without ever having visited. Keel worked a guitar repair job in Athens through the brunt of the pandemic before deciding to strike out on his own. While searching for a space to start his shop in, he stumbled upon a place that seemed perfect. "I kind of in my head just saw it instantly. It was this kind of cosmic feeling," Keel says about the space, which was formerly an alteration shop. He's repaired hundreds of guitars since the shop opened a year ago, instruments from all walks of life and from people across the U.S.
Despite their vintage patina, the guitars Dylan finds and restores aren't your typical collector's vintage instruments. They're meant to be played, and they're restored with care that comes with a deep knowledge of an instrument's possible past. "Guitars are artifacts of a musician's life," says Keel. "They're deeply personal. There's always this forensic part of my job, where I'm like 'Where has this guitar been? How did it get these marks? What do I do to fix this?'"
These were all questions Keel had to ask himself recently, when he worked on a guitar sent to him by a client from the Catskills in New York. CJ Harvey, a photographer and tour manager for several large bands, reached out to Keel after finding a guitar in her late grandfather's closet.
"My grandfather passed away last year during the height of COVID," Harvey says. "So no one was able to properly say goodbye or celebrate his life afterwards. When we eventually met up to share stories and clear out his home, I found this beautiful guitar in his back closet under a pile of dust and mold. It was warped from the humidity and probably would have gotten tossed out since no one else in the family plays."
The guitar was a 1968 Martin D-2, a coveted model. "I knew it was something extremely special that deserved to be properly restored," Harvey says. So, she brought it to Keel on a friend's recommendation. "It's in incredible condition now," Harvey says.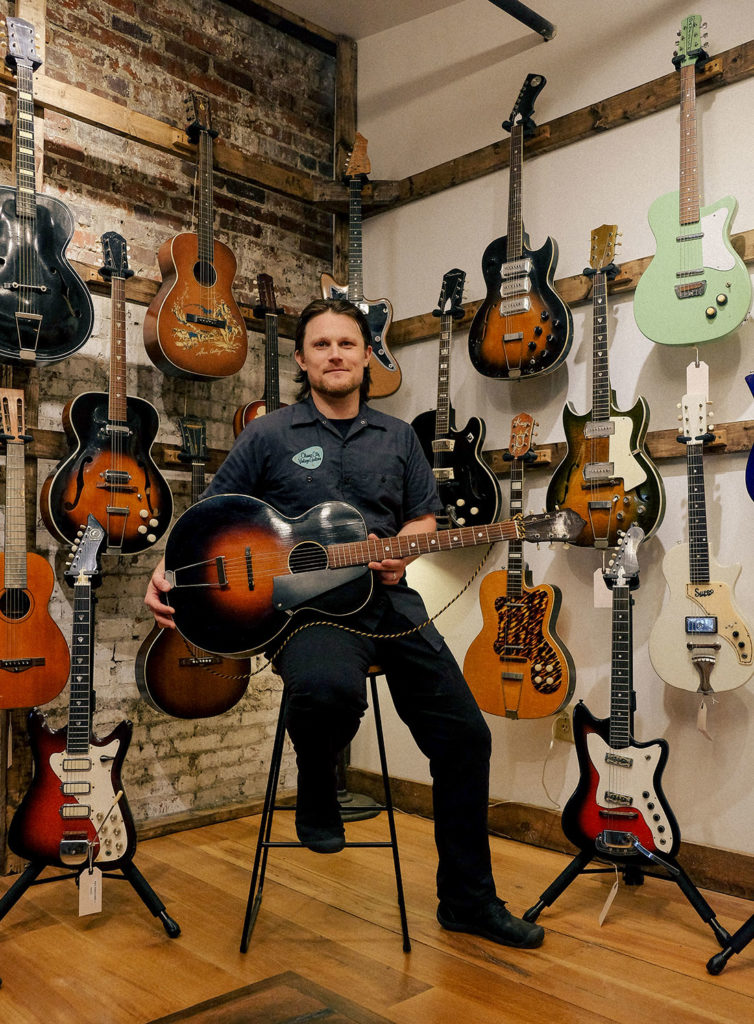 Keel chooses to preserve certain aspects of a guitar, for example not painting over an area that has been worn by years of playing, out of respect for the instrument. He knows that any musician who buys a vintage instrument buys it for the history as well as the playability. "I've always thought of myself as a janitor," Keel says about his work.
Classic City Vintage Guitars has come to be defined by a fiercely independent ethos. Much of the shop's traffic is driven by word of mouth. Keel advocates endlessly for local musicians and artists, and despite his recent arrival in Athens, has become remarkably ingrained in the local community.
"You leave there feeling better than you did before," says local musician and Keel's client Drew Beskin. "It definitely fills a niche. He just becomes everyone's friend."
The shop is a hub for local musicians, a harbor for ships which would have otherwise passed in the night to meet each other, become friends and maybe start a band. Keel also facilitates and encourages the mutual sharing of music through his youtube channel, Classic City Limits, a live concert series recorded in his workshop. So far, the series has produced a dozen installments by local artists such as lighthearted, Sarah Mootz, Spencer Thomas and Liz Farrell.
Local musician AG, who goes by the stage name Clover County, played her first recorded live performance ever on Classic City Limits, on one of Keel's 1920s parlor guitars.
"I go back to him at least once a week. He has helped me make my biggest decisions regarding music," AG says. "He's definitely more my friend than my luthier."
Like what you just read? Support Flagpole by making a donation today. Every dollar you give helps fund our ongoing mission to provide Athens with quality, independent journalism.