A friend to all creatures great and small, Peter Loose's new solo exhibition "Places of Peace" thematically focuses on birds as a source of both inspiration and healing. Currently on view at tiny ATH gallery through November, the show is dedicated in memory of the late Art Rosenbaum, a widely revered artist, musician, folklorist and educator.
Though Loose was never officially enrolled among Rosenbaum's students at the Lamar Dodd School of Art, he learned many lessons from him. With his wide range of interests and genuine curiosity in other people, Rosenbaum not only made Loose feel seen and supported, but actively demonstrated through his work how valuable vernacular artists and musicians are to the fabric of American culture.
Naturally, their shared interests led their paths to cross many times. Both have been staples of the North Georgia Folk Festival since its earliest days, with Rosenbaum as a co-founder and performer and Loose as an artist vendor who decorates the stage with his vibrant paintings. Both have also been regulars of Finster Fest, an annual music and folk arts festival held at Paradise Garden, the art environment created by their mutual friend and visionary artist Howard Finster.
The evening Loose received the news of Rosenbaum's death, he was sitting in front of a big blank bulletin board and felt moved to process the grief through painting. This moment became "Ascension," a scene in which all sorts of creatures—birds, fish, turtles, snakes, butterflies—encircle a glowing, sky-bound firefly. On the back of the painting reads the message "They gather in the light of Art Rosenbaum. Great stories and songs were always nearby. So much love for his life."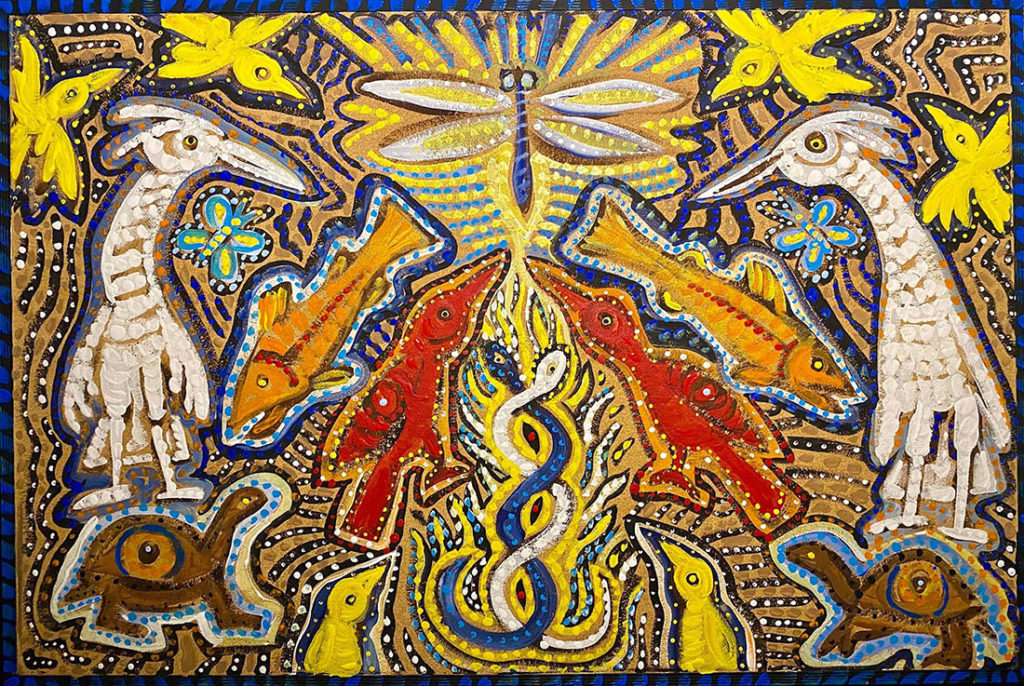 The exhibition's large paintings—such as the rooster and blackbird that appear on this week's cover of Flagpole—exemplify Loose's distinctive style. Whether it's on canvas, window screens, cork boards, furniture, found objects, instruments or even old cars, his work is immediately identifiable by wide ribbons of saturated color and hundreds of tiny dots that pulsate with movement.
Fluttering across the walls in between the large paintings are small cut-outs of birds in a variety of colors, each with outstretched wings and a red heart over their breast. These birds belong to "Places of Peace," an ongoing series Loose began in response to the U.S.'s invasion of Iraq in 2003.
"I was watching television one night during [the George W. Bush administration], and it was a night of 'shock and awe.' That was the headline for three nights of bombing in downtown Baghdad," says Loose. "I was so destroyed by it. I'm getting to be part of witnessing this, but what if it were the other way around? I felt every person in their apartment building, every child, every pet, and it just absolutely killed me."
Creating the small birds as a symbol for peace and hope, Loose began distributing them to friends and family as a way to bring good vibrations into their homes, instead of shock and awe. The flock has grown to over 1,200 birds today, with each one representing an effort to reclaim space.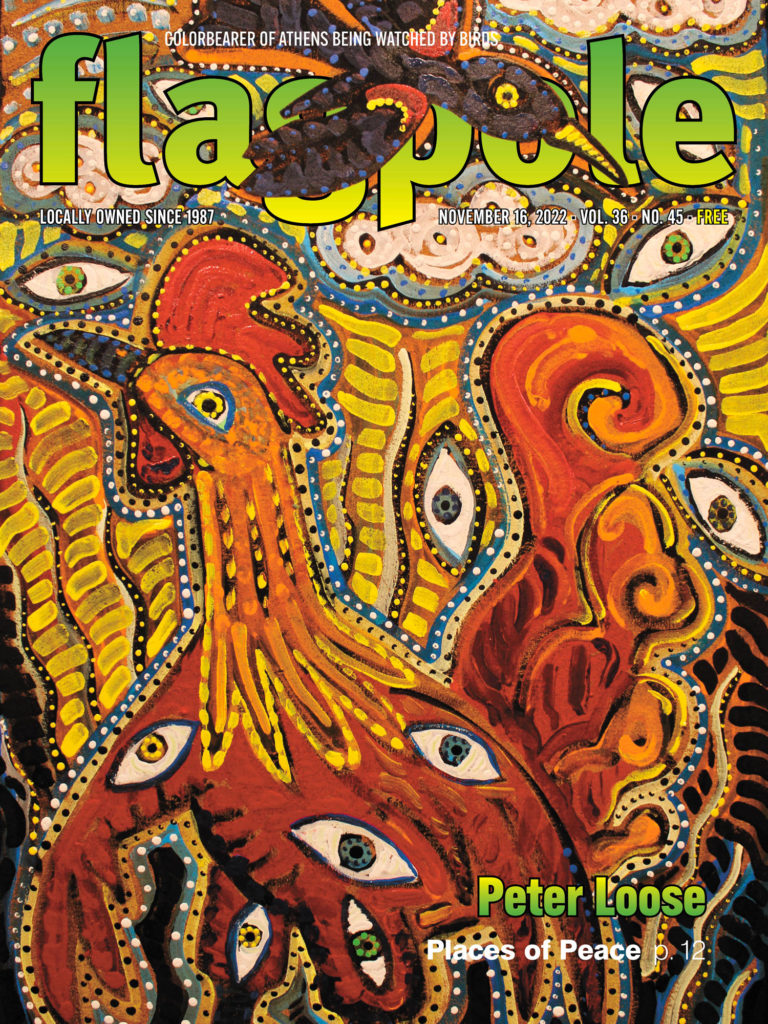 The exhibition "Places of Peace" marks Loose's official return to Athens as a resident after living nearby in Hull for the past 30 years or so. After working as a naturalist for a Maryland state park and the Audubon Society, Loose first moved to Athens in the mid-'80s to work at the Sandy Creek Nature Center. It was here that his love for wildlife soon intersected with a newfound interest in art-making as he led children's activities and decorated the space. He left Sandy Creek after roughly a decade in what he jokes was a "jump off the cliff moment for sure," but he quickly found his footing while pursuing life as an artist.
From his one-of-a-kind sculptural dulcimers to his bird-shaped birdhouses, animals serve as a constant source of creative inspiration. Loose and his wife, Sandy, have looked after many critters over the years, such as tortoises, snakes, chickens, goats, dogs and cats. Generations of children have grown up reading Bongo is a Happy Dog (1997) and Bongo Has Many Friends (2001), a pair of illustrated books the couple created together about their beloved dog who brought a lot of joy into the lives of those around him.
"He was just a little scoundrel Athenian," Loose says about Bongo, who once performed a duet with Michael Stipe and was a dear friend to Finster. "He was comical and funny. He had a toy piano that he just thought was the best and wanted to play it for people." 
Beyond his work as an artist, Loose is also an art collector and curator who has been instrumental in preserving stories and increasing the visibility of other folk artists over the years. Launched in 2015, the "The Great Folk Art Parade" was envisioned as a touring and ever-changing exhibition of hundreds of works that celebrate Southern self-taught artists both past and present. After debuting at the Oconee Cultural Arts Foundation in Watkinsville, the show traveled to the Hambidge Center in Rabun Gap and Steffen Thomas Museum of Art in Buckhead. Using his and Sandy's expansive personal collection as a base, Loose would then personalize each installment and invite artists of the surrounding area to sell works at the receptions. This model pairs well-known figures such as Finster, St. EOM and R.A. Miller alongside largely undiscovered artists, reminding viewers to look within their immediate community and celebrate any creativity that may be happening under the radar. Loose hopes to keep the parade marching along into the future.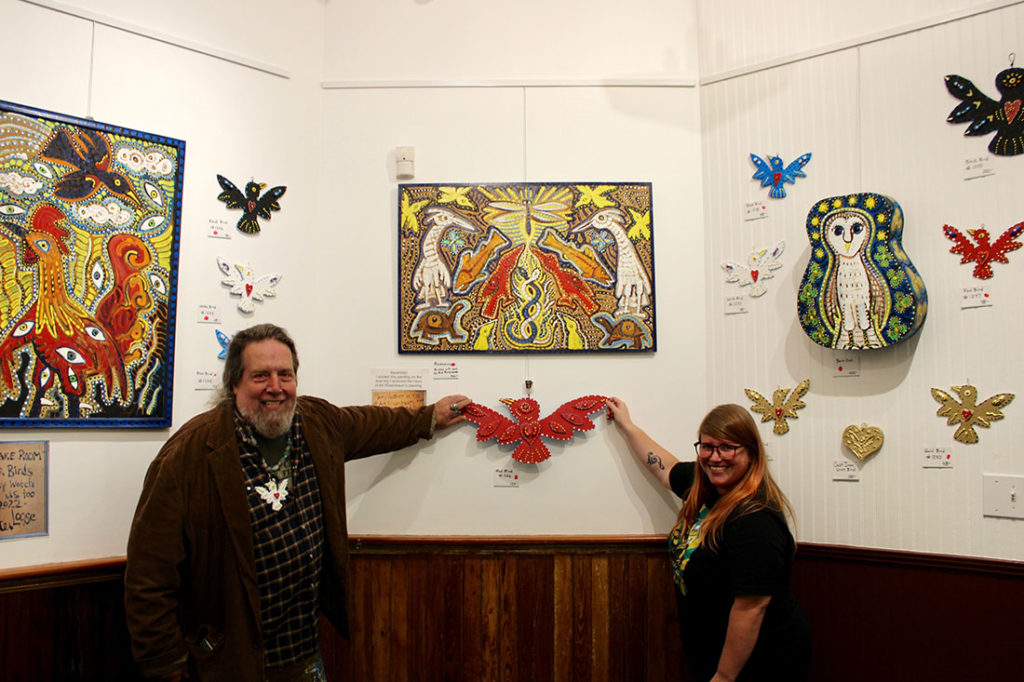 Offering a glimpse into just how massive his collection has grown, Peter and Sandy will host Bongo's Yardfest Art and Estate Sale at 302 Oak Drive in Hull on Saturday, Nov. 19 and Sunday, Nov. 20 from 7:30 a.m.–6:30 p.m. The event will offer a variety of pottery, paintings, carvings, textiles, vintage baskets, instruments, furniture and other eclectic treasures.
Tiny ATH Gallery will host open hours for "Places of Peace" on Nov. 17 from 6–9 p.m. in conjunction with Third Thursday, a citywide initiative established in 2012 that encourages established venues to stay open late once a month for an evening of gallery hopping. Loose plans to add various new pieces to the wall for the occasion, since nearly everything sold on opening night, and multi-instrumentalist Steve Milsap will provide live entertainment. Loose's exhibition can additionally be viewed by emailing curator Camille Hayes at tinyathgallery@gmail.com to set up a private appointment weekdays after 5 p.m.
Like what you just read? Support Flagpole by making a donation today. Every dollar you give helps fund our ongoing mission to provide Athens with quality, independent journalism.