UPDATE: This show has been postponed until Jan. 10 due to illness.
"The B-52s started the music scene as we think of it," says William Orten "Ort" Carlton in the 1986 documentary Athens, GA: Inside/Out. For fans of Athens music of a certain age, the above statement from Ort is absolutely true.
No, they weren't the first band of note to come from the Classic City, but they were the first to garner a worldwide audience. Similarly, they didn't sell the most records, but you'd be hard pressed to find any active pop music fan from the past 40 years or so that couldn't identify "Rock Lobster" immediately upon hearing its opening riff. In this respect, the B's have more in common with The Rolling Stones and Lynyrd Skynyrd—neither of whom have probably ever been mentioned in the same sentence with Athens' ultimate party band—than, say, Pylon. Even R.E.M.'s iconic opening to "The One I Love" doesn't own this status.
When the group, which left Athens for New York in 1979 in advance of their debut album, announced their "Final Tour Ever of Planet Earth" last April, locals were understandably disconcerted to see no Athens date listed. The bummed-out buzz went something like, "How can they not play Athens?" This seemingly deliberate oversight was remedied in such spectacular fashion a few weeks ago (i.e. an instant sell out!) that it's difficult to imagine this wasn't a back pocket plan all along.
On this occasion, though, it's also emotionally difficult to stack yet another portion of Athens' identity into the memory closet. It was difficult enough when R.E.M. amicably closed up shop in 2011. Even though the days of seeing Pete Buck walk down the street with a mandolin case had ceased to be, the band was still an undeniable supporting pillar of how the Athens scene thought of itself. Even if this wasn't true at a personal level, it was quite true on a deeply psychological one. And while the B-52s haven't called Athens home in a very long time, there remains a symbiotic relationship between the town and the band whereby we each claim each other and speak lovingly when we do.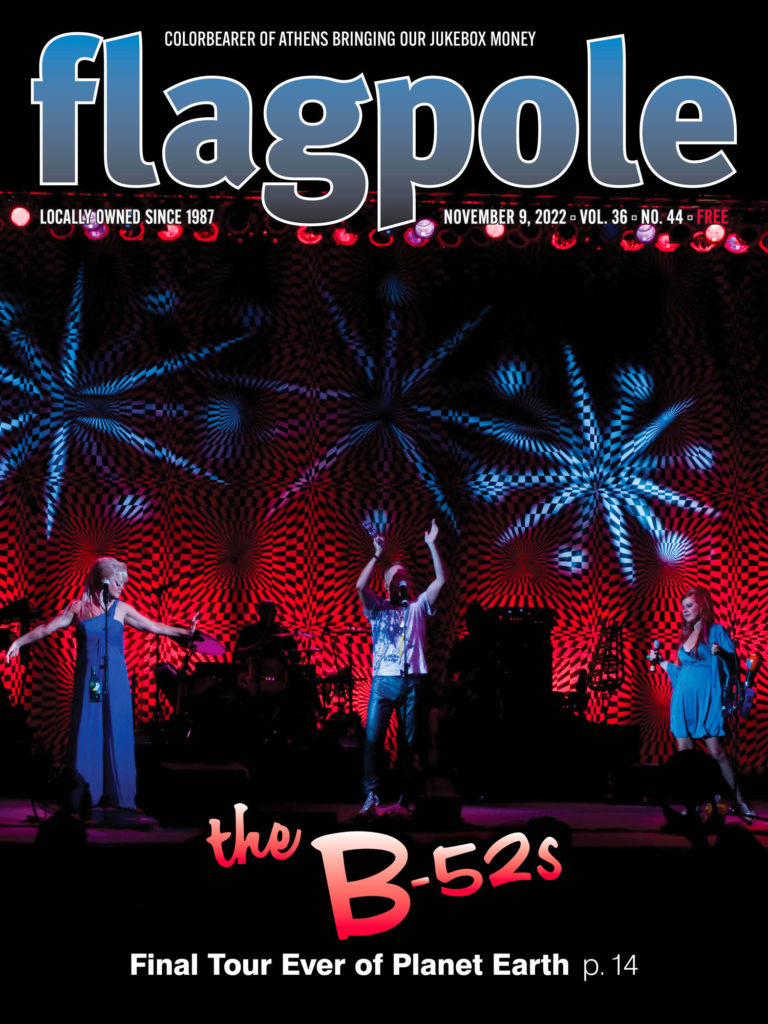 Any amount of scratching deeper than the most superficial aspects of the band's whimsical retro-futurism and party band presence reveals a profoundly interesting exploration of both accelerated culture and reinvention. For example, the beehive-bouffant hairdos sported both by Cindy Wilson and Kate Pierson were seen as decidedly retro when, in fact, they'd been mainstream fashion barely a decade before the band's creation. Of course, for members and fans in their 20s at the time, this would have meant half their lives earlier. So, from that perspective, it's understandable. Similarly, the surf rock riffs peppered throughout the band's earliest tunes, many of which would wind up on the debut album, were inspired by smash hits from the group's childhood. It's not unusual for folks of this age to find comfort in the totems of childhood memories even as they actively create their own world.
Athens has changed quite a bit since the late 1970s. The absolute magnificence of that understatement only reveals the extent to which it is true. We're now in a previously unthinkable place where it's not unusual for incoming freshmen to be completely unfamiliar with R.E.M. and have no idea the B-52s ever lived here. To paraphrase Exodus, there arose a new king who did not know. Although this may pain decades-long residents and music fans, it's not like the B-52s were intentionally built for permanence, no matter what level of such they achieved. There's so much more to the B's story worthy of deep exploration, and there's not enough newsprint here to even begin to tackle it. For that, keep your eyes peeled for the soon-to-be-released book by local musicians Scott Creney and Brigette Adair Herron, The Story of the B-52s: Neon Side of Town, courtesy of Palgrave Macmillan.
If, as Ort noted less than 10 years after the group's first performance, the B's started the music scene as we think of it, and we agree that their ebullient disruption was a profound act of reinvention and dream-working, then we must, at some level, perceive the Athens music scene as one capable of being reinvented and reimagined. And, beyond that acknowledgement, that our scene is one in which disruption and reinvention are necessarily desirable. Athens changes imperceptibly all the time. Once decades have gotten behind us, familiar landmarks, establishments and people have long passed. Even in just the past three years, we've experienced the loss of such seemingly permanent establishments—and crucial music scene incubators—like the Caledonia Lounge, Go Bar and the eatery that employed untold numbers of musicians, The Grit. Next year's incoming freshman class will have no memory of any of them.
The end of road life for the B-52s doesn't signal the end of the band as such, and they've made that clear. Even so, it exists as a mile-marker mapping the distance from what was once a familiar portion of the identity of Athens music to the present day. But the ultimate party band never intended to be cast in plaster in 1977 (first live performance), 1979 (debut album), 1985 (the death of founding member Ricky Wilson), 1989 (the release of the multi-platinum selling Cosmic Thing), nor in 2022 on this final tour. While their place in both the history of our own private Idaho and the pop music world is permanent and undeniable, their core inspiring quality of being a harbinger of change while also celebrating the recently familiar is also the story of the Athens scene writ large. In terms of self-perception, it's a Faulknerian proposition à la, "The past is never dead. It's not even past."
If the B-52s did indeed create the music scene as we think of it, then the best tribute to this "tacky little dance band" we could possibly embrace is to remain wide-eyed, excited and hopeful that the cosmic undertones of the music scene of Athens will continue to fuel the reaching of spectacular possibility to such a degree that it's impossible to imagine it was ever not so.
WHAT: The B-52s Farewell Tour
WHEN: Tuesday, Nov. 15, 7:30 p.m.
WHERE: The Classic Center
HOW MUCH: SOLD OUT!
Like what you just read? Support Flagpole by making a donation today. Every dollar you give helps fund our ongoing mission to provide Athens with quality, independent journalism.