After a decade of releasing albums as a solo artist and collaborating with a variety of well known local musicians, Drew Beskin intended for Problematic for the People, released July 2021, to be his last release for at least a while. But we all know that plans change, and during the COVID lockdown, Beskin found himself immersed in a project organically creating itself and carrying him along for the ride.
Drew Beskin & The Sunshine—made up of Tommy Trautwein, Elijah Johnston and Gideon Johnston—is set to release the album Somewhere Sideways Same As You on Friday, Sept. 23. Although Beskin heads the group, the new album is very much a collaborative effort with his bandmates, all of whom have been steadily making names for themselves in the indie rock circuit. The product is guitar-driven indie soft rock with pop hooks reminiscent of their influences, namely Beskin's favorite band Oasis and the group's mutual love for The Beatles.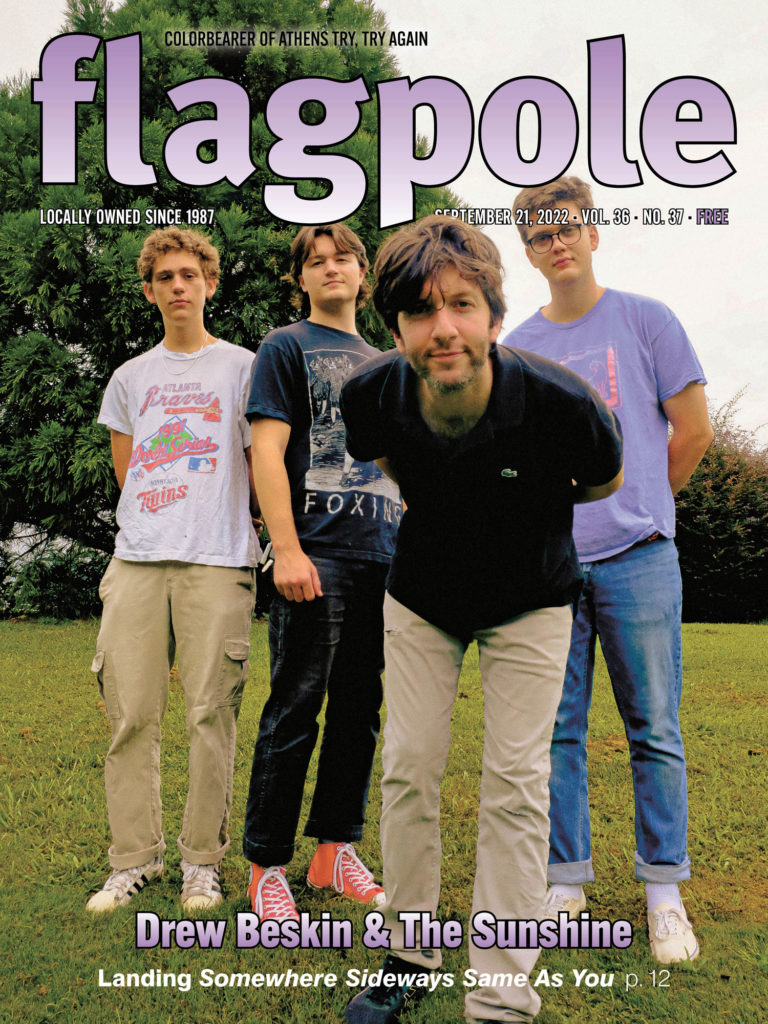 Beskin met Trautwein and Elijah while working at the Georgia Theatre, developing a friendship out of a mutual admiration for each other's music. Around the time of the COVID lockdown, Beskin had just finished working on a record but texted Trautwein, who lived within walking distance, about booking time with Trautwein and Elijah to record a one-off song he'd been writing. Beskin wasn't expecting Gideon to also be at that first session, but it seemed to be fate.
"That one day we recorded the entire track, which was different for me because every time I'd ever made a record, I'd always spend time beforehand like writing all the songs at once, having them ready to go to the studio, and then booking a certain amount of time," says Beskin. "There wasn't any expectation of making a record, and we just kind of went in there and made a song and recorded everything by the end of the day. It was just very, very cathartic."
So, Beskin wrote another song, texted the guys and recorded a second track in one session, then a third track. By the end of the third session, the semblance of an album began to form. Over the course of a year, the group continued to record songs in this same manner, with Beskin bringing freshly written material into the studio without too many preconceptions or attachments to what it should sound like. The 11-track album is structured in the order the songs were recorded, and it takes the listener on a true journey of the development of Drew Beskin & The Sunshine. You can hear how the group's growing comfortability in recording with one another turns into more adventurous songwriting.
"Because of that process, it just felt more organic than making the other sort of records, for me at least, because it just felt more pure. If you go into the studio, and you have 10 or 12 songs prepared, you might be moving a little too fast and not really giving each song its proper attention. And when you bring a song to the studio to focus on [for] one day, the song better be good enough to keep everyone's interest for an entire day," says Beskin. "I think that's the only way I'm ever going to do it now."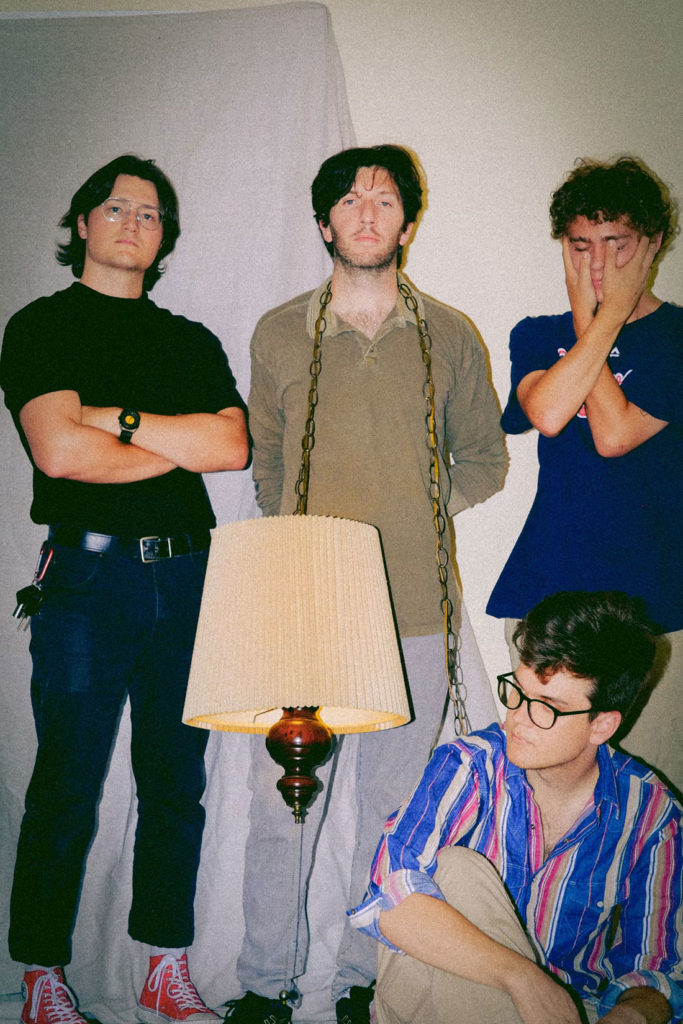 Since the last track of the album was finished in April 2021, and there was never any pressure about making a record to release in the first place, the group has focused on filming live sessions and music videos to accompany the official release. Several of these will be available in the upcoming weeks ahead of the album release show Friday, Oct. 28 at Ciné. Drew Beskin & The Sunshine recently played a live show together for the first time at the September Days Festival, and the hope is that fans can become more familiar with the songs ahead of the release show. Taking place over Halloween weekend, it will be a (costume encouraged) celebration focused on having fun.
The show schedule will have violinist Annie Leeth open with Drew Beskin & The Sunshine to follow, but Beskin, Trautwein and the Johnstons will close out the show with a separate Beatles cover set. The four musicians are each heavily inspired by The Beatles, and the legendary English rock band has always been a common language between them. Attendees can anticipate some of the hits on the set list, but the goal is to pull songs from each of The Beatles' records including some unexpected tracks. Beskin says that Somewhere Sideways Same As You tells a full story in chapters, so holding the album release show at a movie theater feels like a proper way to wrap everything up.
"Because of these guys, I was able to create what I think is my favorite record sonically, as well as just kind of pushing the limits for me, at least, of what a record could be," says Beskin. "It's felt kind of like a once in a lifetime thing for me in terms of my songwriting, creativity and just like making a record. It felt like no pressure."
WHO: Drew Beskin & The Sunshine, Annie Leeth
WHEN: Friday, Oct. 28, 8 p.m.
WHERE: Ciné
HOW MUCH: $12 (adv.), $15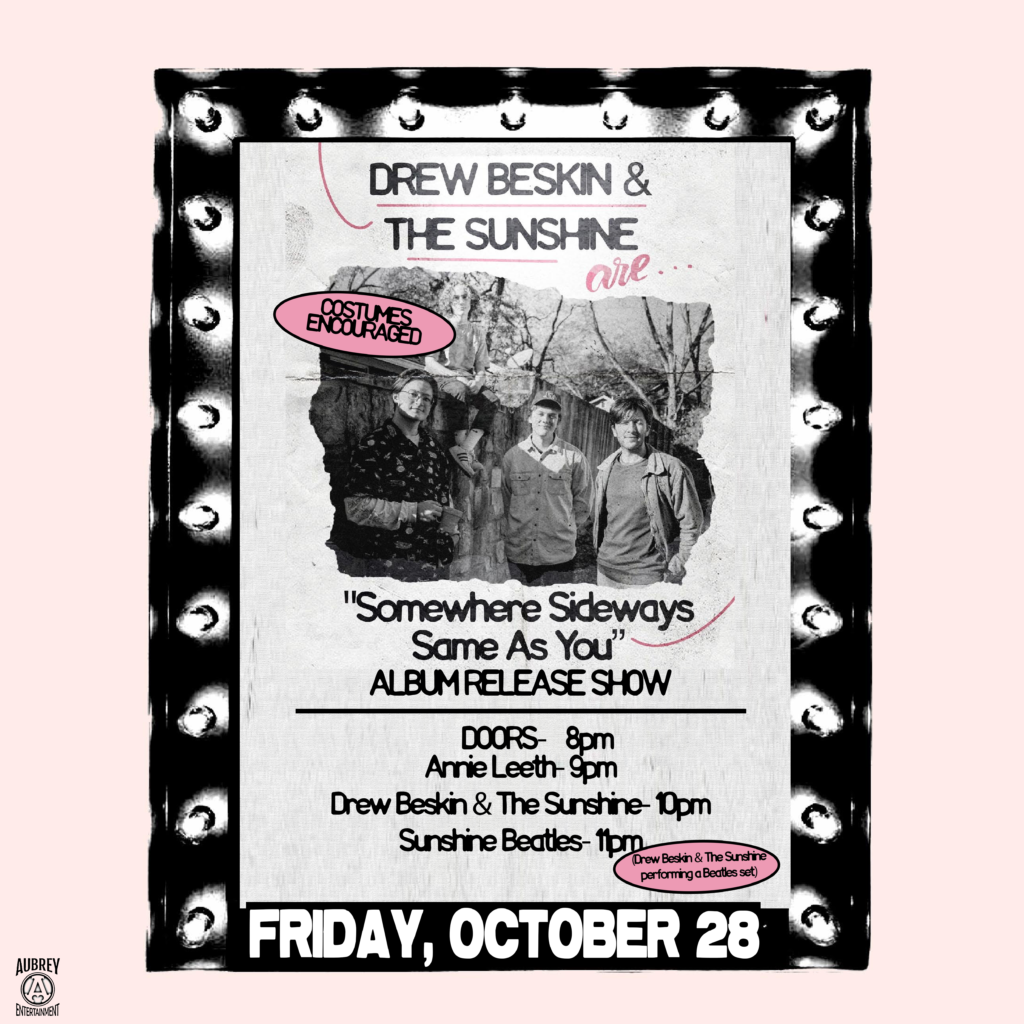 Like what you just read? Support Flagpole by making a donation today. Every dollar you give helps fund our ongoing mission to provide Athens with quality, independent journalism.