Nearly at the center of Athens-Clarke County, but removed from the concrete bustle of downtown, sits the imaginative haven of Rabbit Hole Studios at 1001 Winterville Road. When turning into the compound, several things might catch your eye: the colorful burst of striped paintings marking the front entrance, the trailers covered in murals parked on one side of the building, or the green space where a garden grows on the opposite side. If that wasn't enough to spark curiosity, entering the building transports visitors into an artistically decked-out grand hall space full of musical instruments, comfy furniture, a self-serve consignment shop and a decorated stage.
Recently celebrating five years of Rabbit Hole at the beginning of August, the space has been a labor of love for founder, President and CEO Nick Bradfield. Starting as a solo endeavor, the organization now consists of Vice President and Secretary Victoria Austin, Communications Director Cassie Chantel and Director of Operations and Event Coordinator Sean T. Conlon. However, there are more helping hands always available and a part-time staff of janitors and landscapers.
"Nick really was this example of pursuing his dreams and that it was possible, then he provides affordable space for people to do the same," says Austin. "That's what community does. We help one another with what we need, communicate our needs, and I think it's just so much easier for us to make these things happen because we have each other to talk about it."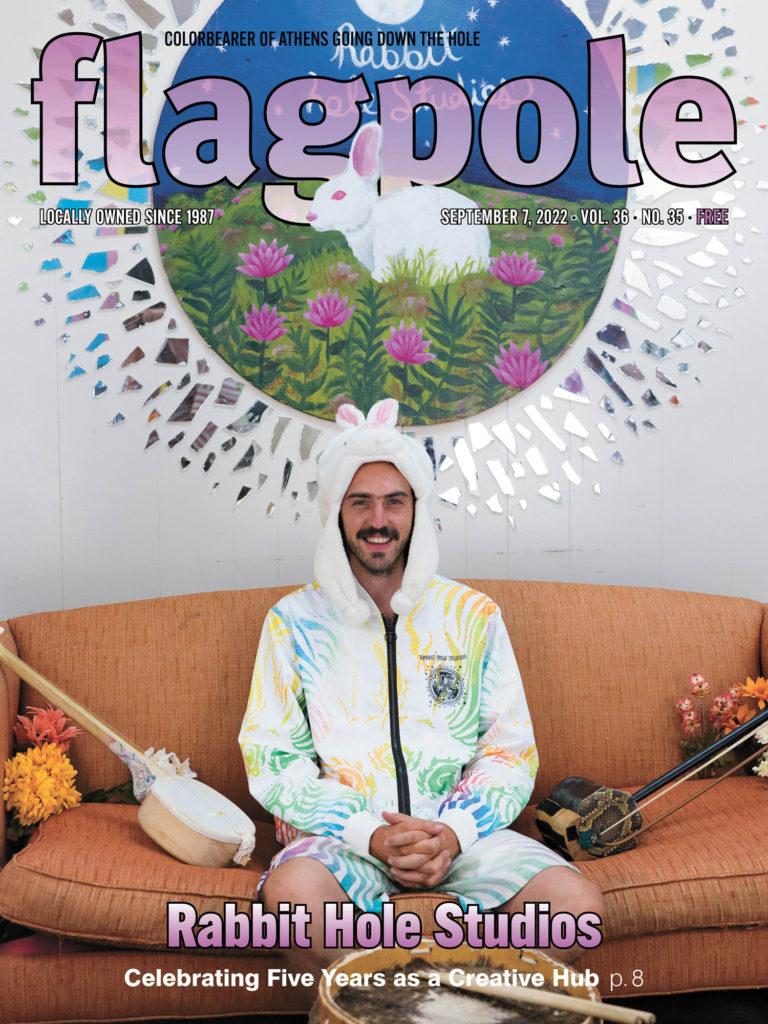 As a local musician and audio engineer, Bradfield launched the concept of Rabbit Hole in 2017 as a more personal recording, rental and rehearsal space at Chase Park Warehouses before expanding to a location on Commerce Road. The idea was shaped by Nuçi's Space—Bradfield is a Camp Amped alumnus—but the opportunity to create an even larger community space came when the former AMVETS headquarters went on the market.
Since moving onto the Winterville Road property two years ago, the members have put a tremendous amount of work into remodeling, maintaining, decorating and actualizing their vision for the space. Now Rabbit Hole is so much more than a studio—the organization offers event space, co-working space, co-creation opportunities, a community garden, workshops and the unique skills of its members. Bradfield explains that they cultivate an open and inviting environment by hosting free events (drum circles, open mics, open jams) and bridging the gap between audience and performer by making acoustic instruments available for people to participate.
"Community is the biggest resource here for sure. It's sort of like Nick just set the stage, and now these artists and people show up with all their gifts and all these collaborations and feedback," says member Jasey Jones.
The community garden is both sustainable and educational, providing herbs, food and honey for members, but also creating an opportunity to learn. Wesley Grantham, owner of Mellow Bear Honey, maintains beehives on the property and offers free knowledge on beekeeping and the importance of bees. New to the space is a mushroom co-op where edible and medicinal mushrooms will start to grow soon. Mutual prosperity and the idea of collaboration over competition are foundational values of Rabbit Hole continually exemplified in everything the community does.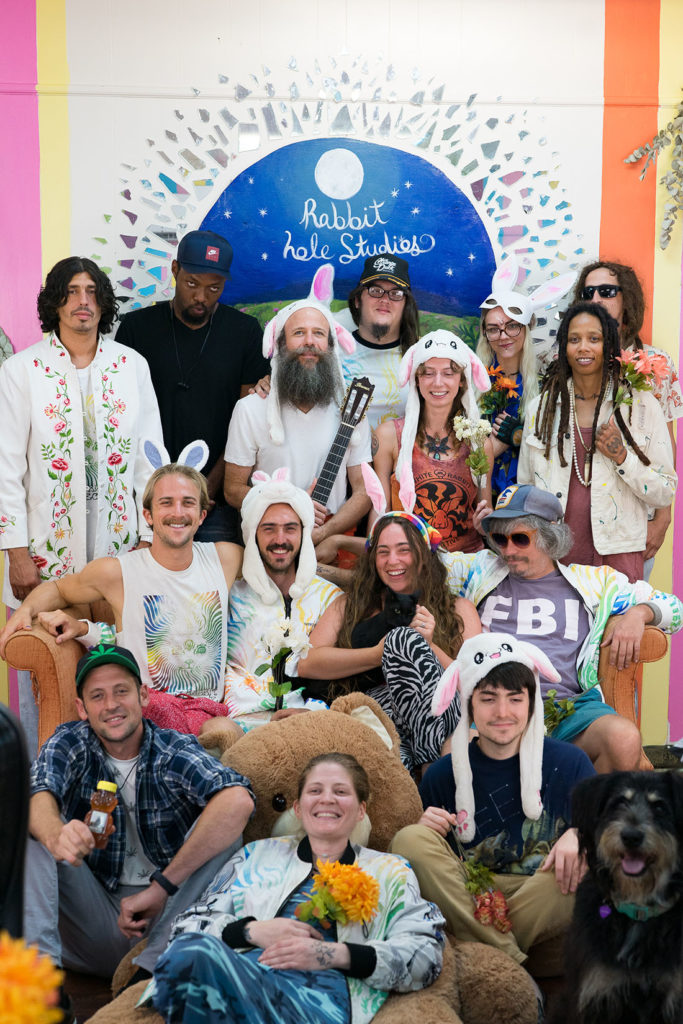 "I've met some of the best people here. I've grown a lot on the business level, and it's helped me with the direction of where I want to take Tribe House," says Chantel. "Tribe House is a studio inside of Rabbit Hole, and it's an example that we don't have to be competitive, like at all, and we can still coexist in the same place. And it doesn't hurt me to help here."
The goal of the space is to provide affordable, often free, resources to creatives, which has made turning a profit to pay the bills the business' main challenge. The primary sources of income for Rabbit Hole come from space rental, equipment rental and membership fees. The grand hall is available for rent with additional packages like sound, lighting and an engineer for live music events, parties or even group meetings. Memberships provide 24/7 access to Rabbit Hole with different tiers and perks, from $50 a month that provides access and credits to book the space to $300 a month that adds on unlimited studio time and access to all of the equipment including add-ons like roller skates and hoverboards. Every membership and rental package is highly customizable based on individual needs, including nonprofit rates for partnering organizations.
"I think part of why I wanted to create something like Rabbit Hole is because a lot of the venues downtown I've played at, I found myself drinking a lot more than I would otherwise, smoking cigarettes. Being downtown really hasn't been good for me," says Bradfield. "That's one thing we've struggled with here is we don't sell alcohol. We don't charge money at the door. We're trying to create a safe and open space with those two things, and a healthy space. So obviously you have to sacrifice the profit motive to sort of achieve that."
Currently, the group is working on getting the structure right and creating a blueprint to create more Rabbit Holes throughout the Southeast, says Austin. Creating bridges between communities and a circuit of safe spaces for creatives to travel between is a dream the group shares. While opening and maintaining new locations may be in the more distant future, Bradfield explains that there are pre-existing networks of similar spaces throughout the country that Rabbit Hole would like to integrate with by offering mutual membership. In the meantime, there are plans to expand the offerings of Rabbit Hole, such as a miniature golf course currently being planned and hopes of opening an outdoor solar skating rink.
One of the fresh approaches to monetizing the space is hosting quarterly, multi-day festivals, free to members and $10 a day for everyone else. The next event is the Carnifall fall festival held Sept. 23–24 with live music, food, vendors and carnival games hosted by Queer Arts Athens. For more information about the festival and about Rabbit Hole's services, visit rabbitholestudios.org.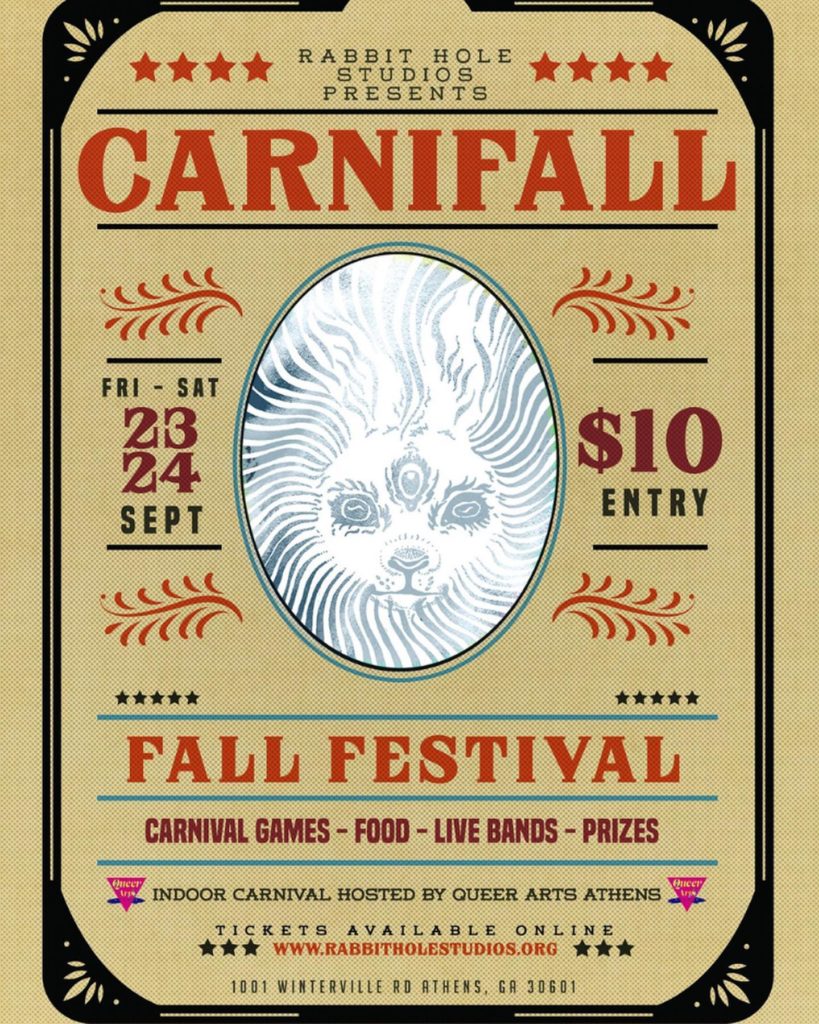 Like what you just read? Support Flagpole by making a donation today. Every dollar you give helps fund our ongoing mission to provide Athens with quality, independent journalism.