Crossing generations and genres, Grassland String Band has spent the last decade steadily expanding its signature "Amerigrass" sound. Slated for release on Aug. 26, the band's new album Grassland (Still Not A) String Band covers a lot of territory stylistically, but remains cohesive by embracing the variety of influences and ideas brought to the table by its band members. With multiple vocalists and impressive instrumentation, everyone's given time for their talents to shine through.
"Stylistically, we've been a hard band to describe," says founding member Jody Daniels. "We're definitely not bluegrass, and we've never actually been a string band, as our name suggested, hence the title of our new album. We aren't defined by any specific genre; we're an Americana hybrid of folk, jazz, bluegrass, gospel and country, and everybody in Grassland comes from different influences."
The majority of Grassland's players are formally trained with academic backgrounds in music—and it shows. Drummer Todd Ferguson, electric guitarist Bo Hembree, acoustic guitarist Leanne Daniels, bassist Given Graber and fiddle player Adam Poulin all studied music during college. Jody Daniels (banjo, mandolin) and Jason Badia (acoustic guitar) both have degrees in English literature, which comes in very handy for shaping rhyme, meter and structure.
Grassland's roots trace back to 2013, when Jody formed a bluegrass duo with mandolin player Michael Lesousky, who continued playing in the band until 2017. Members have come and gone over the years, but the group really hit a new stride when one of Jody's two daughters, Leanne, officially joined.
Growing up in Athens, Leanne had her own musical outlet as a saxophonist and drum major in the marching band at Cedar Shoals High School. Expressing an interest in singing and writing from an early age, she spent a lot of time around Jody as he worked on music, and it wasn't long before she began stepping on stage to join his band as a guest. Eventually, her talent and patience won out, and Jody put aside any apprehensions he might have had about balancing the dynamics of being both a father and bandmate.
"In 2019, she opened a show for Grassland as a solo act, and I remember a good friend of mine telling me that Leanne should be our singer, affirming what I already knew," says Jody. "The rest of the band agreed. From that day forward, she's been a highlight of the band. We all sing and share the stage, but Leanne stands out. She is a great singer. As a dad I'm very proud, and as a bandmate I enjoy every moment of our time together. We stand next to each other on stage, and the only negative is that she's taller than me, especially when she wears heels."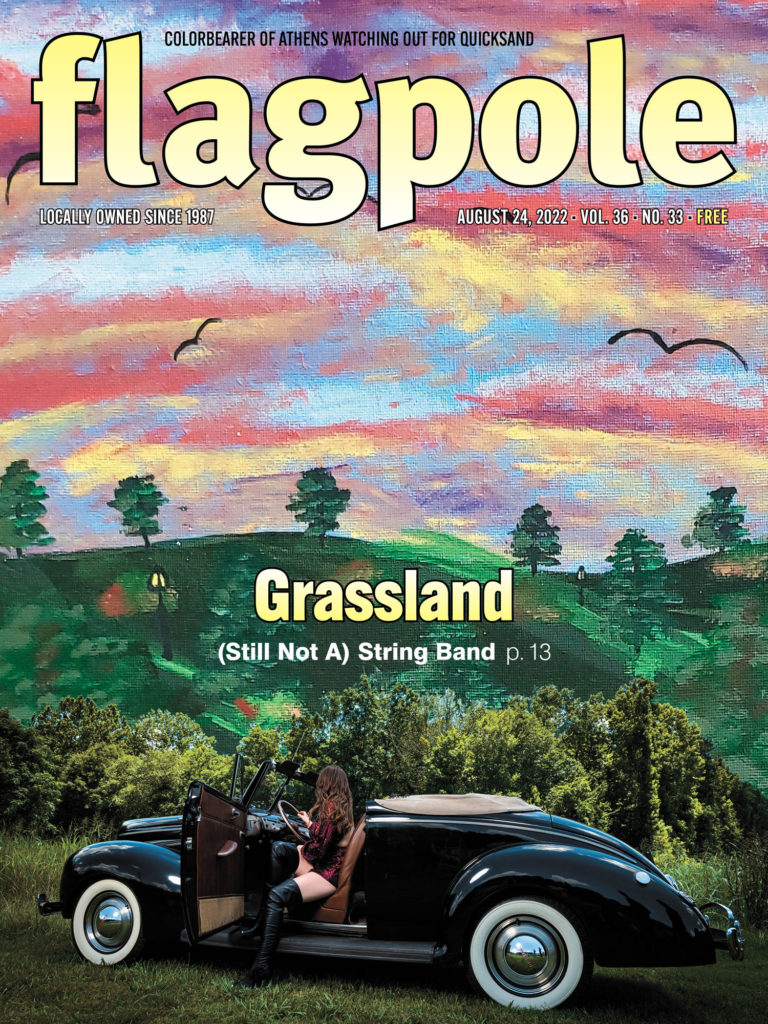 Jody, Leanne and Badia divide most of the songwriting, generally working independently before bringing song ideas to the rest of the group to flesh out. The generational range between members results in music that can appeal to all ages in return.
"We do span several generations, which puts the band's experiences and emotions at different places in this journey," says Jody. "It affects our songwriting for sure. I'm the oldest, so I tend to look back when I write and I can be a bit preachy. Leanne and Jason write more in the present. But we can cover a lot of subject matter because of that. As a result, our audiences often mirror that same span of generations."
Grassland (Still Not A) String Band is the group's fourth album, and the first in six years since the 2016 release of The Echo Mountain Sessions. Started in late 2019, the album was engineered and produced by John Keane (R.E.M., Indigo Girls, Widespread Panic), who also makes guest appearances throughout the tracks on pedal steel and strings.
The album touches on a variety of lyrical subjects: independence on album opener "Lipstick & Tattoos," escaping domestic abuse on "Driving This Car," personal struggle on "Running From Myself" and personal triumph on "Running Like I'm Standing Still." Featuring keys and Hammond B3 organ by Randall Bramblett, "Love is Love" is an anthem on equality that addresses religious naysayers with gospel-soaked swells of melody. "Fool's Day" is a dark and stormy track that represents the band's cowboy boot-stomping energy and its ability to let the violin and guitar take on expressive voices of their own.
Though encountering the pandemic pitfalls of shuttered venues and recording delays, the band creatively took advantage of its downtime to write a nine-song concept album set in the 1860s West. Co-developed by Badia and Leanne, the storyline centers around a barmaid called "The Widow" who takes revenge after being betrayed. Each bandmate has a character role—a bandit, undertaker, banker, judge, preacher and marshal—and the band plans to perform it live as a costumed show, then begin recording next year.
Separate from the concept album, the band has also accumulated enough material to begin planning for another full-length. Several of those new songs will be unveiled during the album release show for Grassland (Still Not A) String Band at Hendershot's Coffee on Aug. 27.
WHO: Grassland String Band, Diablo Sandwhich and the Dr. Peppers
WHEN: Saturday, Aug. 27, 7 p.m. (doors), 8 p.m. (show)
WHERE: Hendershot's Coffee
HOW MUCH: $12 (adv.), $15
Like what you just read? Support Flagpole by making a donation today. Every dollar you give helps fund our ongoing mission to provide Athens with quality, independent journalism.