Five long years have passed since Elf Power last released a new album. Twitching In Time arrived in 2017. In light of the global pandemic that the record unintentionally presaged, the contemplative vibes of songs such as "Cycling Aimlessly" and "The Cat Trapped In The Wall" now feel something like the calm before the storm that swept over the years that were 2020 and 2021.
Of course, it is the mark of strong and timeless songwriting when new meanings continue to reveal themselves as years go by. Now, with Elf Power's 14th album, Artificial Countrysides (Yep Rock), Athens' psychedelic indie rock staples since 1994 have pulled together an album that builds around loose variations on a new and timely theme. Artificial Countrysides features 12 songs that ruminate on finding and maintaining balance between the digital world that exists online and the material world that surrounds us all.
"That isn't meant to come across like the old guy is yelling at technology," Elf Power's founding member, singer and guitar player Andrew Rieger says with an earnest laugh. "But how can you not feel overwhelmed by the amount of time that you spend staring at a screen?" he asks. "So many people who are musicians—half of their time is spent online maintaining social media and running everything else online, and it can be quite draining."
The idea behind the album was born a few years back, when Rieger realized that he wasn't reading as many books as he used to. "I had to make a conscious effort to start reading more books," he says. "Thankfully, I have kept up with it. It was one of those things that had crept up gradually as I was spending more and more of my time on social media."
Artificial Countrysides' underlying themes extend from the abstract imagery in lyrics such as, "Change the plan that time devoured, rewrote the past, turned off the power. Drain the fading energy, change from what you wanted it to be," from the title track.
In more concrete terms, the song's melancholy pop tones and melodies take shape in a mix of synthesizers and electronic instruments mixed with traditional guitar and bass—drum machines mingling with live drums—all working together to create a wholly new world within the album.
In the title song, Rieger's voice intertwines with a slide guitar and an acoustic 12-string guitar, giving rise to new and earthly tones in the music that build in "Undigested Parts," "Clean Clothes" and "Soft Trash."
Amid the pandemic, Elf Power's members—Rieger, guitarist Dave Wrathgabar, drummer Peter Alvanos and keyboard player Laura Carter (the latter of whom is retired from playing live with the group)—worked on each song in isolation. Rieger created the basic tracks, and each member added their own textures and musical flourishes. With the advantage of time, their efforts culminated in a spacious and fresh sound for Elf Power that was further fleshed out by Jesse Mangum at The Glow Recording Studio.
A scan of Artificial Countrysides' maze-like cover art, courtesy of Sean Kelly from Boise, ID's Storie Grubb and the Holy Wars, reveals scenes from each of the album's songs worked into the imagery. A film camera invokes "Filming The Sequel Before All The Actors Die." Several drawings of houses depicted in the cover art give a nod to the song "Metal House." The approach is a throwback to the days when albums came with covers that invited listeners to study them and get lost in the intricate design.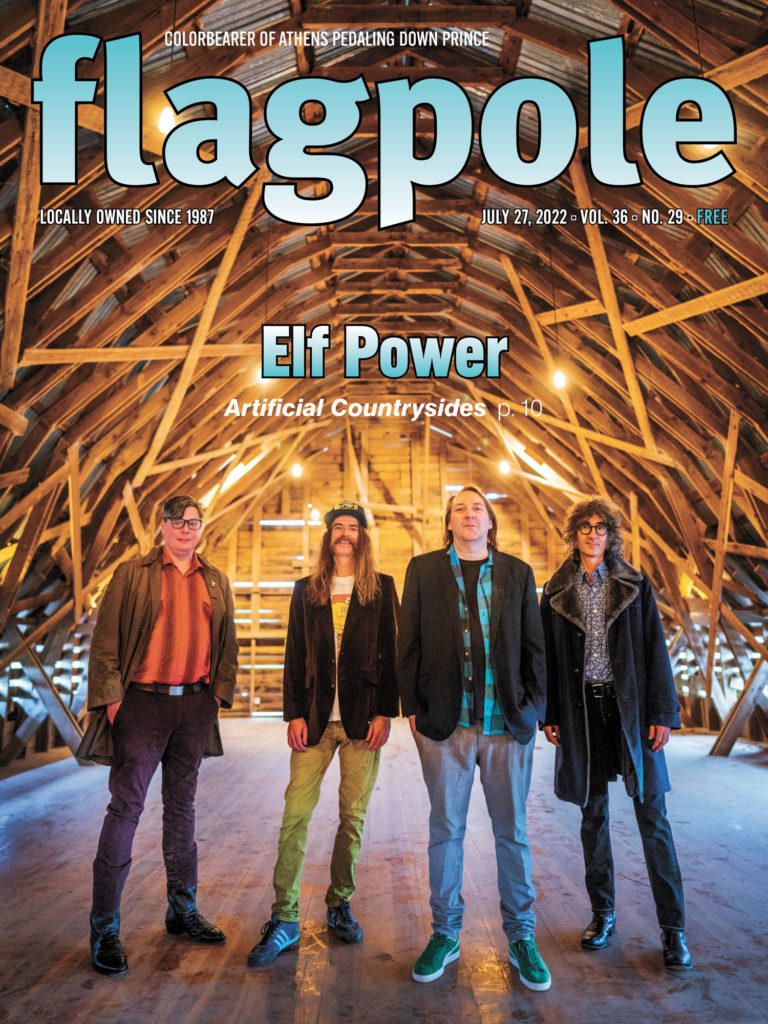 You just don't get the full picture from the Spotify thumbnail image that accompanies the album's first single, "Undigested Parts."
Rieger possesses a singular perspective when it comes to this kind of world building and processing. Elf Power's self-run label Orange Twin Records, operated largely by the group's longtime keyboard player Laura Carter, is headquartered on a 150-acre former Girl Scout camp. The preserve features an old pavilion, a lake and an amphitheater that has hosted live performances by Neutral Milk Hotel, Bonnie Prince Billy, Jandek and more.
"A lot of the time, when I'm out there working on label stuff for like four and five hours at a time, I'll get totally burned out," Rieger says. "When that happens, I can just walk out the door and take a walk in the woods and come back totally recharged."
Later this year, Orange Twin will reissue Elf Power's second album, 1997's When The Red King Comes. "It's a fan favorite, and that was the first full band album for Elf Power," Rieger says.
While working on the reissue, the group found a song that they had started working on in '97 but ultimately abandoned, titled "The Submerged Stone."
All four members from that era—Rieger, Carter, bass player Bryan Poole and drummer Aaron Wegelin—completed the song. Just a few months after revisiting the song, Wegelin died in February 2021. The song will be included as a bonus 7" with the remastered and remixed When The Red King Comes LP.
Time and reflection play essential roles in pushing the group forward after releasing 14 albums. And in a career that began nearly 30 years ago, time is still on Rieger's side. "It takes longer to finish albums now," Rieger says. "Sometimes I will write something and realize that it's too similar to something that I have done in the past. That's certainly a pitfall of having done so much stuff. But if taking longer means the results are better, taking five years between albums is fine with me."
WHO: Elf Power, Nihilist Cheerleader and E.R. Jurken
WHEN: Saturday, July 30, 8 p.m.
WHERE: 40 Watt Club
HOW MUCH: $10
Like what you just read? Support Flagpole by making a donation today. Every dollar you give helps fund our ongoing mission to provide Athens with quality, independent journalism.