OUTDOORS: The Lyndon House Arts Center's eight new exhibitions offer an engaging way to beat the heat. Before stepping through the entrance, make sure to take a moment to appreciate Cedric Smith's new installation for "Window Works," a site-specific series established in response to the pandemic to create an opportunity for socially distanced outdoor art-viewing. Born in Philadelphia and now residing in Macon, Smith is a self-taught painter and photographer whose body of work challenges the negative portrayals of Black people or altogether absence of representation in advertising, haute couture and graphic history observed during his youth. Up through Dec. 21, this particular set of collages resemble enlarged playing cards and envision Black figures as kings and queens.
PICTURE THIS: A multi-year partnership between the Georgia Museum of Art and LHAC, "Highlighting Contemporary Art in Georgia" is a series of traveling exhibitions, each taking a different focus to celebrate diverse talents. Following "Pushing the Press: Printmaking in the South" and "Cut and Paste: Works on Paper," the third installment "Picture This" spotlights 11 contemporary narrative painters from across the state: Bo Bartlett, Holly Coulis, Shanequa Gay (whose portrait "i am my own temple" appears on the cover of this week's Flagpole), Cheryl Goldsleger, Melissa Huang, Margaret Morrison, Fahamu Pecou, Dianna Settles, Cedric Smith, Tori Tinsley and Orion Wertz. While all operating under the umbrella of narrative work, each artist's style and focus is so different from the next that it's better to soak it all in yourself. On view through Sept. 3, "Picture This" invites viewers to consider a range of subjects such as interpersonal relationships, world-building, Black representation, online identities and more.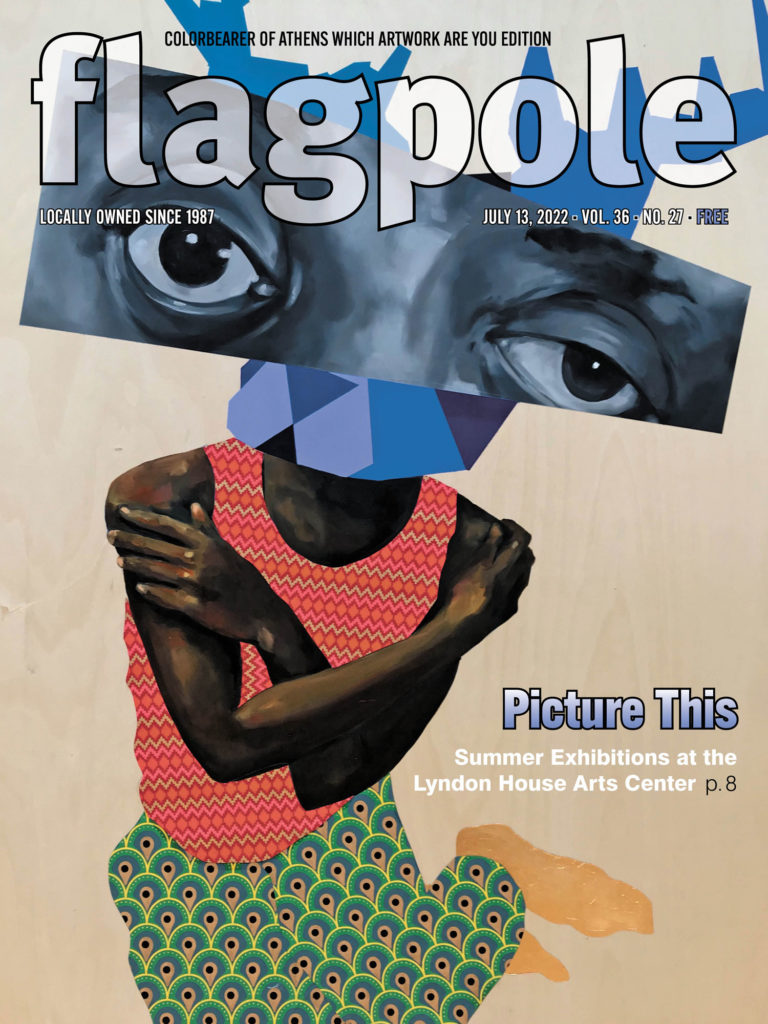 ROSENBAUM: For over 50 years, Margo Newmark Rosenbaum has worked alongside her husband, Art Rosenbaum, with camera in hand to document his field recording sessions of American traditional music and other creative pursuits. Many of these photographs offer rare and valuable glimpses into the lives of under-the-radar or long-gone performers, thereby preserving their musical legacy.
Her self-titled exhibition is split between two galleries to accommodate two very different bodies of work. Several of her intimate portraits of artists—Howard Finster, James Baldwin, Alice Neel and Edward Kienholz—hang alongside other slice-of-life photographic scenes from her book, Drawing With Light. The other gallery is dedicated to a collection of figurative paintings depicting domestic scenes enlivened with imaginative elements of dream-like fantasy. Here, cats, dogs and horses coexist in a world inhabited by dragons. Margo, who studied painting at the San Francisco Art Institute, softens social commentary with a quirky lightness suggested through saturated colors, confident brushstrokes and subtle humor.
Rosenbaum will offer an artist talk during Third Thursday on July 21 at 6 p.m.
CROKER: In 2014, Art Rocks Athens Foundation orchestrated a citywide series of retrospective exhibitions, performances and events that sought to illuminate how the burgeoning visual art community centered around UGA's art school during the mid-1970s to mid-'80s gave rise to the vibrant music scene we remember today. Former professor Robert Croker was instrumental in this monumental endeavor as curator of the flagship exhibition "Between Rock and An Art Place" at the Lamar Dodd School of Art, and his own work was simultaneously featured, alongside fellow educator Art Rosenbaum, in a group exhibition at the Georgia Museum of Art. A mentor to many, he helped influence a generation of aspiring artists to experiment and dream.
After leaving Athens for New York City and landing a gig at the Guggenheim Museum, Croker went on to work various technical and collections management roles at agencies including Dia Art Foundation, the New York Historical Society and the Bronx Council of the Arts. It's a treat to see new works by the 83-year-old artist, now a resident of Philadelphia, who continues to maintain a near-daily studio practice. On view until Sept. 9, his exhibition "Robert Croker at Random" consists of a series of works on paper that are meditative through their soft color combinations.
FUSSELL & FUSSELL: "Maps, Landforms and River Rafts" combines two separate, yet complementary, bodies of work by Cathy Fussell and daughter Coulter Fussell. Beyond a biological relationship, the two Columbus, GA based artists share a strong interest in place and demonstrate a loyalty to craft.
With over 50 years of experience, Cathy specializes in making art quilts that reflect themes of geography, Southern literature and American modernism. Using traditional materials, her tapestry-like quilts are covered in delicately curving lines to resemble topographic maps. This sense of dimension is best felt in "Brasstown Bald, Highest Point in Georgia," while river scenes establish a different type of spatial impression by using blue threads to mark tributaries stretching into the land.
Hailing from multiple generations of seamstresses and taught to quilt by her mother, Coulter pushes the boundaries of quilt-making through wall-bound assemblages constructed from discarded and donated textiles. Her "River Raft" material mish-mashes hint at ambiguous narratives and considers themes of faux nostalgia, functionality versus form, and woman versus machine. These items are set free from the memories attached to them by using a "river-as-escape-passage" metaphor.
The Fussells will offer a quilt talk on Sept. 8 at 6 p.m. and an artist talk on closing day, Sept. 9, at 11 a.m.
BEHIND GLASS: In addition to the artworks adorning its gallery walls, the Lyndon House has three additional exhibitions on view in its display cases.
The ongoing self-explanatory series Collections from our Community presents "Winfield and McNeal's Fleet," a full lot of toy cars and trucks, through Aug. 20. Originally collected by Winfield Smith as a child, the toys were left behind at his childhood home for over 20 years before being rediscovered and passed down to his sons, Winfield and McNeal.
Dedicated to the artist's wife, "For Heather: New Shaped Paintings by Jason Matherly" is a collection of small color block pieces on view through Sept. 3. Thoughtfully considering the relationship and balance between specific colors, the geometric forms pull the viewer's eye towards edges to consider negative space.
Whereas the majority of modern ceramicists use electric kilns out of convenience, the small ceramic works by Mark Johnson and Zuzka Vaclavik were created using a laborious wood fire process. Vaclavik, who is also a painter, invites fire's unpredictable, serendipitous impact on surface designs. Johnson, meanwhile, etches doodles onto dozens of tiny vessels. Their work will remain on display through Oct. 7.
Like what you just read? Support Flagpole by making a donation today. Every dollar you give helps fund our ongoing mission to provide Athens with quality, independent journalism.